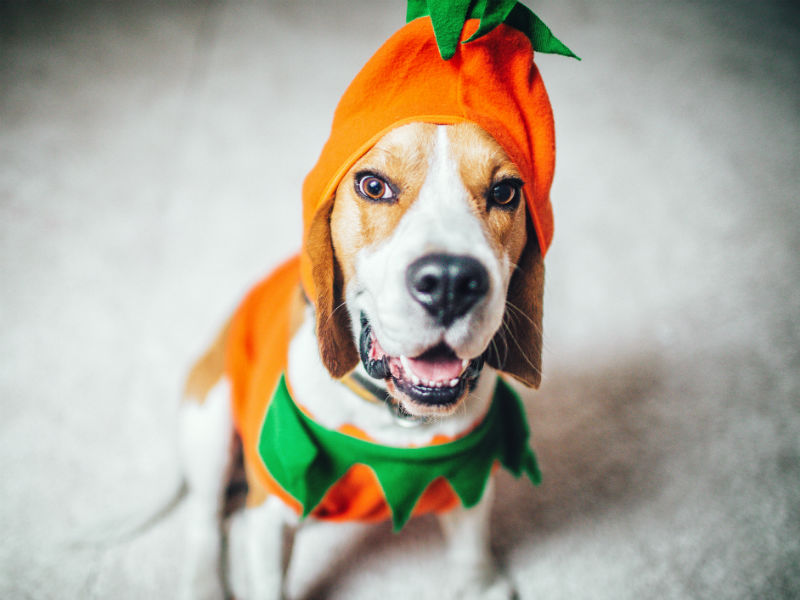 So you're looking to include your canine companion in all the Halloween fun? We've got everything you need here. Check out our "spook-tacular" guide to Halloween activities and safety for you and your dog.
Halloween Safety
It's just as important to stay safe during your Halloween festivities, as it is to have fun. So before you head out to a spooky event with your dog or get all dressed up, check out these helpful articles.

Dog Costume-Wearing
If your dog is going to be wearing a costume this Halloween, it's important that he is safe and comfortable. You'll want to introduce him to his costume before the big day, and if he ever becomes uncomfortable or upset, remove him from the situation.Learn more about how to make your dog's costume experience pleasant.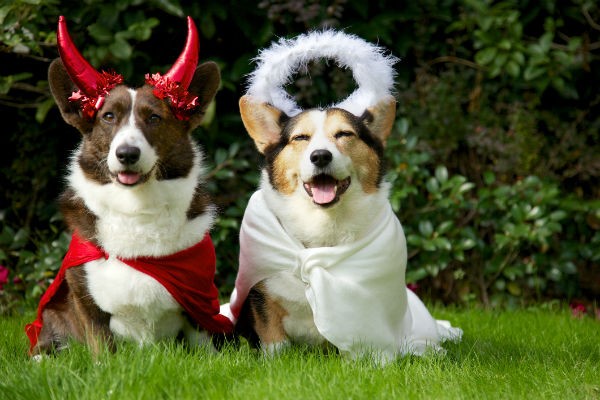 Dog Treats, Snacks, and Halloween Decorations
With all the candy and decorations associated with Halloween, you have to be extra careful. Many candies, snacks, and decorations can be tempting, but dangerous, for your canine pal. Make sure to pay close attention to your dog during this festive time.
Check out our list of items to keep away from your dog during Halloween. And we've got your general safety tips, too! Read those here.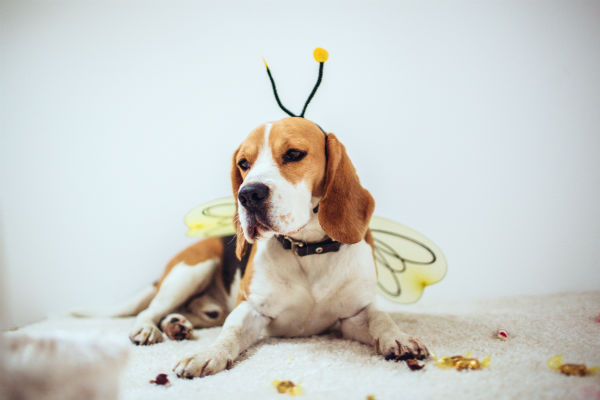 Trick-or-Treating With Your Dog
Is your dog going trick-or-treating with the family? You'll want to make sure he's OK with all the Halloween chaos before you decide to bring him with you. If you do take him along, you'll want to take certain precautions to stay safe while you're going house-to-house.
This article will help you decide if your dog should come trick-or-treating and learn some tips on how to stay safe on the big night.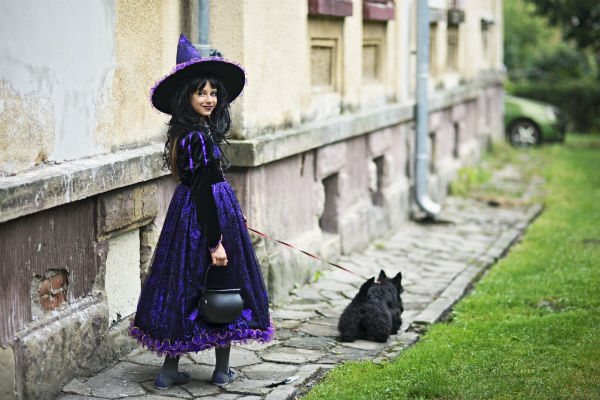 How to Prepare Your Dog for Trick-or-Treaters
With Halloween come trick-or-treaters. If kids are going to be ringing your doorbell, you'll want to make sure your dog is prepared.
Check out these best practices for making your dog part of the Halloween greeting committee.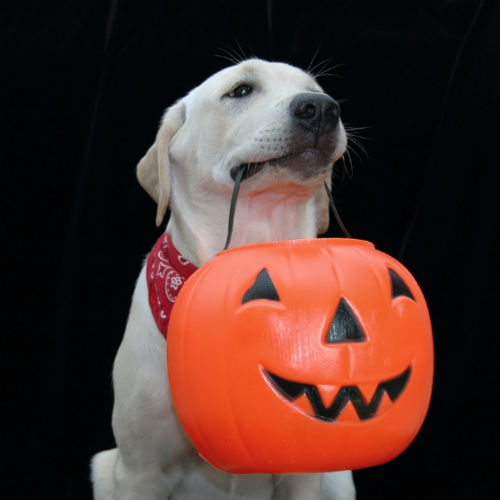 What to Do if Your Dogs Gets Away From You
You think it will never happen, but with a crazy night like Halloween your dog might get away from you.
Learn what to do should he get away here.
Similarly, if your dog ends up lost, you'll need a plan to jump into action and get him back home. Check out our tips here.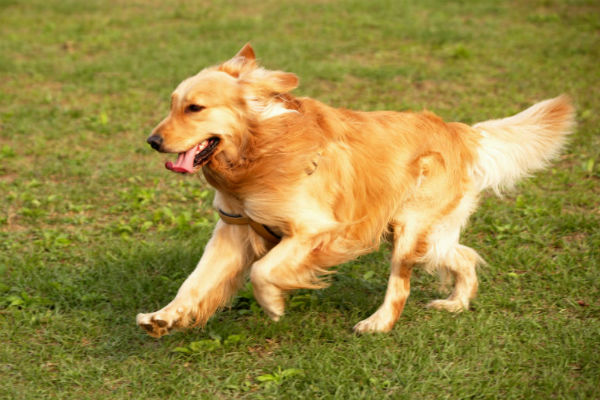 Halloween Activities
Looking for other fun things to do with your dog this Halloween season? We've got you covered there, too. Check out some of our "puptastic" ideas, perfect for any dog owner.

Make Pumpkin Treats
It's the time for all things pumpkin! Don't let your dog miss out on the pumpkin fun. We've got some great recipes to share your pumpkin love with your dog. (This way you can keep him away from the candy, too.)
Check out our favorite easy-to-make pumpkin recipes.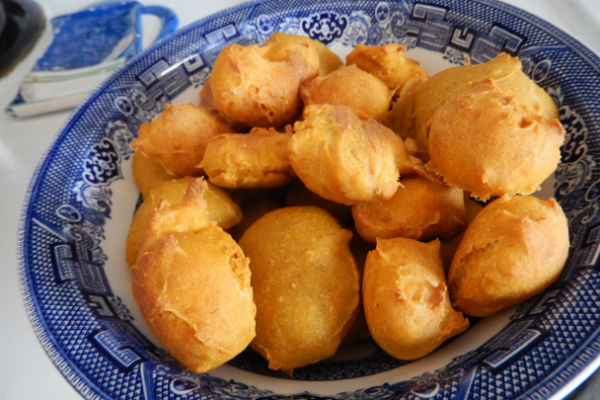 Dog Movie Night
There are some great Halloween movies out there, whether you're looking for canine-specific, family-friendly, or scary. We've gathered some of our favorites, so cuddle up on the couch with your pup and check them out.
Don't forget the popcorn! And maybe some dog treats.
See our list here.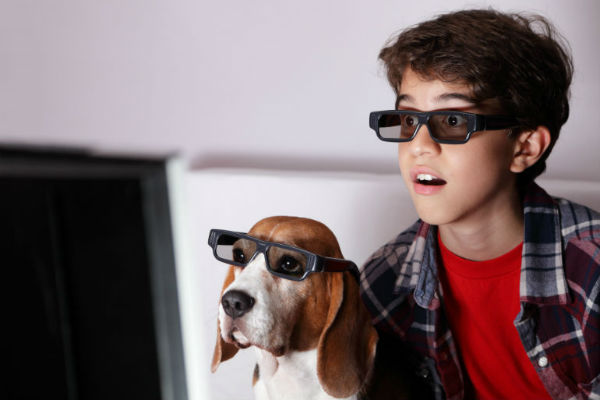 Find Your Dog Halloween Soul Mate
Pick a puppy; get a dog Halloween soul mate. It's pretty simple and adorable. After all, who doesn't want to look at puppies and Halloween dogs?
Take the quiz here.



Halloween "Pawrty"
Are you looking to go all-out this Halloween? Celebrate in style with your dog and all his (and your) friends. We've got the perfect pawrty-planning guide complete, with decorations, games, and food.
Learn how to plan the best dog Halloween bash.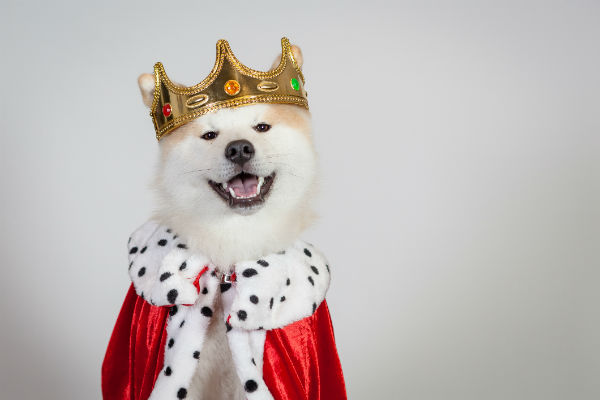 Pumpkin Picking, Hay Rides, and More
Enjoy the great outdoors during this breezy and colorful season. In this weather, it's the perfect time to hit up a pumpkin patch or fall festival with your dog. These activities are often decked out for Halloween, so go out there and have some fun! Check out some more outdoor ideas here.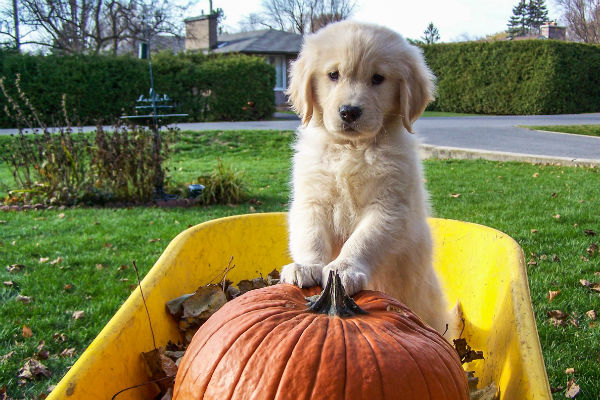 Other Fall Activities With Your Dog
Halloween not necessarily your thing? We've got something just for you. Hiking is always a great activity to do in the breezy fall weather. Check out our best practices for getting your dog out on the trail.
Not sure what you should do with your dog this fall? Take our activity quiz to find out!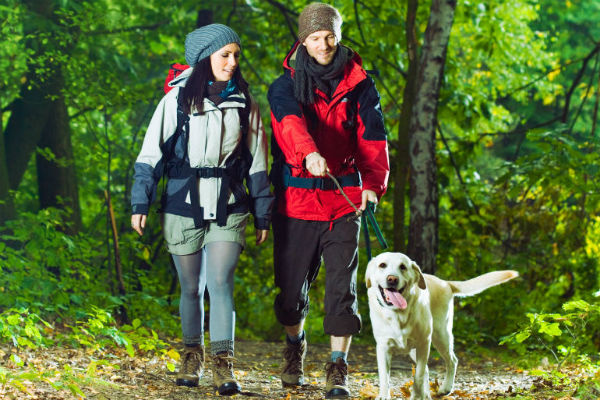 And if you're looking for the greatest Halloween costume, we've got just the thing. Check out our all comprehensive dog Halloween costume guide.
For more spooktastic inspiration, head over to the AKC Shop and check out our Halloween collection!