With All Hallows' Eve swiftly approaching, what better way to celebrate the eerie holiday than getting your four-legged friend involved in the fun? Whether your dog is big or small, looking to be ghoulish or gosh darn adorable, we've rounded up some of our favorite Halloween dog costume ideas and inspirations, as well as some spooktacular activities to partake in in anticipation of the big day.
Costumes for Small Dogs
Have a Chihuahua, Dachshund, or Pug? If you're the proud owner of one of these breeds, or any small dog, than you will need a costume just the right size for your pup. You won't want a costume that's too restrictive or too complex. But you will want something adorable!
Check out the best costumes for small dogs.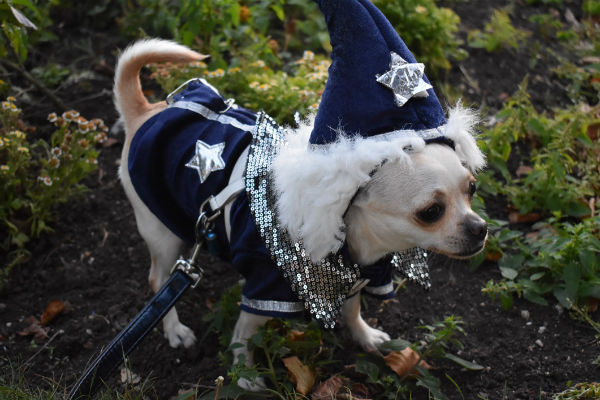 Costumes for Big Dogs
Is a Great Dane, Newfoundland, or Mastiff your canine companion of choice? A big dog, like one of these breeds, is going to need a big costume. You'll want something like Darth Vader or a Skeleton that fits the personality of your pup. You know what they say, bigger is better.
Check out the best costumes for big dogs.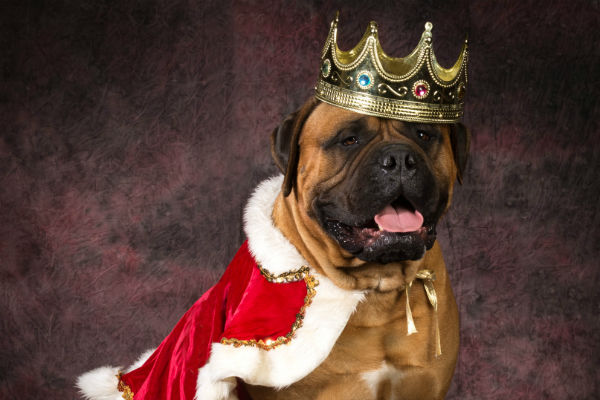 Funniest Dog Costumes
We all can admit that dogs wearing costumes can be pretty funny (as long as they think so too). Some dog owners choose to get extra creative with their costumes and take the laughs to the next level. Dog taco? Octo-hound? Sushi-pup? Looking for hilarious ideas like these for your dog?
Check out this compilation of the funniest dog costumes. And if you just can't get enough, check out even more here.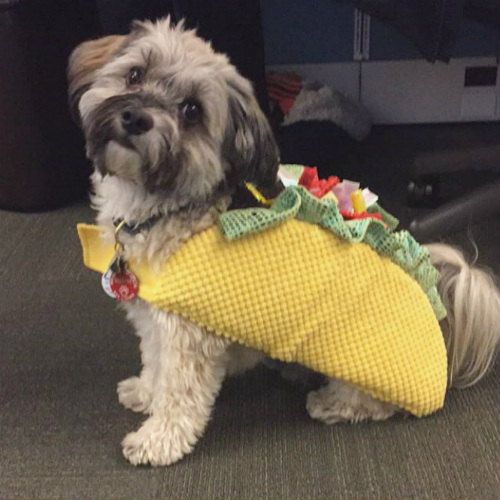 Trendy Dog Costumes
Want your dog to capitalize on this year's hottest trends? If so, you'll definitely want to consider a superhero or Pokémon costume! Let your dog's costume show that you're in the know….or that you've at least done some googling.
Check out trendy dog costumes for 2017.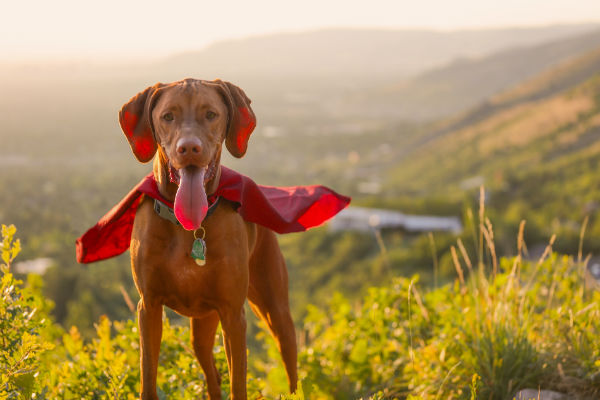 Dog and Owner Couple Costumes
Is your dog that special someone in your life? Maybe you want to consider Dog/Owner couple costumes. Try out classic pairings like a hot dog and mustard or a monkey and a banana. You guys will be the talk of the town and look adorable of course!
Find more couple costumes for you and your dog.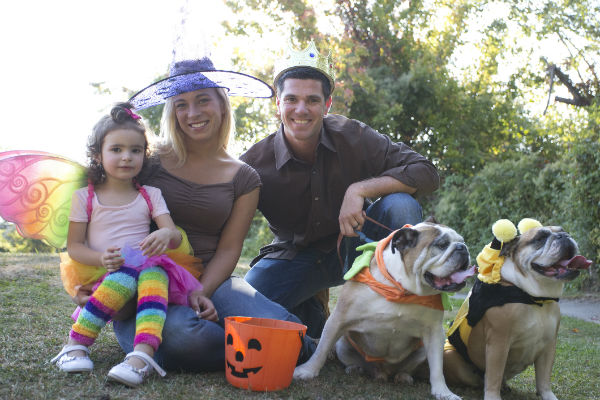 Kid and Dog Costumes
Want your pup to match their paw-tner in crime? These kid-dog costume pairings are guaranteed an "awwwwwwwwww." You'll love it, your daughter/son will love it, and your dog will enjoy it too. This Halloween will be a family affair!
See the most adorable costumes for kids and their dogs.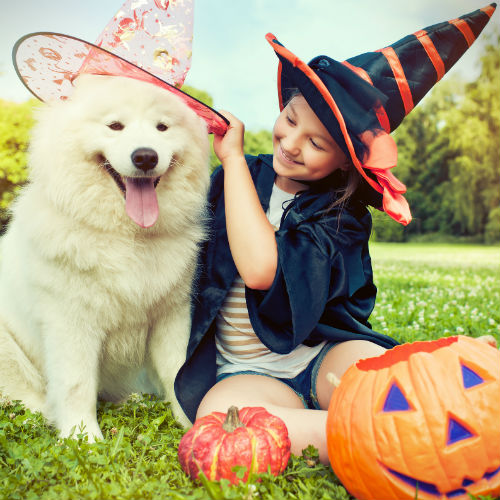 Spider Dog Costumes
Are you someone who likes the spookier, scarier, elements of Halloween? Well, we've got just the thing for you! Turn your dog into a fantastic creepy, crawly, spider with the right costume. You can go simple, silly, or even Spider-princess.
See our favorite spider dog Halloween costumes.
DIY Dog Costume
Are you looking to be more creative this year? Into the DIY trend? We have the perfect DIY costumes for you and your dog. It's a classic pairing: Bacon and Eggs! Not to mention, it's cute, inexpensive, and super easy to make.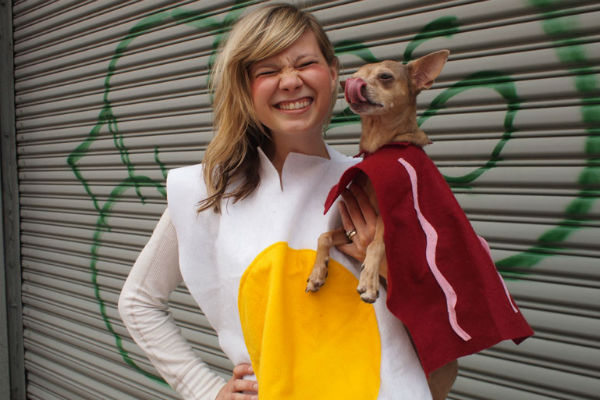 Check out the instructions on how to create these adorable costumes yourself.
And for more help, check out these extra tips on creating the perfect DIY dog costume.
Tompkins Square Park Costumes
Just looking for some cute dogs dressed up in some cute costumes? Tompkins Square Park Halloween Parade is the place for you. Check out the event here. We attended the 2015 and 2016 parades and found some award-winning costumes: the band KISS, the pope, and Spock were some of our favorites.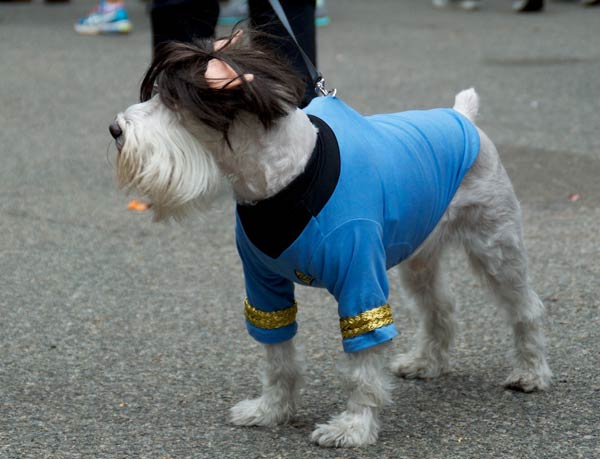 See more from the parades: 2015 and 2016.
Don't forget, if you're planning to dress your dog up, make sure he's comfortable and safe. And if he's not into his costume, there are other ways to partake in the Halloween fun! Check out our activity and safety guide here.
https://www.akc.org/wp-admin/admin-ajax.php
Get Your Free AKC eBook
Tips for Responsible Dog Owners
This e-book is a great resource for anyone who's considering dog ownership or already owns a dog. Download for tips on how to be the best dog owner you can be.