AKC is a participant in affiliate advertising programs designed to provide a means for sites to earn advertising fees by advertising and linking to akc.org. If you purchase a product through this article, we may receive a portion of the sale.
Why not try adding your dog to your training routine? Exercising together not only benefits your health, but your dog's as well. But remember, before beginning any exercise routine with your four-legged friend, consult your veterinarian to ensure your dog is in good physical condition for the exercise you're envisioning.
Health Benefits of Exercising With Your Dog
The simplest way to incorporate your dog into your fitness regime is through walking. The American Heart Association recommends 150 minutes of aerobic activity of moderate-intensity activity, such as walking, for general human health — a simple goal to set for your dog walks. AKC makes it even easier, and more fun, through the AKC FIT DOG program. Participants in FIT DOG commit to walking their dog for at least 150 minutes a week.
The benefits of regular walking include improved muscular strength, circulation, memory, and sleep, as well as increased energy and reduced stress. Some FIT DOG devotees say they've also lost weight, while others note that they're experiencing less depression since starting the program. There are social benefits, too, with 350 FIT DOG clubs now meeting regularly to walk with dogs.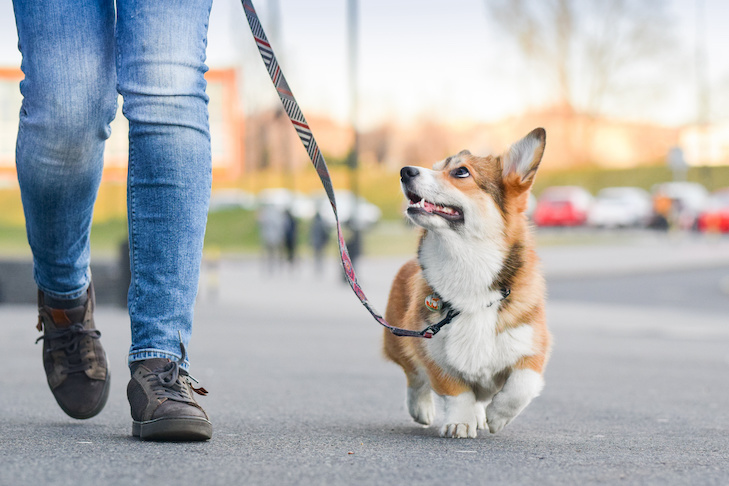 Setting a fitness goal that includes your dog can have far-reaching health and social benefits. It can also be hugely motivating, as Leash Your Fitness owner Dawn Celapino has discovered in her 11 years of organizing exercise classes for humans and dogs. Celapino founded her San Diego-based fitness training center because she didn't want to leave her Cairn Terrier, Jack, at home while leading fitness classes. She soon found that including clients' dogs in her classes added a whole new level of excitement and commitment.
"Most people hire a personal trainer because they don't know what to do, or they aren't inspired to work out," she says. "Adding their dogs really inspired them, and made it more fun." Participants also found it easier to step outside their comfort zones with their dogs by their sides. That might mean braving a new fitness class full of strangers or even trying out a new sport.
How Dogs Benefit From Fitness & Exercise
Beyond the physical, mental, motivational, and social benefits for humans, Celapino notes that the physical and mental stimulation of fitness training is also great for dogs. Her classes include hiking, surfing, kayaking, camping, yoga, trail running, upper- and lower-body training, and boot-camp training.
Dogs participate throughout these classes. For instance, they might be heeling beside their owner during a lunge-walk, running a weave-pole course, or taking a ride in a kayak. Because they require dogs to remain alert throughout, these classes can happily exhaust even dogs who usually run six miles without tiring.
"We're making them think," she says. "That's what tires them out even faster, the mental side."
Bonding With Your Dog Through Yoga
Exercise is also a fantastic opportunity to bond with your dog. Annie Appleby, a yoga expert with 25 years of experience, started offering dog yoga classes from her San Francisco Bay Area yoga practice, YogaForce, 10 years ago. In dog yoga, humans incorporate their dogs into classic yoga poses like holding them as a weight during a side bend, or balancing the dog on their leg in Warrior Two pose.
Dog yoga can be just as calming for dogs as yoga is for humans. Even the most hyperactive dogs end up very chilled out by the end of the class. Appleby also notes that both dogs and humans are closely engaged throughout classes, often looking into each other's eyes.
"They really benefit from eye contact, the dogs," Appleby says. "In our classes, it's one hour of complete and utter communication with your dog the whole time. And the dogs like that a lot."
How to Start Exercising With Your Dog
So you want to spend some quality time with your pup while improving both of your health. But new exercise regimes can be daunting. What's the best way to get started? Consider AKC FIT DOG.
This program is a great way to get moving together. For dogs and people in good shape, the FIT DOG commitment is three months of walking for at least 30 minutes, five times per week. People and dogs (such as senior pups) who would benefit from shorter walks, commit to three months of more frequent, shorter walks — at least 10 walks of minimum 15 minutes each, per week.
If you plan to start jogging with your dog, Celapino stresses that it's essential to increase the distance appropriately. "You have to build them up to it just like you build yourself up to it," she says. "You have to get their paws acclimated, their heart, everything."
When taking your dog out to exercise, always check the weather to ensure it's not too hot for your dog. Also always make sure to have water. Use a sturdy, non-retractable leash to give you more control, as well as a harness instead of a collar, to avoid pulling on your dog's neck. Lastly, talk to your vet about making sure your pup is on preventative flea and tick medication if you're planning on hiking, and learn where to look for ticks and how to properly remove the bugs.
If you and your pup are ready to try some new fitness techniques, Leash Your Fitness offers video tutorials on exercises that you can sprinkle into dog walks, such as lunge-walks, brief sprinting, and squats — all of which will require your dog to pay close attention and mind your commands.
Finding the Right Activity For Your Dog
Before you begin, remember that all dogs are different. So it's important to find a form of exercise that works for both you and your dog. However, Celapino encourages all dog owners to explore what exercise might be best for their pups.
"Either way, don't discount your dog," she notes. "Dogs are capable of so much more than people think if we just give them a chance."
Are you looking to improve your overall health and fitness, as well as your dog's? Start working towards your AKC FIT DOG title!
Designed to improve the health of both dogs and owners, AKC FIT DOG is the perfect opportunity for you to work towards fitness goals while participating in fun activities, like swimming, hiking, and community runs. Start getting FIT with your dog today.
Related article: Are Dog Hiking Groups Right for Your Dog?
https://www.akc.org/wp-admin/admin-ajax.php
Get Your Free AKC eBook
Tips for Responsible Dog Owners
This e-book is a great resource for anyone who's considering dog ownership or already owns a dog. Download for tips on how to be the best dog owner you can be.