Going camping is a popular family activity, and an increasing number of pet owners are including their dog in the fun. For those who plan to take their pet along for an outdoor adventure this summer, here are some canine camping safety tips:
Pay a visit to the veterinarian before you go. Make sure your dog's vaccinations are all up to date, and take a copy of the records in case of an emergency.
Be prepared for bugs. All sorts of insects, including fleas and ticks, run rampant in wooded areas where campsites are often located. Give your dog flea and tick prevention treatments before your trip.
Update ID information. Identification is extremely important in case your dog gets lost. In addition to making sure the phone number on your dog's ID tag is current, check with your microchip recovery service provider to ensure that your contact information is still accurate. If you have not yet enrolled your dog's microchip ID number with a lost pet recovery service, visit www.akcreunite.org today.
Plan for both day and night. Bring a water bottle on walks so that your dog can stay hydrated at all times and keep a flashlight handy in case you find yourself exploring in the dark.
Clean-up supplies. Don't forget to bring bags to pick up after your dog's potty breaks.
Equip yourself for emergencies. Pack a pet first-aid kit to take with you. Essentials include tweezers to remove ticks should your dog encounter any, styptic powder to stop bleeding, antibiotic ointment for wounds, and bandages. Check out the list below for supplies that cover a wide range of emergencies:
What to Pack in a Pet First-Aid Kit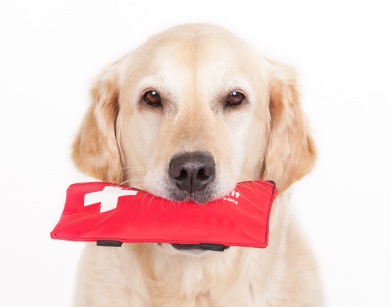 Antiseptic/anti-bacterial cleansing wipes
Alcohol prep pads
Antibotic ointment
Eye wash
Saline wound cleanser
Sterile gauze
Bandage tape
Bandage scissors
Vet wrap or similar flexible, self-sticking bandage wrap
A sock (to wrap around a paw if necessary)
Popsicle sticks/wooden paint stirrers (to use for splinting)
Pet thermometer and lubricant gel
Hydrogen peroxide (to induce vomiting if needed)
Diarrhea remedy (check with your vet for recommendations)
Tweezers
Latex surgical gloves
Pedialyte powder (electrolytes that can be added to water on hot days)
Emergency "space blanket" (for freezing temperatures or to cover an animal that is in shock)
Small flashlight
Bottled water
Spare collar and lead
Soft muzzle
Paper towels
Plastic bags
An up-to-date copy of your dog's medical records in a waterproof bag
Any special medication your dog is currently taking
In Partnership with

https://www.akc.org/wp-admin/admin-ajax.php
Get Your Free AKC eBook
What are all these vaccines for?
Learn about the most common canine diseases that are preventable with vaccines.