The 2015 Obedience and AKC Rally National Champions were crowned this weekend at the American Kennel Club's National Obedience Championship and the AKC Rally National Championship, held at Purina Farms just outside of St. Louis, Missouri.
The Championships drew more than 500 of the most highly trained dogs in the nation.
Pamela Manaton, AKC Director of Obedience, Rally and Tracking said, "We congratulate our new Champions for triumphing over some of the best dogs in the country in the sports of Obedience and Rally. We're proud to celebrate the accomplishments of these talented dogs and dedicated handlers; and thank our sponsors for their support to showcase these wonderful companion dogs and their handlers."
This year's Obedience and Rally Nationals were dedicated to the late Patricia Scully, an AKC Board member for 16 years, who had judged the Obedience Nationals on four occasions and was the 2012 AKC Companion Events Lifetime Achievement Award winner.
The 21st AKC National Obedience Championship
The purpose of obedience trials is to demonstrate the dog's ability to follow specified routines in heeling, jumping, and retrieving as directed by the handler. All contestants in a class are required to perform the same exercises in essentially the same way, so that the relative quality of the various performances may be scored. The top obedience dogs in the country were invited to this event based on the number of Obedience Trial Champion (OTCH) points earned throughout the year or placements at AKC Obedience Regional Qualifying Events.
The 2015 AKC National Obedience Champion is:
NOC OTCH High Times Instant Soup UDX2 OM4 SH NA NAJ, a Golden Retriever owned by Bridget Carlsen of Yorkville, Illinois.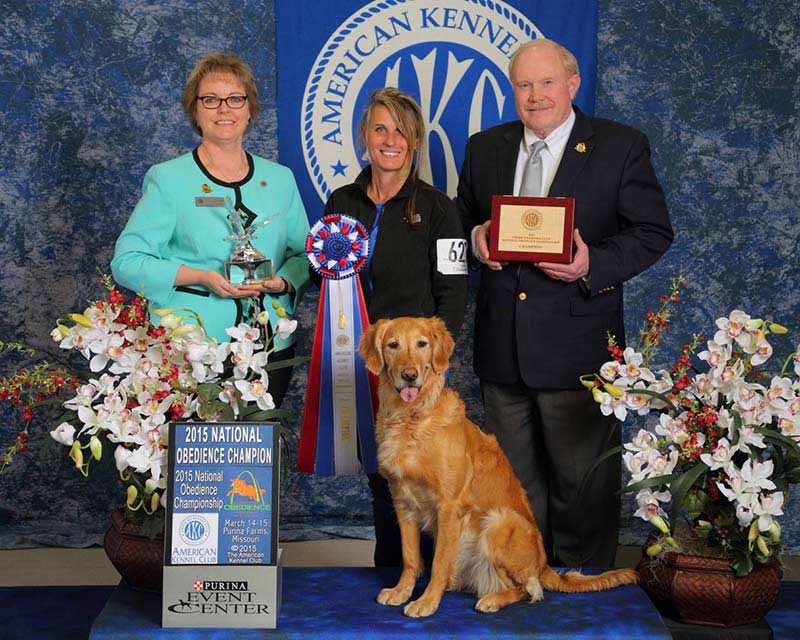 1st Runner-Up:
NOC OTCH High Times Ris'N Above The Tide UDX23 OGM RE, a Golden Retriever owned by Kathleen Rasinowich-Platt of Papillion, Nebraska.
2nd Runner-Up:
OTCH Goldenloch Makin' A Statement UDX15 OGM, a Golden Retriever owned by Gary J. Platt of Papillion, Nebraska.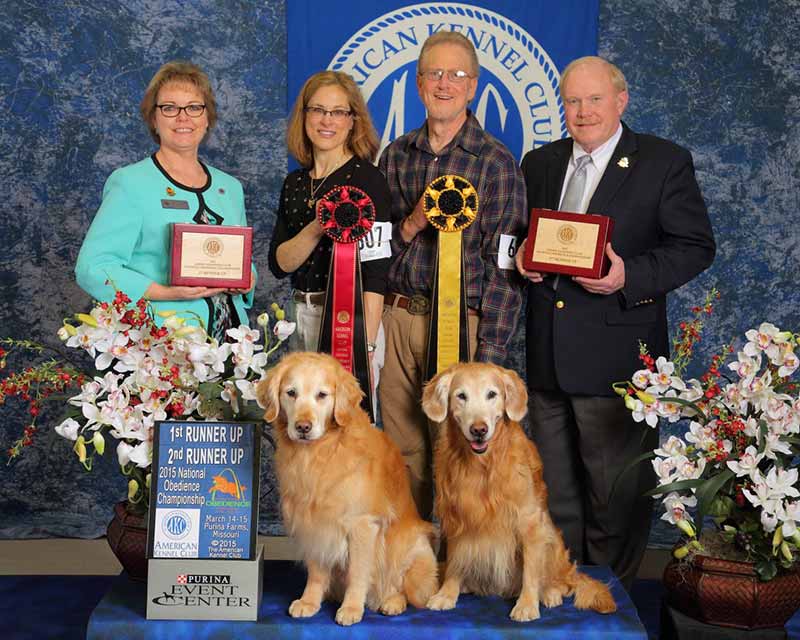 3rd Runner-Up:
OTCH Sunsplash No Free Time UDX26 OGM RE OA OAJ NAP NJP, a Golden Retriever owned by Helen Smith of Newalla, Oklahoma.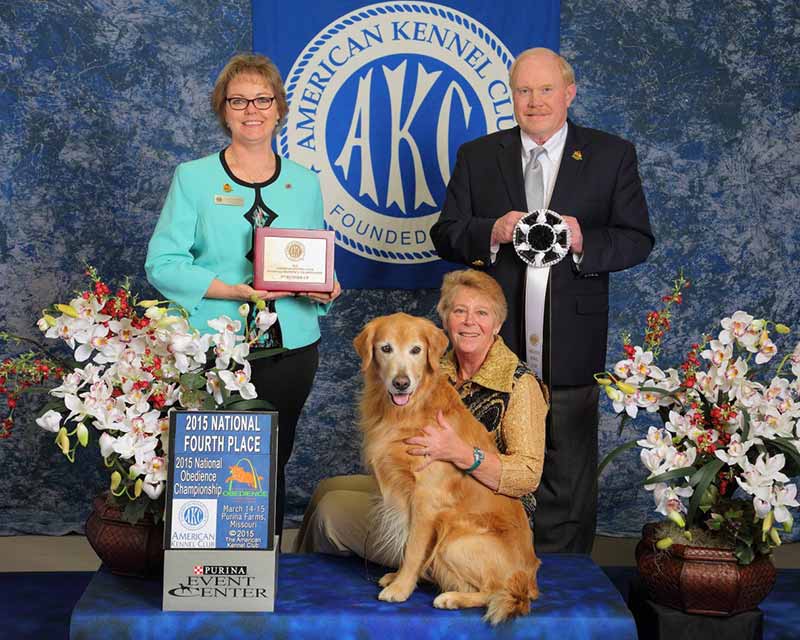 The 2nd AKC Rally® National Championship
AKC Rally combines elements of Obedience and Agility. The dog and handler move through a course of numbered exercises, all while the handler is communicating with and praising the dog. Rally demonstrates a sense of teamwork and provides an excellent introduction to AKC Companion Events for new dogs and handlers. The sport can also provide a challenging
opportunity for competitors in other events to strengthen their skills. AKC Rally promotes a fun and enjoyable atmosphere for dogs at all levels of competition. Dogs and handlers competed for the top spot in the Novice, Advanced, Excellent, and Rally Advanced Excellent classes at this national championship.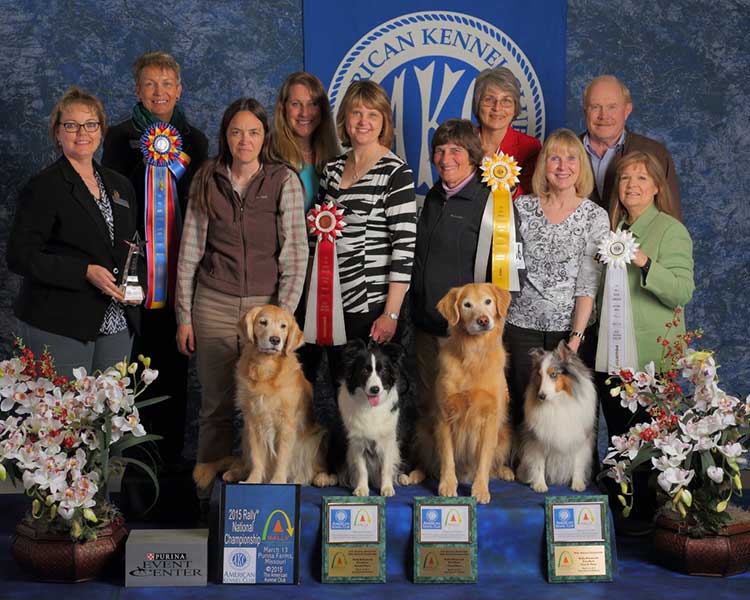 The 2015 AKC Rally® National Champion (winner of the Rally Advanced Excellent Class) is:
RNC OTCH Dd's Slice Of Pie VCD3 UDX2 OM5 RAE TDX JH AJP NFP, a Golden Retriever owned by Dee Dee Anderson and Billy Anderson of Lodi, California.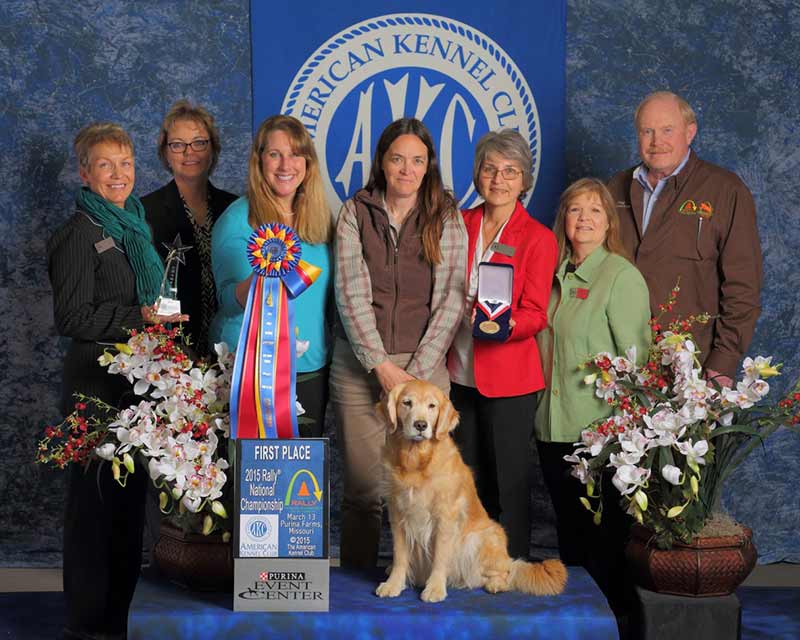 Rally Excellent Winners:
1st Place:
Duq'wood's Brand New Start BN GO RE NJP, a Belgian Tervuren owned by Gail Brown of Broken Arrow, Oklahoma
2nd Place:
CH Overo Chamber Of Secrets CDX BN RE PT MX AXJ AXP AJP XF, a Pembroke Welsh Corgi owned by Laura Gummelt and Jaime Bragg of Garland, TX
3rd Place:
CH Docmar Watch For Fowl Weather CDX RE JH, a Golden Retriver owned by Marsh Fuzia and Jane Docter of Bluefield, WV
4th Place:
Mcmatt's I Spy 4U @ Graffiti CD RE HSAds OA AXJ NF, an Australian Shepherd owned by Diane Bettis and Marck Bettis of Vila Ridge, MO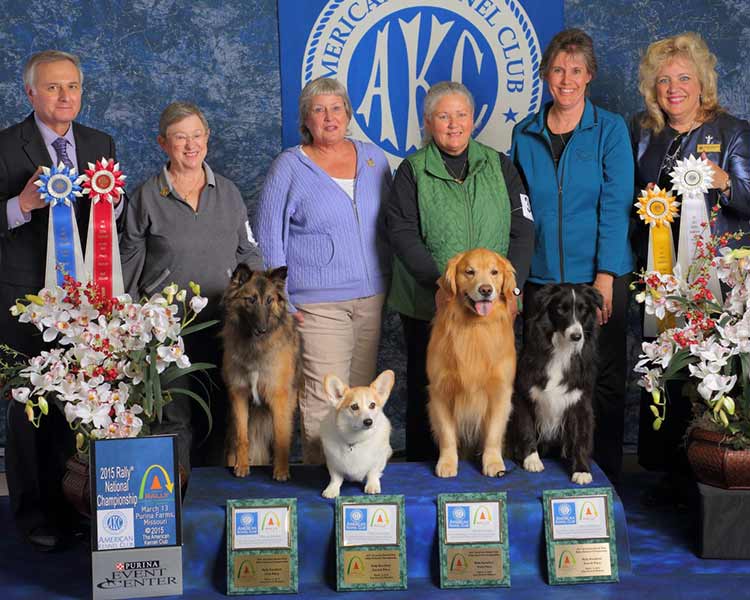 Rally Advanced Winners:
1st Place:
Sunchase's Simply Lightning Strikes Twice UDX RA MX MXJ NF CA CGCA, a Boxer owned by Tracy Hendrickson and Rhonda Brouillette of Broken Arrow, Oklahoma
2nd Place:
Scocars An Olympic Story RA, a Rottweiler owned by Carmen Hurley and Scott Hurley of Decorah, IA
3rd Place:
Emerald Wolf Ava Crowder BN RA, an All American Dog owned by Brenda Wendt of Indianola, IA
4th Place:
OTCH MACH Becksgold Jumping For Joy VCD2 UDX4 OM7 RA MXS MJS, a Golden Retriever owned by Lynn Bauer of Saint Louis, MO
Rally Novice Winners:
1st Place:
Rite Of Honor Vom Kraftwerk BN RN, a German Shepherd Dog owned by Luann Vuckson of Elizabeth, Indiana
2nd Place:
Sunfire's Md Cotton Thunderbird CD BN RN, a Labrador Retriever owned by Anita Eisthen and Robert Eisthen of Cincinnati, OH
3rd Place:
Mirasol Westmarch Beeyond This Momint BN RN CGC, a Golden Retriever owned by Paula Ellis and Judy Super of Woodbury, MN
4th Place:
Roughstock Chillin' It At Checkitout CD RN, a Border Collie owned by Kelsey Corn of Moore, OK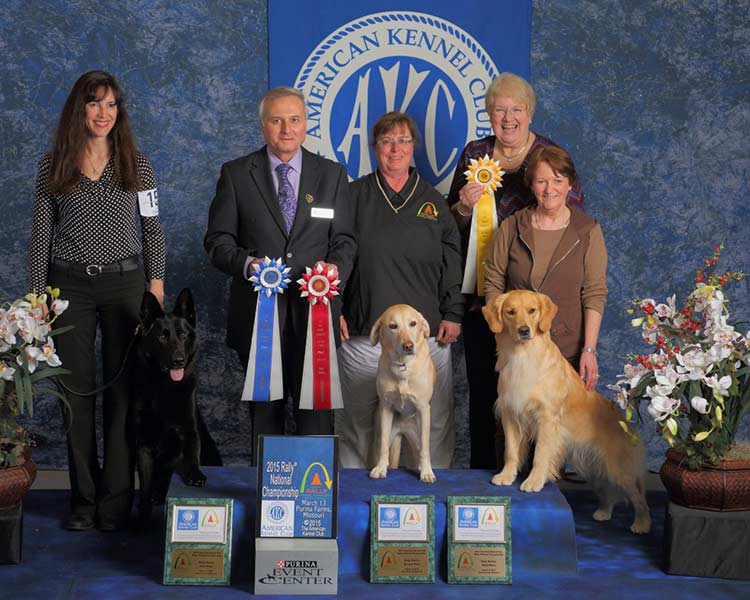 For complete results, visit the Obedience and Rally pages on the AKC website.
https://www.akc.org/wp-admin/admin-ajax.php
Get Your Free AKC eBook
The Five Commands Every Dog Should Know
Do you want a well behaved dog but don't know where to begin? The Basic five commands e-book is a great place to start and will give your dog a strong foundation for future training.