July 14 is Bastille Day, when France and Francophiles the world over commemorate the start of the French Revolution in 1789. The AKC joins the celebration in just the way you'd expect—with dogs.
Here's a roundup of some AKC breeds developed in France, plus a few that are French by tradition if not by birth.
Basset Hound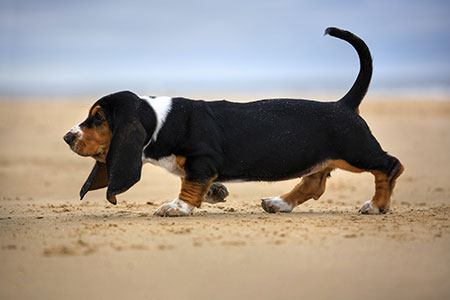 The Basset Hound has been a lovable fixture on the American scene for so long that some people don't realize it's French breed. Indeed, the word "basset" is French for "low," an apt description of this low-slung, droop-eared charmer. With their remarkably sensitive nose and short but powerful legs (perfect for plodding through thick underbrush), Bassets were a type of rabbit hound favored by French aristocrats out for a leisurely hunt. The French nobility was absolutely hound-happy and employed a profusion of pack-hound breeds on every conceivable quarry and terrain. These include the Petit Basset Griffon Vendéen and the Grand Basset Griffon Vendéen.
Bonus Point: The Basset's long, velvety ears and loose skin help capture the scent particles of quarry.
Beauceron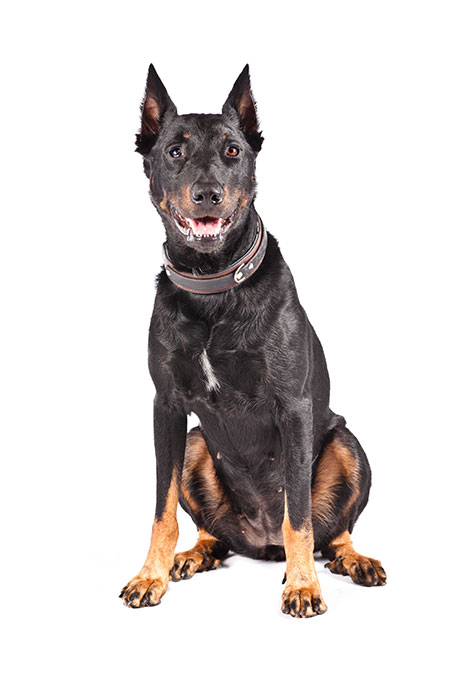 These sleek, powerful herders of medieval origin come from Beauce, the pastoral region south of Paris. A well-made Beauceron is a majestic sight, with ample muscles rippling beneath a shiny black coat accented by squirrel-red markings. A remarkably intelligent dog, the Beauceron has at various times been a war dog, guardian, and rescuer—but he's best known as a rugged but stealthy mover of livestock in the French countryside. France, with its age-old affection for dairy products, has developed many other herding breeds, the Berger Picard, Pyrenean Shepherd, Bouvier des Flandres, and Briard among them.
Bonus Point: The Beauceron's French nickname is "Bas-Rouge" (red stockings), a reference to breed's distinctively marked feet.
Brittany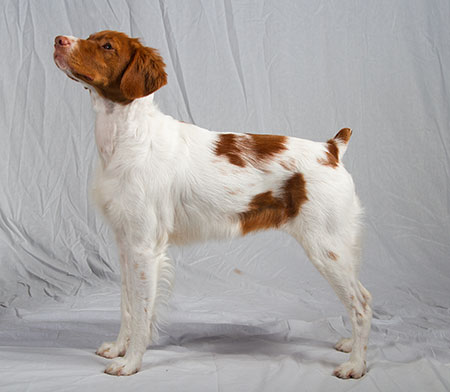 Once upon a time the Brittany was known in America as the Brittany Spaniel (l'épagneul Breton, as the French say). During the 20th century American- and French-style Brittany lines began to part company, and today the American type is thought to be more a pointer than a spaniel. Named for the northwestern French province where they were first bred, these upbeat, eager gundogs are known for their vivid coats, versatility, a great nose for birds, and the ability to work all day long in search grouse, woodcock, and other tasty game birds.
Bonus Point: The Brittany is the only fully French breed in the AKC Sporting Group.
Dogue de Bordeaux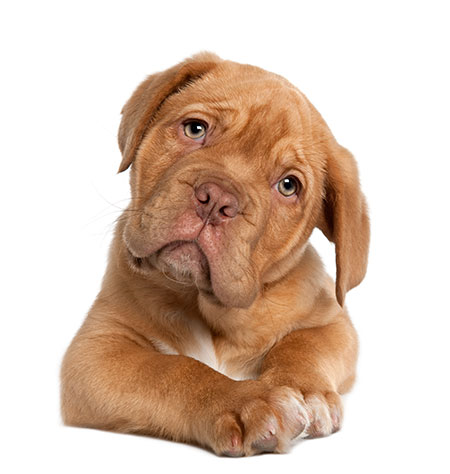 This immense, mastiff type is said to be the oldest French breed of dog. Dogues de Bordeaux are thought to date to the Roman Empire, back in the days when France was called Gaul, and were employed as war dogs and gladiators. These days the "Dog of Bordeaux" plays the role of an affectionate, sweet-tempered pet and courageous family guardian. A bright red coat, an impressively enormous head and wrinkly face, and a Bulldog-like undershot jaw are hallmarks of this unique breed. 
Bonus Point: Most Americans were ignorant of the breed until 1989, when a drooly Dogue costarred with Tom Hanks in the movie "Turner & Hooch."
Dogue de Bordeaux Society of America
Great Pyrenees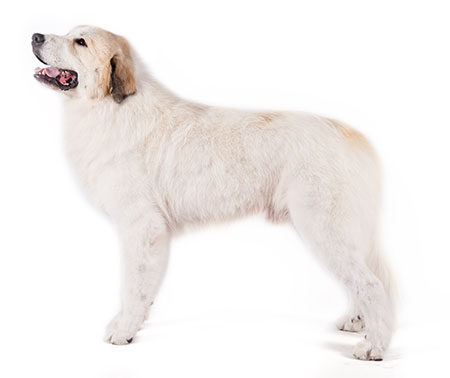 It was in the Pyrenees, the mountain range forming the boundary between France and Spain, that the Great Pyrenees earned his rep as a mighty guardian of flocks. Immense and powerful, Pyrs are nonetheless mellow fellows possessed of endless patience—a valuable trait for a dog bred to sit for days on end atop a mountain watching sheep. When meeting a threat, however, these majestic white dogs can snap quickly into action and stand their ground against wolves, bears, or human predators. Called the "Royal Dog of France" by Louis XIV, today's Pyr is a loving, steadfast protector of his human flock, with a special fondness for children.
Bonus Point: A nickname for the huge, white Great Pyrenees is "The Animated Snowdrift."
Great Pyrenees Club of America
Papillon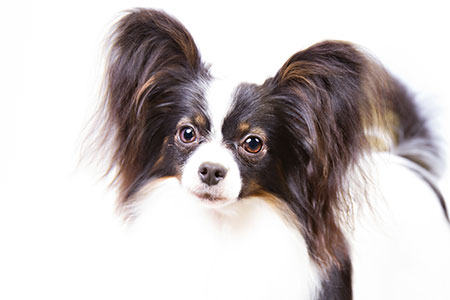 Don't let their daintiness fool you—these tiny toys with the big ears are robust and versatile. Bred down from spaniels centuries ago, the Papillon's sporting-dog blood makes him a better athlete than the usual toy dog. Agility is their game, and these clever, trainable little guys compete at the highest levels of the sport's size division. During their European heyday, beautiful and personable Paps were the favored lapdogs of noblewomen. Many of the great artists of Europe included Papillons in their portraits of the Continent's titled ladies.
Bonus Point: The name Papillon means "butterfly" in French, a reference to the breed's large, wing-like ears.
Honorary Frenchmen
Some breeds associated with France but actually developed elsewhere: the Poodle (Germany), Bichon Frise (the ancient Mediterranean), French Bulldog (created in England but quickly adopted by the French as a national breed), Wirehaired Pointing Griffon (whose national origin has proved tough to pin down but is generally considered more Dutch than French), and Coton de Tulear (a breed native to Madagascar but who barks with a French accent).
https://www.akc.org/wp-admin/admin-ajax.php
Get Your Free AKC eBook
The All-Purpose Grooming Tool kit
Do you have everything you need to keep your dog in tip top shape? Not sure where to start? This e-book will outline how to put together the perfect grooming kit for your dog.