Middleburg, Virginia—Paintings from the American Kennel Club collection will be part of the National Sporting Library & Museum's "Side-by-Side with Gun and Dog" exhibition, celebrating three centuries of the unique partnership of hunter and gundog.
The ambitious show contains American, British, and French "fur-and-feather" art on loan from the collections of the Adirondack Museum, Detroit Institute of Arts, Genesee Country Village & Museum, Hagley Museum, Philadelphia Museum of Art, Virginia Museum of Fine Arts, and Yale Center for British Art, in addition to the AKC collection.
Founded in 1954, the National Sporting Library & Museum is dedicated to the art and literature of equestrian, angling, and field sports. The library holds thousands of new and antique volumes, some going back to the 16th century. The museum houses exhibits of American and European fine art on animal and sporting themes.
"Side-by-Side with Gun and Dog" opens Friday, September 25, with a concert and free museum admission from 6:00 p.m. to 8:00 p.m. The show runs through March 20. (For full event information, click here.)
Three for the Road
Three mainstays of the AKC art collection will travel to Virginia for the "Side-by-Side with Gun and Dog" exhibition. Here's a preview:
"Highland Tod, Fox Hunter"
Queen Victoria's abiding love for the Scottish Highlands began on her honeymoon trip to Perthshire, with her adored Albert, in 1842. Thanks to the queen's influence, Victorian gentlemen harbored a fascination for the sporting pursuits and wildlife of Scotland.
Artist Richard Ansdell (1815–1885) typified the times: He was a posh Englishman, from London by way of Liverpool, who was inspired by the austere beauty of the Highlands. "After he had discovered Scotland and had built his own lodge there on the banks of Loch Laggan," a biographer wrote, "he spent time north of the border whenever he could—painting many Scottish subjects."
Ansdell poured all he learned of Highland culture into his 1859 panorama "Highland Tod, Fox Hunter." It's a 65-inch-wide visual encyclopedia of the region's dog breeds: Pictured are a Scottish Deerhound, Gordon Setter, Collie, Border Collie, the Dandie Dinmont, Skye, Cairn, and Aberdeen terriers, and an Otterhound.
"Highland Tod" is a dog lover's delight, and a goldmine of detail for those interested in the clothes, firearms, and other ephemera of old-time Highland life.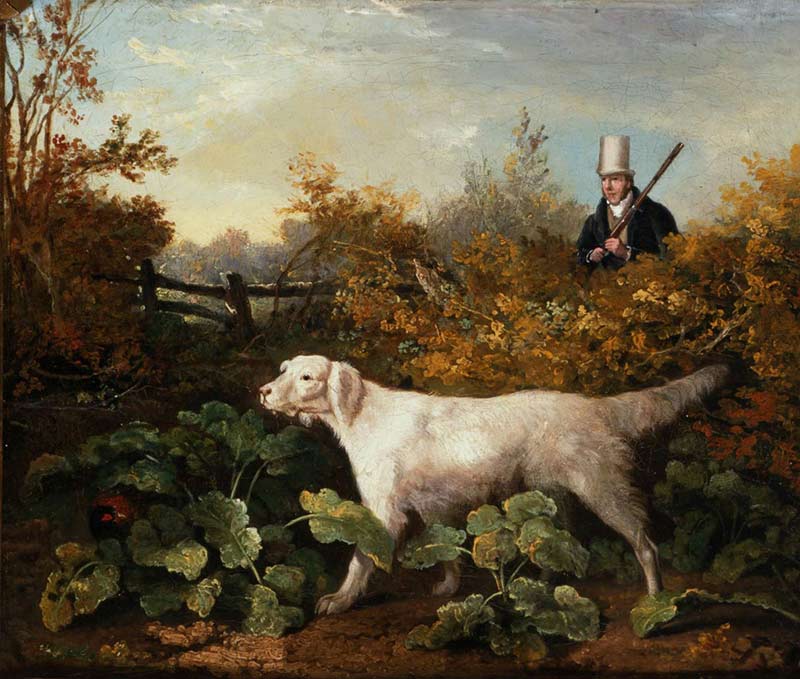 "Sportsman with Setter and Pheasant"
Phillip Reinagle (1749–1833) was a Scotsman from a respected family of musicians. In early childhood, though, it became obvious his gift was for painting. He apprenticed in Scotland before arriving in London, where he enrolled in the Royal Academy Schools.
Reinagle is best known by dog folk as illustrator of "The Sportsman's Cabinet." William Taplin's two-volume treasury of sporting lore was among the first dog books published in English, and Reinagle's pictures were an influence on generations of hunters and breeders.
In "Sportsman with Setter and Pheasant" a hunter, with shotgun at the ready, has his dog on scent in a turnip patch. There's a pheasant hiding right under the setter's nose—the beak and red eye of the black-headed bird are visible at lower-left. The painting's central figure, a bold white-and-ginger bird dog, is presented with Reinagle's usual sense of drama. But perhaps most notable is the rich and varied landscape inhabited by hunter, dog, and prey. This should come as no surprise: Among art historians, Reinagle is better known as an accomplished landscape painter than a sporting artist.
In this early-19th-century work, Reinagle captures on canvas a turning point in the history of the setter breeds, and in the relationship between dog and hunter. "The invention of the hunting rifle changed the setter into the bird dog we know today—one that stands and points its game," writes canine historian Dorthy Macdonald. "By the early 1800s, wing shooting had become a fashionable sport, and while the pointer became a favorite of some shooting sportsmen, the setter still dominated the scene by a 10 to 1 ratio."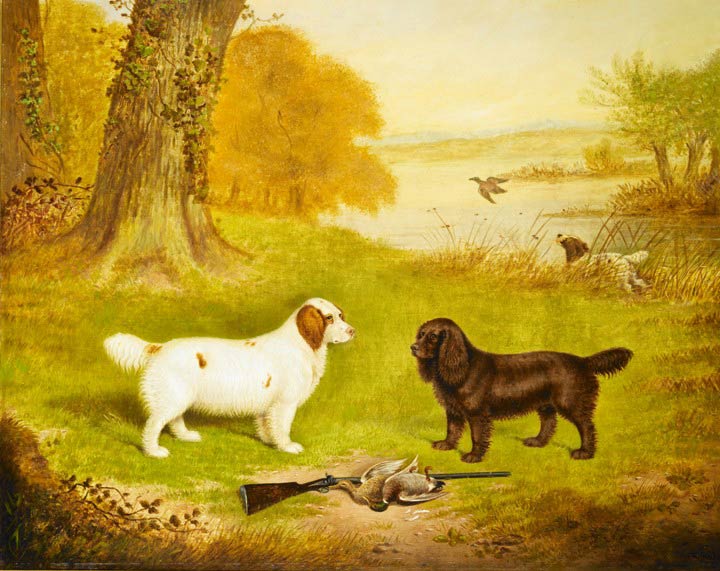 "Three Spaniels in Landscape with Rifle and Birds"
Before the rise of the retriever breeds, English sportsmen would use spaniels as dual-purpose gundogs, proficient at both upland game and waterfowl.
In W.L. Turner's canvas "Three Spaniels in Landscape with Rifle and Birds," a Clumber-type spaniel and what might be a Sussex or Field spaniel stand in the foreground with a brace of ducks and a typical long-barreled English rifle. In the background another spaniel, perhaps an early version of the Springer, "springs" a bird from the reeds.
By the mid- to late 19th century in England, waterfowl was becoming more and more the province of dogs bred specifically for water retrieves: first the Curly-Coated Retriever, followed chronologically by the Flat-Coat, which was overtaken by the Golden and Labrador retrievers as the preferred duck dogs of the British gentry. —B.B.
More on sporting dogs: Read Dorothy Macdonald's series of AKC Gazette articles, beginning with the Cockers.
We have a lot more from the AKC art collection to show you. Start here.