AKC Gazette
For more than 125 years the AKC Gazette has been the American Kennel Club's official monthly journal about the sport of dogs, filled with news and expert information. If you have a keen interest in dogs and canine events and want to learn more, the Gazette is an invaluable source of knowledge and inspiration. Published since 1889, the magazine's look and content have undergone a continual evolution with the times — and today we're reaching a wide audience with a sleek, new design and digital-friendly features.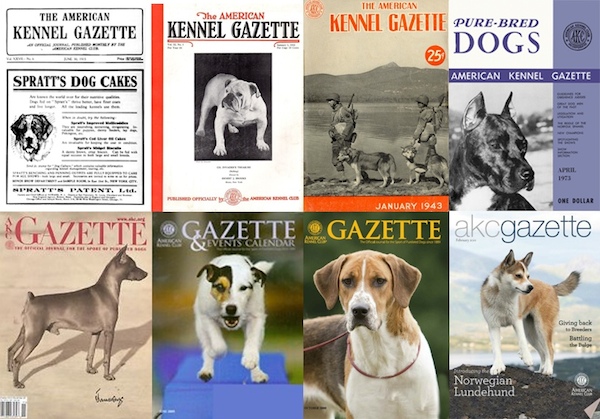 In every issue of the Gazette, readers will find:
"AKC Updates," a roundup of interesting news stories from AKC and the dog world;
the extensive "Breed Columns" section, sharing advice from numerous breed authorities every month;
"Times Past," where vintage art and photos provide a look at the rich history of our life with dogs;
"Dog People," with a bio and lively full-page caricature spotlighting personalities in the dog world;
the "President's Letter," a message on relevant topics from the president of the AKC; and
photos, video, and reporting from breeders, trainers, dog clubs, and the AKC.
The Gazette is now available online to all — you can browse current and past issues below, free of charge. Also, read our collection of featured AKC Gazette articles under the "Learn" tab here on AKC.org. We add to our website library of Gazette articles every week, so check back regularly! And to enjoy photos, articles, and dog-related news and updates throughout the month, visit the AKC Gazette Facebook page.
The AKC Library & Archives holds a complete run of the Gazette. Click here to contact the Archivist with historical inquiries.
If you'd like to receive the latest AKC Gazette via e-mail every month, click here to subscribe.

2017
2016
2015
2014
2013
2012
2011
2010
2009
2008