One of the creepiest, crawliest, dog Halloween costume trends in recent years has been SPIDERS. Spiders have always played a role in Halloween decor, adding a spooky element into the holiday fun. There are endless human costumes out there, but what about spider costumes for dogs? While some owners may not want to dress their dogs up for Halloween, some choose to go all out. From four legs to eight legs, we've rounded up possible costumes to turn your adorable pup into a creepy crawly.
Tarantula Dog Costume
: For a smaller dog, this tarantula costume won't swallow them and will actually utilize their small size.

Silly Spider
: If you're not as serious about scaring your guests, this goofy little number will make your puppy pal the life of the party.

Spidey Paws
: This costume feature googly eyes and antennae which your dog is sure to love.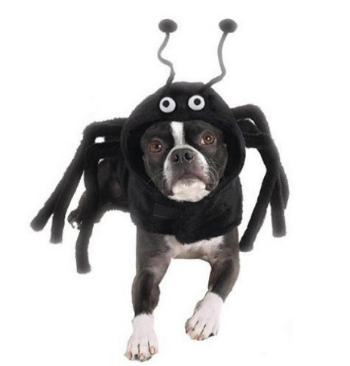 Spiderman
: Not all spiders have to be creepy. Sometimes they can be superheros in disguise (but sssh, don't give away their secret identity)

Fuzzy Spider
: If you're going for more authentic this one from Zack and Zooey has bendable legs and fur to help it resemble a real tarantula.

Tricky Spider: This costume is full on creepy. It's got the legs, the fuzz, and different spooky colors.

Spider Princess
: And if you want to take a different spin on the spider trend, check out this adorable spider princess costume.
Want more costume inspiration? Check out the best costumes for dogs and owners or if you want a good laugh, see our list of the funniest dog costumes. If you plan on celebrating Halloween with your dog, make sure to read our tips on how to keep your dog safe. And you're feeling creative, read our tips on DIY canine costumes.
Have fun this Halloween you creepy crawlers!
https://www.akc.org/wp-admin/admin-ajax.php
Get Your Free AKC eBook
Tips for Responsible Dog Owners
This e-book is a great resource for anyone who's considering dog ownership or already owns a dog. Download for tips on how to be the best dog owner you can be.