Maybe it's a work-related excursion or simply a leisurely adventure, but there's no doubt every dog owner who needs to travel has debated whether to take the dog or leave him home. Whether the journey is across town or across the country, if you decide to take your dog, here is some information that will help you make sure your trip goes off without a hitch. After all, it wouldn't be quite the holiday without your special companion around, now would it?
We took our favorite four-legged friend, Buddy, with us on a recent retreat to the lovely Adrift Hotel, a stylish and 100 percent dog-friendly gem along the Pacific Coast, for a bit of rest and relaxation, and this is what we learned about traveling together.
General Tips
Here's a handy bullet-point list of essentials to have on hand when you travel.
Vaccination records
Food
Collapsible bowls (super handy and compact for your carry-on if you're flying)
Water bottle (we love the Gulpy)
Any medication your dog requires
First-aid kit
Poop bags
Handheld fan (if you're going somewhere hot or own a breed prone to overheating)
Towel (a good thing to throw over car seats or anything you don't want scratched)
Sanitary wipes
Room spray
Make Sure Your Dog Is Properly Tagged
In the event that your dog gets off-leash or makes a bolt for it, you'll want to ensure he can find his way back with a little help. Make sure his tag has your cell phone number and not a home number. This is a little step that can make your life a lot easier in the event you two get separated.
Bring Your Dog's Favorite Toys, Treats, and Things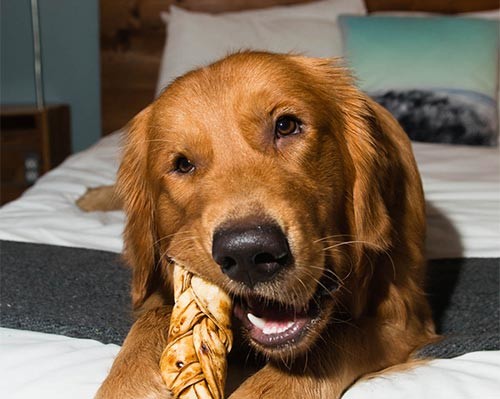 Tennis balls, chew toys, molasses biscuits — whatever your dog's favorite treats are, pack a few. In an unfamiliar environment, your dog will be comforted by his favorite things, and they may keep him occupied until you reach your destination.
If possible, bring your dog's bed to help him feel more comfortable. This might be an easier thing to do if you're driving rather than taking a transcontinental flight.
Pack More Food Than You Think You Need
We're in the dead of winter now, and if the blizzard in New York City and its consequent flight cancellations are any indication, it's always a smart idea to expect the unexpected. In the event you end up being away for longer than previously expected, have a reserve of food ready for your dog to eat.
Take Stock of Where a Nearby Vet and Pet Store Is
Your dog will award you 100 points for being an A+ dog owner — we know ours did.
Make a Walk a Priority When You Arrive at Your Destination
Who doesn't need an excuse to take a nice long walk on the beach, through the woods, or into town? After a long ride in the car or on a plane, nothing will get those paws limber quite like a stroll around the block.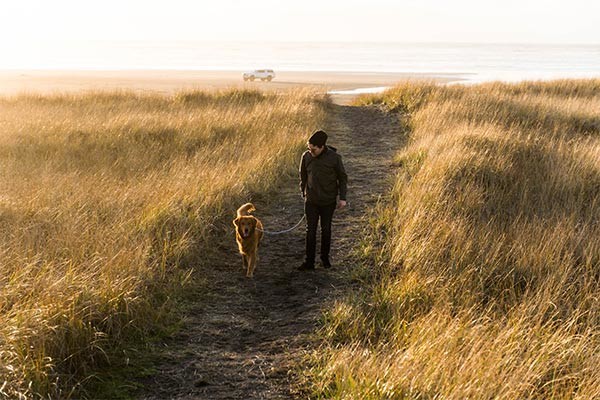 Transportation
Airplane:
Always allow extra time at the airport when traveling with your dog. Delta allows small dogs in the main cabin on most flights for a fee of $125 each way, but every airline is a little different, so do yourself a favor and print out the airline's pet policy or have it pulled up on your phone in case you run into any problems. Generally, your sidekick must be able to fit in a carrier in front of your seat. Make a note of pet relief areas in the airport, just in case your dog needs to go during a layover.
Car:
When your dog rides in the car with you, it's never a bad idea to have things like towels and wipes on hand.
Many behavior-related problems are due to lack of exercise. Make sure you've given your pal ample opportunity to use up some of his energy before loading him into the car to avoid any undue stress.
Amtrak:
For $25, you can bring your small dog on most routes up to seven hours long. Your dog must be in a carrier, and the carrier counts as one carry-on. You'll have to fill out a little bit of paperwork before embarking on the train. You'll find more information on Amtrak's site here.
At the Hotel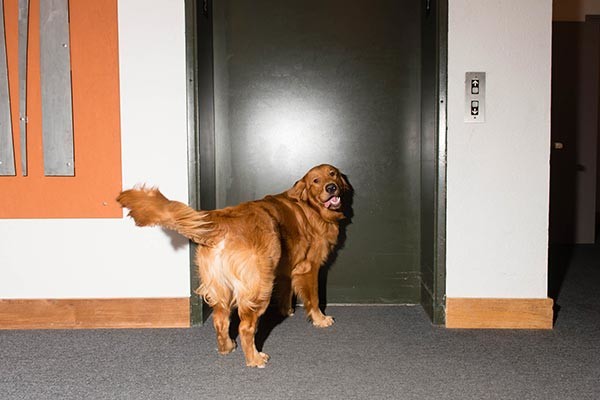 For a useful database of dog-friendly hotels, reference Bring Fido here.
Be sure to take your dog out for plenty of walks — especially if you need to go out without your dog and before bedtime. Have to leave for a few hours? You might want to turn on the television to keep your dog company while you're away. Choose a corner to set down food and water and set down a mat under the food and water bowls to avoid a messy cleanup — our dog Buddy has a tendency to slosh water all over the place with his giant gulps, so having a mat on hand was a godsend.