Every day, pets across the country are undergoing some sort of procedure; whether it's routine or an emergency that requires anesthesia, owners know it's all a part of the process. But just like for humans, there's a risk to "going under," and it's important to be aware of potential complications, to know what questions to ask beforehand, and to understand the precautions to take to ensure a pet's safety.
When it comes to routine procedures, pet owners leave their veterinarian's office with the faith that everything will go smoothly; what they least expect is a call that something's gone wrong. But that is exactly what happened in December 2016 to first-time pet owners Lisa Marchese and Gudry Genao from Staten Island, N.Y. after they brought their five-month-old Havanese puppy in for a routine neutering procedure. Minutes after the procedure began their beloved Petey passed away.
"We weren't nervous for the procedure; if anything we felt bad for what we heard he was going to experience afterwards," says Marchese. "It never crossed our minds something would happen; when the call came from our vet, it was almost surreal. It's hard to put into words what went through my mind."
As a result of their devastating loss, Marchese and Genao, who have since adopted another puppy, are fearful of putting their new puppy through the procedure. Marchese knows it's something they'll have to do at some point and says both she and Genao will "put their faith in the doctor's hands" when that time comes.
Like other owners who have gone through a similar experience, the fear is greater when it comes to making the decision to do it again. When talking to your veterinarian about your concerns, make sure you walk away from the conversation feeling confident in the plan of action, and gather as much information as possible. "Even if you don't completely understand the exact protocols they're using, you're now armed with information you can look up," says Dr. Judy Morgan, a holistic veterinarian, author, and speaker, based in New Jersey.
What Are the Concerns About Pets and Anesthesia?
While there's always a risk, having a plan in place before using anesthesia will make the procedure as safe as possible. For animals that are healthy, the risks are greatly reduced; but if the dog is old and/or has any pre-existing health conditions, the vet should take extra precautions and perform diagnostic testing beforehand to improve his safety.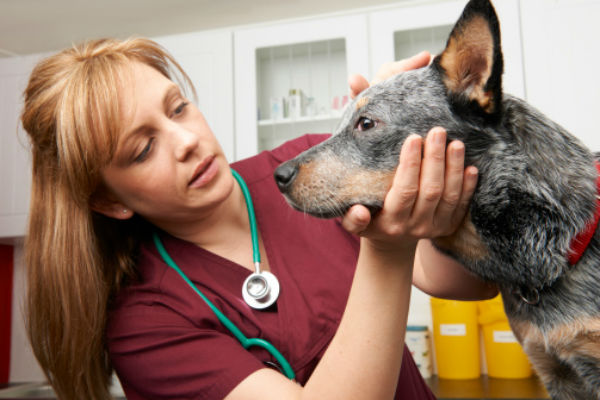 "Age is not a disease, and the anesthetic risk is not much greater for a geriatric patient than a patient who is younger, as long as they are healthy with no co-existing disease," says Dr. Berit Fischer, head of the Anesthesia and Pain Management Service at New York City (NYC)'s Animal Medical Center. A board-certified veterinary anesthesiologist, Dr. Fischer is one of approximately 220 currently in North America.
The NYC Animal Medical Center veterinarians assign each patient a physical status score on a scale of one-to-five. They use this score, along with the patient's history and other diagnostic test results to determine potential anesthesia risk. Using this information, they develop a personalized plan, which includes pre- and post-operative care. It's a good idea to be aware of what your veterinarian plans to do for pain management, once the procedure is concluded and your pet recovers from the anesthetic.
The dog's weight can also be a factor when he is undergoing anesthesia. If your dog is overweight, and the procedure is optional, most veterinarians will want your pet to lose a few pounds beforehand. And for those who love the smaller size pups, they, too, can face challenges. Their small stature can contribute to rapid drops in core body temperature and difficulty placing monitoring equipment on the body. These concerns, Dr. Fischer says, can pose a problem.
Educating Ourselves
Both Dr. Fischer and Dr. Morgan make it a priority to put an owner's mind at ease, from discussing potential risks, answering questions, to explaining protocols, their overall goal is to bring a sense of comfort. "It's not just what your doctor tells you, but how he answers your questions," says Dr. Fischer.
Important questions to ask:
Will there be a dedicated person monitoring the anesthesia while the vet is performing the procedure?
What are his credentials or training?
What type of monitoring is performed, and will there be someone watching my dog's vitals (i.e. heart rate and rhythm, blood pressure, temperature, oxygen saturation)?
Will blood work be checked before anesthesia?
Is my dog on oxygen during surgery?
Will he be on fluids? Will there be an intravenous catheter placed?
Is there someone present to help him ventilate (breathe), and do you intubate your patients?
Where does the dog go for recovery, and who will be with him during this period?
How do you plan to control any possible pain—both during surgery and after my pet comes home?
Preparing for the Unexpected
Externally, your pet may appear healthy, but internally, there could be a different story. "That's why I recommend pre-anesthetic blood work one week or so ahead of time," says Dr. Morgan. "Before any type of surgery or procedure, it's best to know who's doing what and why certain precautions are being taken."

In addition to the precautions that can be taken ahead of time, you as the owner can request certain protocols be followed while your pet is under anesthesia. Dr. Morgan says owners should insist on both an IV catheter and that IV fluids be administered during surgery. "It's going to be harder to get a catheter in if a problem arises, and you don't want to lose the few precious moments it takes to gain access to a vein."
Another precaution to consider is an endotracheal tube (which holds the airways open and prevents aspiration of fluids or gastric contents into the lungs). In the event your dog has trouble breathing, having an endotracheal tube in place will allow the anesthetist to assist him. Brachycephalic breeds, (think Pug, Lhasa Apso, Bulldog, Boxer, etc.) have an increased risk due to their facial structure and hereditary breathing problems. With an already crowded airway, access is much more difficult. "Because these breeds tend not to breathe as well, we take extra precautions," says Dr. Fischer.
While there is no foolproof way of knowing what your pet's reaction to anesthesia will be, educating yourself and taking precautions beforehand will minimize potential risks, as well put your mind at ease; that way you can make the best healthcare decision for your loved one.
https://www.akc.org/wp-admin/admin-ajax.php
Get Your Free AKC eBook
Emergency First Aid for Dogs
Even the most responsible pet owner can't always protect their pet from a sudden accident or illness. Getting your pet immediate medical attention can be the difference between life and death. Download this e-book to learn more about what to do in an emergency situation.