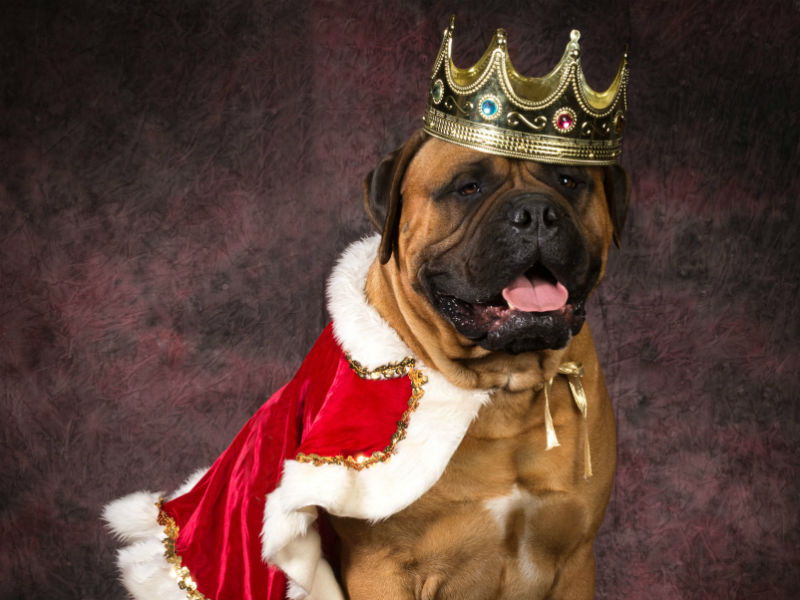 Larger dogs are a little tougher to dress up, in general, but we've found a good list of easy costumes for larger dogs that are both cute and easy to get your dog into. Even big dogs can get in on the trick-or-treating this Halloween season.

1- Bat Dog
We all need a super hero, or three, in our lives. Here's the bat dog to the rescue!!!



2- Ballerina
If your dog is anything like mine, grace is not her strong suit, but luckily she only has to look cute for a little while in this tutu.



3- Ghostbusters
Who are you gonna call? Ghostbusters! Not sure this adorable dog will help much, but he definitely looks cute.



4- Skeleton
A fun take on the classic skeleton costume: this time for your dog.



5- Darth Vader
Your dog will probably come by the heavy breathing necessary for this costume, but it just adds authenticity to the character.



6- Monster
Your dog's not really a monster, but on Halloween might as well dress him up as something he's not (or sometimes can be).



7- Lion Mane
We know your dog is more like a little kitten, but maybe, just on Halloween we can pretend he's a little more vicious.



8- Police
The costume for when your dog has dreams bigger than being in the K9 unit.



9- Tuxedo
Everyone wants to feel and look fancy every once in a while, even your dog. This tuxedo Halloween is perfect for that.



10- Prisoner
The perfect costume for the dog that is always mischievous and stealing your spot on the couch.


Want more suggestions for the best costume for your dog this Halloween? Check out trendy costumes, couple costumes, and more.
For more spooktastic inspiration, head over to the AKC Shop and check out our Halloween collection!