So now you are ready for the next step after puppyhood for a potential future therapy dog.
A great place to start in preparing your dog for therapy work is to take an AKC Canine Good Citizen (CGC) class. Some therapy dog organizations require a dog to obtain a CGC certificate as a prerequisite for therapy dog training. Earning a CGC demonstrates your dog has good manners and basic obedience skills.
The most important trait in a therapy dog is temperament. A therapy dog should be calm, friendly and able to accept handling by many people. Your dog should enjoy being around a wide variety of unfamiliar people. Age requirements vary according to organizations, but therapy dogs can be any size and can be purebred or a mixed breed. They can be small enough to sit on a lap or bed, or large enough to rest a soft head for petting on a knee or side of a bed.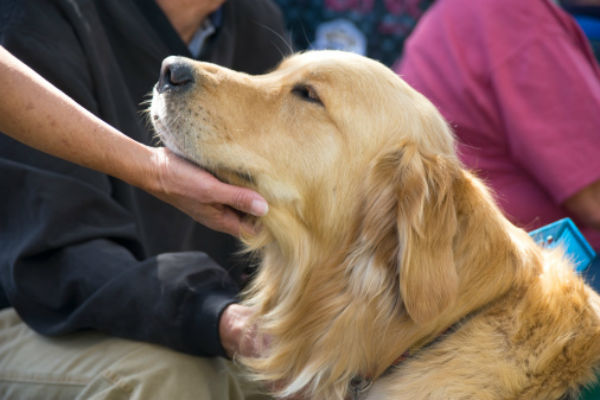 If you feel your dog has these qualities, it is beneficial to pursue a class for therapy dog training. Many dog training facilities offer therapy dog classes. Some therapy dog organizations require a class and some do not, but most often, a class is highly recommended.
A class can be very helpful in guiding you every step of the way toward your dog's certification. For help in finding a class near you, click here.
Often a class will focus on requirements for a particular therapy dog organization. Affiliation with a nationally recognized organization allows you and your therapy dog access to various types of facilities. Click here for a listing of national therapy dog organizations.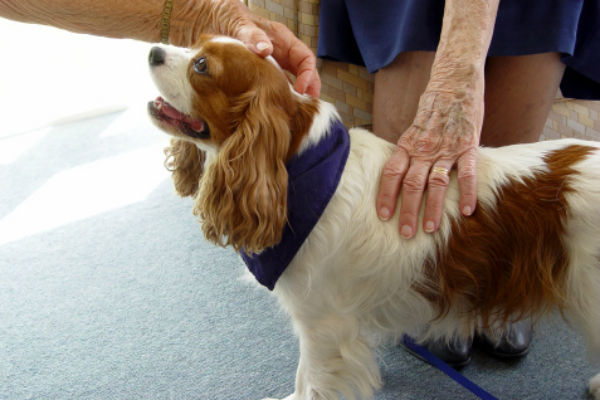 There is a difference between a therapy dog and a service dog. A service dog helps individuals perform tasks they cannot do for themselves because of a disability. A service dog will usually wear a vest with the wording "please do not pet" indicating that the dog is working. Persons with disabilities who are partnered with a service dog are allowed to take their dogs into public places normally prohibited to dogs.
A therapy dog will often wear a vest or bandana inscribed with the name of a therapy dog organization. A therapy dog is there to be petted and provide comfort and support to individuals at various facilities requesting visits.
You can look forward to rewarding volunteer teamwork as you share your special dog's gifts of love and devotion with others. You and your dog will touch many lives bringing comfort and joy.
https://www.akc.org/wp-admin/admin-ajax.php
Get Your Free AKC eBook
Does Your Dog Have What it Takes to be a Therapy Dog?
My dog is great with people, I want her to be a therapy dog. Where do I start? If you have asked this question then this e-book is for you. Download to learn more about Animal Assisted Therapy and how to get started.