Real Life Search and Rescue Dog Hero Unveils New DOGNY Sculpture
Ruger Von Konigsdorf, one of the many search and rescue (SAR) dogs who inspired the American Kennel Club's charitable DOGNY public art program, had the honor Wednesday, September 4, of unveiling the DOGNY sculpture that will serve as the unofficial mascot to New York City's 6th Police Precinct.
During the ceremony held at South Street Seaport, Ruger, a 5-year-old German Shepherd, pulled back a cover to reveal the sculpture, called "I Love NY Search & Rescue," which will be on display outside the 6th Precinct at 233 West 10th Street through November. The design was created by NYU art student Adrien Zap, who painted a pawprint in place of the traditional heart in the "I Love NY" treatment. The sculpture is one of more than 20 sponsored by the Iams Company, the major supporter of DOGNY.
Ruger and his handler assisted at Ground Zero and helped recover the bodies of six firefighters. "Ruger and I take a great deal of pride in the important work that we do," said Bob Gleeson, Ruger's handler. "I can't say enough to thank the AKC, Iams and the people across the country who support search and rescue organizations. These efforts will make a difference."
"Bob and Ruger and canine search and rescue teams across the country play a vital role in our communities," said Iams spokesperson Juan Rodriguez. "We are delighted to be a part of a program that pays tribute to them and also helps raise funds so that they can continue their heroic work everywhere."
Rodriguez also introduced special guest Michele Siegel and her partner Alfalfa, a trained therapy animal team. Following the September 11 tragedy, Michele and Alfalfa, a rough-coated collie, visited the Family Crisis Center at NYC's Pier 54 five times during the initial rescue efforts to provide comfort and support to those in need. "Since DOGNY is about saluting remarkable dogs, we thought it appropriate to have Michele and Alfalfa on hand for today's' unveiling," said Rodriguez.
Iams also announced that visitors to participating New York area Petco, Petland, NJ Pets and Pet Supplies locations can donate $1 to the cause and put their name on a DOGNY pawprint which will then be displayed in the stores.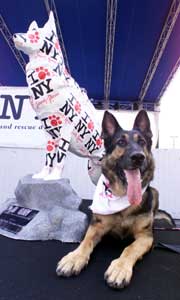 https://www.akc.org/wp-admin/admin-ajax.php
Get Your Free AKC eBook
Does Your Dog Have What it Takes to be a Therapy Dog?
My dog is great with people, I want her to be a therapy dog. Where do I start? If you have asked this question then this e-book is for you. Download to learn more about Animal Assisted Therapy and how to get started.