An Irish Wolfhound in Westerlo, Belgium is now officially the proud holder of a Guinness World Record.
The dog, named Keon, holds the record for the "longest tail on a dog." How long is his tail? 30.2 inches (or 2 feet and 6.2 inches). Not only is this an amazingly long tail, but it's also a total of 1.7 inches longer than the previous record holder.
Keon, who belongs to Ilse Loodts and her family, had to have his tail examined and measured by a veterinarian to receive the official record.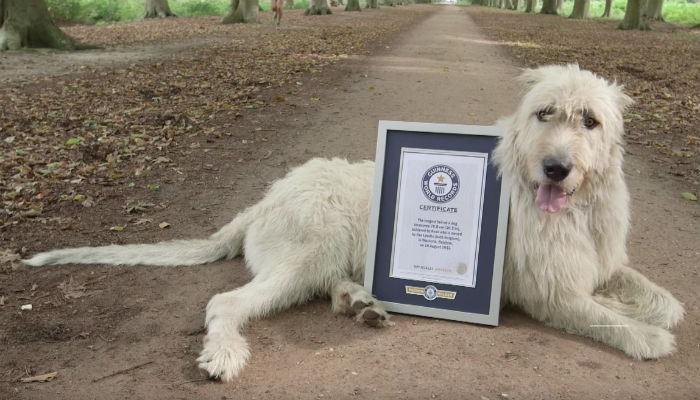 Even though Keon is an Irish name meaning "courageous warrior," his owner tells Guinness World Records that he's a gentle giant and easy to take care of.
Irish Wolfhounds are known for being calm, dignified, and courageous. Learn more about the breed here.
And see Keon and his amazing tail in the video below.
 
Related:
"Surfing Dog Float" Breaks World Record at This Year's Rose Parade
https://www.akc.org/wp-admin/admin-ajax.php
Get Your Free AKC eBook
The All Purpose Grooming Tool kit