Dachshunds are bound to pop up anywhere, doing anything. But who has time to keep track of all those Dachsie doings? As a public service, AKC Dog Lovers goes around the corner and around the world to bring you (cue deep-voiced announcer with lots of reverb) DACHSHUNDS IN THE NEWS!
Pancevo, Serbia—The Associated Press reported that the citizens of this northern Siberian town gathered recently to dedicate a memorial statue to Leo the Dachshund, who gave his life while saving a 10-year-old girl from an attack by a huge dog 10 times Leo's size. The AP story says the bronze statue was "put up next to a children's playground in Pancevo's city park, honoring the dog and teaching kids about animal friendship and sacrifice. An alert-looking Leo, his head raised above his stretched paws, now rests proudly on a white base surrounded by flowers."
Ucluelet, Canada—While on a camping trip Shawn Hanson, of Victoria, punched a cougar in the face to keep the big cat from making off with his dappled Dachsie named Bailey. "I see something out of the corner of my eye and a cougar jumped out about 10 to 15 [sic] away and just snatched the dog," the man told ABC News. "It put her paw down and her mouth around her [Bailey's] neck and started dragging her. I was able to cock back and punch the cougar in the face and it kind of went cross-eyed and just dropped the dog."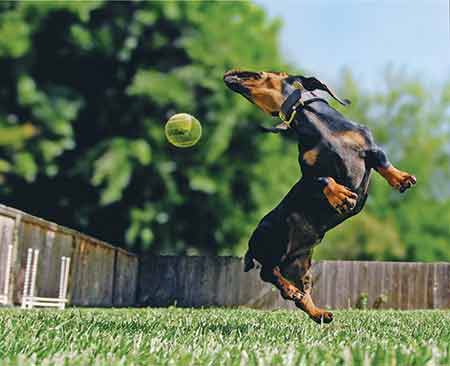 Abilene, Texas—About 100 Dachshunds ran as fast as their little legs allowed in the sixth annual Dachshund race held July 16 in Nelson Park. ABC News outlet KTXST 12 reports that "the grand champion of the Dachshund Races was an appropriately-named, fast wiener dog named Chevy."
Los Alamitos, California—In other Dachshund-racing news, it'll be wiener take all at the 20th Annual Wienerschnitzel Wiener Nationals, to be held at Los Alamitos Race Course on July 18, to benefit the Seal Beach Animal Care Center. The Orange County Register covered the test trials on July 13 at the race course. "Tiny legs, tiny brain," Susanna Morgan, of Playa Vista, told the paper as she watched her befuddled Dachsie run in circles. The winner of the race takes home $500 and a trip to the Holiday Bowl in San Diego for the 2015 National Finals.
Somewhere in Cyberspace—Finally, from our entertainment desk: Crusoe the Celebrity Dachshund has done it again. The popular video star hit YouTube pay dirt with his all-Dachshund tribute to the equally popular "Minions" movie. At this posting, Crusoe's new dachsumentary, hailed by critics as the "Citizen Kane" of Dachshunds-in-funny-costume videos, had close to 3 million views.
Join us next time, when the Dog Lovers news-hunds will again span the globe in search of DACHSHUNDS IN THE NEWS!
-Staff Writers
https://www.akc.org/wp-admin/admin-ajax.php
Get Your Free AKC eBook
Canine Good Citizen (CGC)
This program is recognized as the gold standard for dog behavior. In CGC, dogs who pass the 10 step CGC test can earn a certificate and/or the official AKC CGC title.