The Canine Ambassador Program is an integral part of the American Kennel Club's public education effort. Canine Ambassadors are the connection between clubs and purebred dog fanciers of tomorrow. They support their clubs' public education outreach by visiting classrooms and community youth organizations to make presentations, often with their dog. They promote purebred dogs, responsible dog ownership, and safety around dogs. Below, three of the AKC's Canine Ambassadors share their personal experiences.
Amy Rogers, English Springer Spaniel Field Trial Association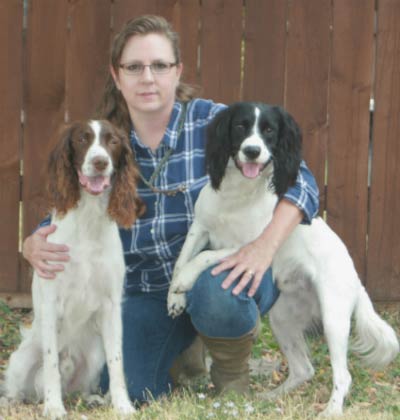 Amy with her dogs, Ghillie and Tag.
Why did you become a Canine Ambassador?
"I started doing this because my nephew was afraid of dogs. A few years ago, we took him to an all-breed show and explained how to meet a dog. We were at the first booth, the Newfoundland Rescue, for 40 minutes. Then, we went to watch obedience and rally. While he was still hesitant with smaller dogs, he pretty much conquered his fear in an hour. When we returned home, he was interested in working with our dogs, especially when he found out there were whistles and dummy launchers involved.
"If I can help educate children and make them comfortable around dogs, it's worth the time spent — and even better when they want to learn to handle and train dogs."
Diana Wilkie, The Gloucester Kennel Club of Virginia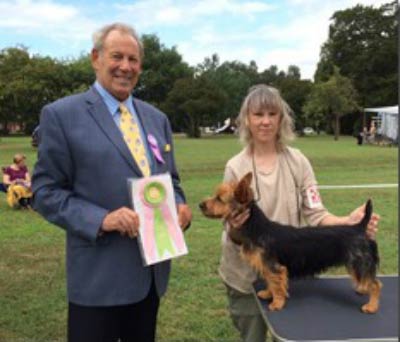 Diana with her dog, Walker
What is your most memorable moment as a Canine Ambassador?
"When working as a Canine Ambassador, I bring my Australian Terrier and sometimes my 7-month-old 'training puppy' for the children to pet. One day, a boy in kindergarten said to my puppy, 'I know you're not old enough, but when you get to be my age, I will read to you and take care of you.' The little boy wants to see the puppy again so he can talk over his problems."
Theresa Meyer, American Maltese Association, Maltese Club of Greater Miami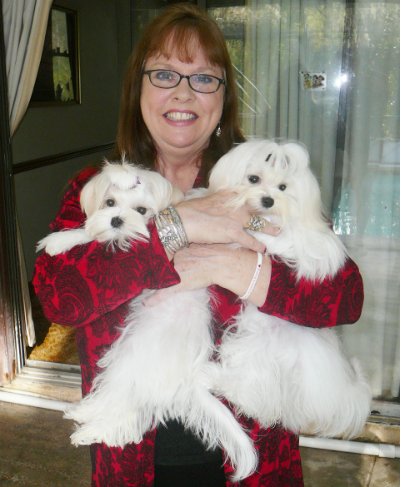 Theresa Meyer and her two dogs, Solitaire and Georgia
Why would you encourage other AKC club members to get involved with the Canine Ambassador Program?
"Knowledge is a great thing, and love of our canine friends and how to treat them is a worthwhile effort."
Complete the sentence: Maltese is my favorite breed because …
"…their sole purpose is love and companionship. I have been involved with this beautiful breed for 30 years and they have enriched my life. My husband and I actively show our Maltese and travel in our RV with them, and we have a wonderful time doing so."
Interested in finding out more about the Canine Ambassador Program or becoming a Canine Ambassador? Learn more about the program here.