The Golden Retriever may be a relatively new entry into the world of the purebred dog (only about 150 years old), but you wouldn't know it if you looked around. These sunny, longhaired beauties seem to be everywhere. You can't escape their sweet, fuzzy faces.
On YouTube, Facebook, and in other media outlets, there's a daily barrage of these amiable creatures. You'll see them helping unload groceries from a truck, nursing kittens, saving babies, waiting politely in a group in front of brim-full food bowls, or in great packs, making a school of hairy fish in a river as they gleefully follow their person. On a more serious note, they are often first on the scene when disaster strikes, hunting for survivors or easing grief.
Other breeds may perform the same jobs, but there's something special about the way Goldens do it all. Maybe it's their attitude, bringing the notion of joie de vivre to a whole new level.
"The Golden Retriever is aptly named—especially the golden part," notes Nona Kilgore Bauer, a longtime Golden fancier and an award-winning author. "What began as a description of his yellow coat more appropriately describes his sunny disposition and his 14-karat value to his owner and society."
Here are eight reasons why they have such a large and devoted following:
Big Hearts
In the past few years, a small army of Golden Retrievers has shown up in the aftermath of our most devastating tragedies, including the Newtown, Connecticut, school shooting and more recently, the nightclub massacre in Orlando and the police murders in Dallas.
They are the Comfort Dogs of the Lutheran Church Charities, Northbrook, Illinois, and their job is to combat grief.
In 2005, LCC president Tim Hetzner was working with the relief efforts for Hurricane Katrina, helping people who had lost pets. He was struck by the intensity of the bond, so strong that owners were willing to risk their lives for their animals. It gave Hetzner the idea to use dogs to soothe people in crisis.
The organization started its K-9 comfort initiative in August 2008, with four dogs. Hetzner says they now have 130 dogs in 23 states.
Hetzner believes that Goldens have something special when it comes to canine healing arts and has chosen the breed, all AKC registered, for his program. He especially likes their calming aura. "We call them a comfort rug with a heartbeat," he says. "Goldens are great listeners, they show unconditional love, they're confidential, they don't take notes, they're nonjudgmental."
On top of that, they are versatile, able to function in all kinds of situations, with people ranging from young children to elderly Alzheimer's patients. They can master many skills, and will work for multiple handlers. Their quick minds—and background as gundogs—allow them to concentrate in the face of distractions encountered at disaster sites—sirens, shouting, even with guns or other loud noises in the background.
And, of course, there's one other, most important factor.
"Goldens, by nature, are lovers," he says.
Amusing History
Everything about these dogs can make you smile, so it's fitting that the person who started it all should have a whimsical name—Dudley Coutts Marjoribanks, a 19th-century Scotsman who was later elevated to the title Lord Tweedmouth.
In The Golden Retriever, by AKC judge and longtime Golden fancier Jeffrey G. Pepper, breed historian Marcia R. Schlehr tells the tale of a chance meeting that changed the world. Marjoribanks was on holiday in southern England when he met a cobbler with a dog, Schlehr writes, "of an unusual bright golden color." The owner said that the dog was the sole yellow puppy from a litter of black Wavy-Coated Retrievers. Marjoribanks bought the dog, named him Nous (the Greek for wisdom), and bred him to a liver-colored Tweed Water Spaniel, Belle. Four yellow balls of fluff from Nous/Belle breedings became the foundation for today's Goldens. Later breeders introduced Irish Setter and yellow Labrador Retriever into the bloodline. The AKC recognized the breed in 1925, and their popularity soared after WWII. They have been in the top 10 in AKC breed rankings since 1976.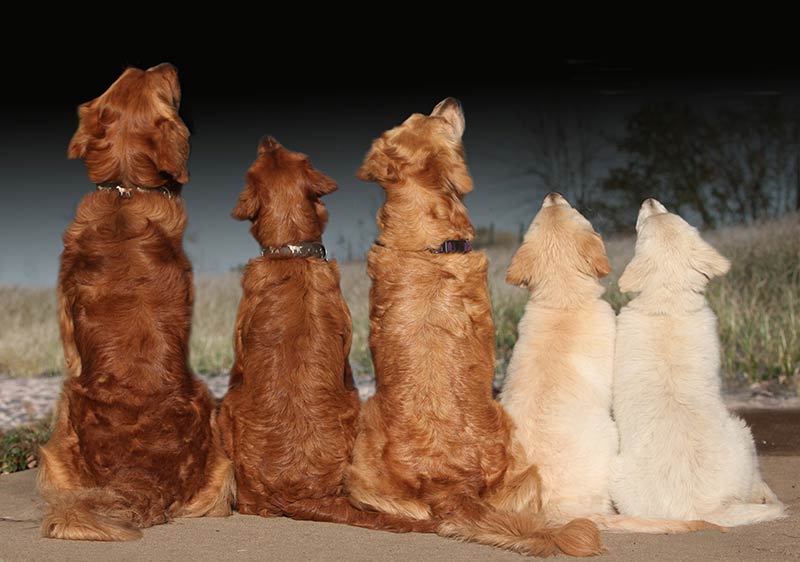 That Hair
Perfect hair is their hallmark—thick, in varying shades of gold, from a pale yellow to a deep red-gold, and neither coarse nor silky, as the breed standard specifies. The double coat is dense and water-repellent, and there should be abundant feathering on the back of the thighs, front of the neck, and the underside of the tail. Even in the show ring, Golden Retrievers require little primping. The standard notes, "Feet may be trimmed and stray hairs neatened, but the natural appearance of the coat or outline should not be altered by cutting or clipping." The fact that they are natural beauties doesn't mean they are low-maintenance though. As the Golden Retriever Club of America notes in the AKC Complete Dog Book, they "may not be the dog for the compulsively tidy." In other words, buy a good vacuum.
Ultimate Party Animals
A Golden can make everything—even something as mundane as a morning bowl of kibble—into a celebration. Imagine what it's like when hundreds gather for good times. You'll get a chance to see such a spectacle in Scotland, July 16 to 20, 2018. The Golden Retriever Club of Scotland and Friends of Guisachan, a group "dedicated to the ancestral home of the Golden Retriever," is hosting a big bash to commemorate the 150th anniversary of the founding of the breed at Lord Tweedmouth's Guisachan estate, near Inverness. The groups have thrown these parties since 2006. In 2013, the gathering attracted 222 dogs and 350 of their people.
If you can't make it to Scotland, America offers its own version—Goldstock, an annual retriever retreat. It's held at Camp Weequahic, a 100-acre facility near Scranton, Pennsylvania, over Labor Day Weekend. It's packed with Goldens; about 400 of them showed up to a recent event. Activities included agility, swimming, field demonstrations, dancing, celebration of therapy dogs, lots of partying and tail wagging, and, of course, a "sweetest dog contest."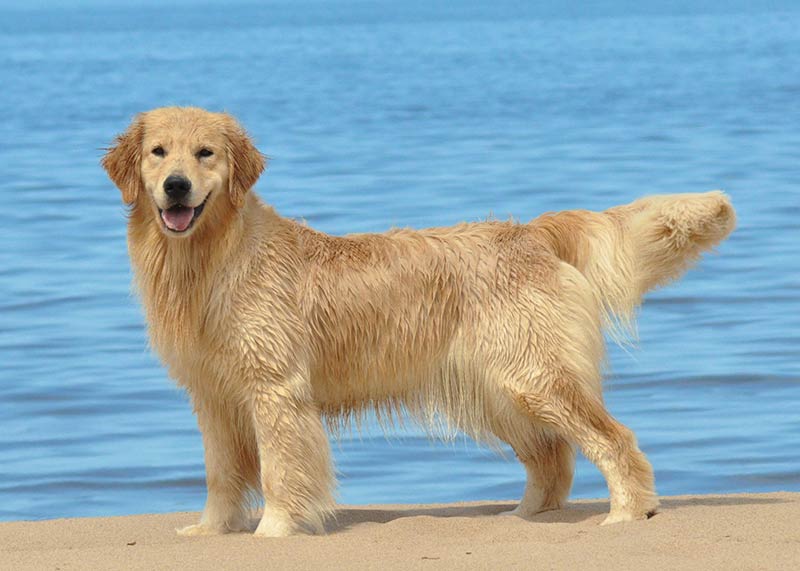 Soft Mouths
If you cruise the Internet, you're likely to find videos of Goldens carrying a raw egg. Silly it may seem, but it reflects a trait that's prized in the breed—a "soft mouth." This quality is a must for any breed whose job is picking up game. Retrievers must master the skill of holding items in their mouths, firmly but so gently that barely a feather is ruffled. While this trait occurs naturally in many sporting breeds, the Golden is reputed to have the softest mouth of all. In fact, some owners boast that they have taken the challenge to the next level, saying that their Goldens carried a peeled hardboiled egg without leaving a nick in the delicate surface.
 
Who You Gonna Call?
Savannah, Georgia, has been dubbed the most haunted city in America and it supports a lively business in guided tours designed to scare tourists out of their wits.
Seems an odd job for a cute Golden Retriever. But Bailey not only helps guide tours, says owner Melynda Ware-Loomis, he actually sniffs out ghosts.
Five years ago, Bailey, aka "The Ghost Hunting Dog of Savannah," was a hairless, flea-bitten, and fearful refugee from an abusive home. Ware-Loomis agreed to foster the dog, but found his condition terribly upsetting. "I was crying my eyes out, and Bailey, who had been abused his whole life, comforted me. I thought 'what a great dog you are' and decided to keep him." She started taking him to work with her, leading "ghost tours" around Savannah. Soon, Bailey started exhibiting some weird behavior, stopping and staring intently at what seemed like nothing.
At least, that's what it looked like to human eyes. Tourists snapped pictures of Bailey and saw strange things on the images, such as brightly shining orbs, in the dog's line of sight.
Bailey became a sensation, leading tours around Savannah five days a week, occasionally sniffing out a ghost, and loving every minute of it.
Who knows if he's really seeing ghosts? Even if there's nothing paranormal about it, Bailey is demonstrating something almost supernatural—the breed's buoyant can-do disposition. Whether it's chasing ghosts, dashing through an agility course, prancing around in a conga line, soothing souls, or calming frightened children, the Golden is ready and eager to help. And he does it all with a smile.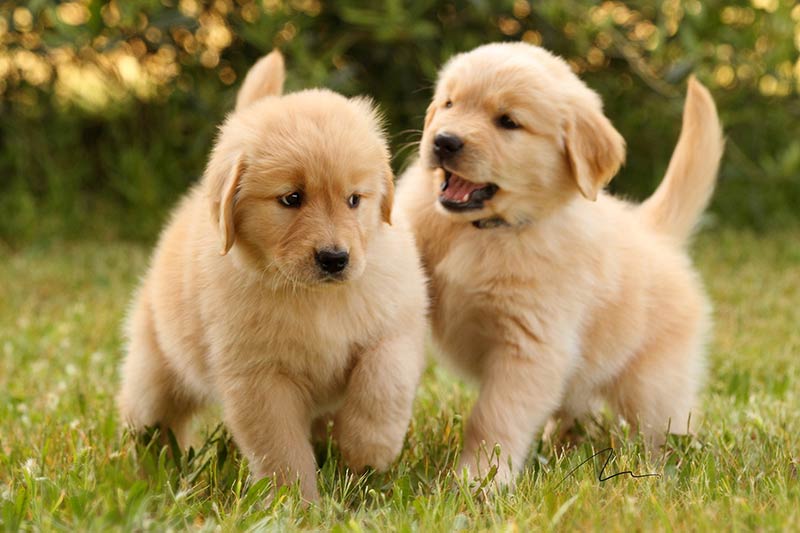 Those Faces
Goldens are blessed with some of the sweetest faces in all of dogdom. The shape of their skulls, muzzles, and eyes, and the way their ears are set on their heads, should project a kindly, intelligent expression. And, as if that doesn't make them cute enough, they also have a tendency to develop white faces, sometimes as young as three years old, making for the most adorable gray muzzles around.
Shining Souls
In the mid-1990s, a puppy named Trixie was a working-dog candidate with Canine Companions for Independence, a nonprofit organization that trains assistance dogs. An injury made it impossible for her to pursue this rigorous work, so she ended up going to live with Dean Koontz, the bestselling author, and his wife, Gerda. Trixie's new job was to be their pet, but her training clearly came into play, as she guided Koontz, known for suspense and horror fiction, into a new life and a new genre that featured a talking dog. In several sweet books, including Life Is Good: Lessons in Joyful Living and Bliss to You, she dispenses nuggets of wisdom, like "When you stop to smell roses, be careful not to inhale bee." The royalties from Trixie's literary efforts have raised millions for CCI. When Trixie died in 2007, Koontz and his wife were crushed, but they believe that their dog found a way to comfort them. Three weeks after they had lost Trixie, Koontz recalls on a website devoted to his dog, the couple was in the garden when "a brilliant Golden butterfly swooped down out of a pepper tree." Koontz said it was bigger than his hand, and its wings reflected a strange intense light, like no other butterfly he, his wife, or anyone who had worked in the garden had ever seen.
Koontz wrote that it flew around for a few moments, brushing their faces. "Then it swooped back up into the pepper tree and vanished into the sky." Both he and his wife are convinced that the butterfly was the spirit of their beloved Golden Retriever, carrying on the all-important work of making people happy.
For more information visit: The Golden Retriever Club of America
https://www.akc.org/wp-admin/admin-ajax.php
Get Your Free AKC eBook
Selecting a Puppy
How do you know what breed is right for your family? How do you find a reputable breeder? What questions should you ask a breeder? Download this e-book for guidance on these questions and other important factors to consider when looking for a puppy.