While some dog breeds are natural swimmers, like retrievers and spaniels, others are less suited to the water. Either way, if you and your pet plan to spend time in or on the water, a dog life jacket is a wise investment. Even good swimmers can tire, have trouble staying buoyant, and struggle to keep their heads above water. Some breeds, such as Bulldogs, have body types less suited to swimming and will need help staying afloat. If your dog accompanies you on a boat, a personal flotation device (PFD) is essential. If he falls overboard, he'll struggle in rough water, a strong current, or large waves. A dog life jacket makes it easier for him to stay above water and easier for you to retrieve him and get him back on board.
Choosing a Life Jacket For Your Dog
There are no standards or certifications for canine life jackets or life vests, but here are some features to look for:
A handle will make it easier for you to grab hold of your dog if he's floundering. It also makes it easier to teach your dog to swim; you can guide him in the water until he feels confident swimming on his own.
The life jacket or vest should have a D-ring so you can attach a leash.
Decide whether your dog need a life jacket or a vest. Dog life jackets cover more of the dog and provide both buoyancy and visibility. They're recommended for boating and any time your dog may be in open or rough water. If your dog swims primarily in a pool, a life vest is lighter, covers less area, and and is easier for swimming.
Although dog life jackets come in all sorts of fun colors and prints, bright colors will make it easier to spot him in the water.
Even if you think your dog is an Olympic swimmer, any dog can be overcome with fatigue, struggle in the waves, become disoriented in the water, or just need a little extra buoyancy. A life jacket will keep him safe, help him feel confident in the water and help you bring him back on board or back to shore in an emergency.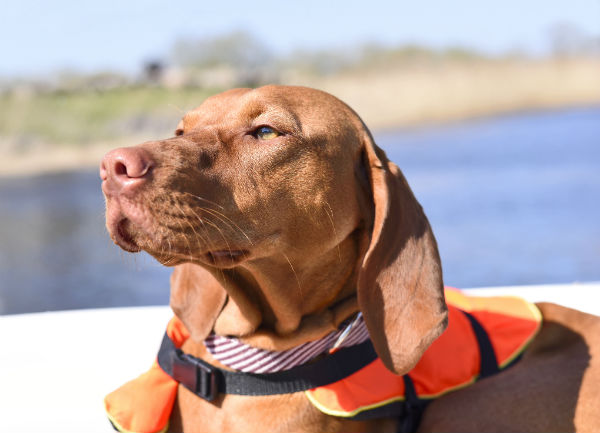 Types of Life Jackets to Consider
Be sure to check sizing guides to get the right fit for your dog.
Outward Hound Ripstop Life Jackets
This life jacket has easy-grab handles, high-viz colors, quick release buckles and multiple reflective stripes.
K-9 Float Coat from Ruffwear
A telescoping neck closure is adjustable for different size dogs.The jacket also features a strong handle for lifting a dog out of the water, reflective trim and closed cell foam panels.
PAWS Aboard Neoprene Pet Life Jackets
A breathable mesh underbelly helps drain water quickly to keep your dog drier and cooler when he comes out of the water.
He&Ha Pet Quality Dog Life Jacket Adjustable Dog Life Vest Preserver
This vest style flotation device has a convenient top grab handle, a D-ring to attach a leash, vibrant safety colors and mesh holes for ventilation.
https://www.akc.org/wp-admin/admin-ajax.php
Get Your Free AKC eBook
Tips for Responsible Dog Owners
This e-book is a great resource for anyone who's considering dog ownership or already owns a dog. Download for tips on how to be the best dog owner you can be.