Halloween is such fun for children and their families, why wouldn't the furry family member enjoy going trick-or-treating too?
If on regular days, your dog is shy, afraid of new people, children, and strange noises, he will not enjoy being out on this night. The nicest way for him to spend the evening will be at home in his crate or a quiet room with a special new chew toy. The family member staying behind to hand out candy can check on him often.
On the other hand, if your dog is a social butterfly with a history of being unfazed by new and strange things, then going trick-or-treating should be a walk in the park.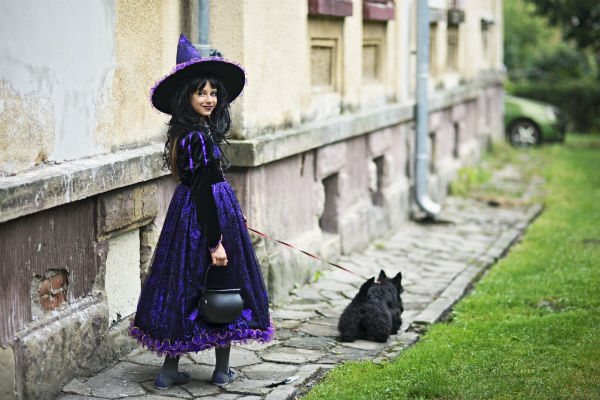 Does your dog like all children? On this night the kids will be going at full throttle, wearing weird outfits, making lots of noise, and running haphazardly while flailing their bags and buckets of candy. Even a normally outgoing, well-adjusted dog might be frightened by the excitement and chaos of a neighborhood on Halloween, so constantly check on your dog's body language and make sure he is not becoming stressed.
A few tips for keeping your dog safe if Rover joins you on the trick-or-treating adventures:
Put reflective tags or a vest on your dog for visibility. Take a flashlight.
Try a front-hook (no-pull) harness if he needs help walking on a loose leash. If he is still learning to walk nicely on a leash, practice now. Halloween isn't the best night to start!
Bring baggies to clean up after him, just in case!
Do not allow anyone to give him candy, and be aware that there will be candy dropped on the ground.
Be extra alert! There may be other dogs out, and kids in a candy frenzy do not look where they are going. Neither do parents looking for their kids.
Take along some treats (dog treats, not candy!) for him, and reward him periodically for being such a good dog.
If he seems unhappy, don't force him to come along. Take him home and give him a dog-safe goody.
About that candy: be sure that your dog does not get any of it. It is not good for dogs, and chocolate is poisonous to them. Ingesting wrappers and little trinkets and toys that some people give away can also be very harmful.
A little bit of planning will help your dog have a fun and safe Halloween, whether he goes trick-or-treating or stays home.
Learn more about chocolate poisoning from our Chief Veterinary Officer, Dr. Jerry Klein, in the video below.
https://www.akc.org/wp-admin/admin-ajax.php
Get Your Free AKC eBook
Tips for Responsible Dog Owners
This e-book is a great resource for anyone who's considering dog ownership or already owns a dog. Download for tips on how to be the best dog owner you can be.