This is an easy trick to teach, and your dog will love it!
It's best to start with teaching your dog to catch treats as you don't want to throw a toy that might hit him in the face and turn him off to catching forever.
Sit your dog about two feet in front of you. Hold his favorite treat in your hand, make sure he is looking at it, and toss the treat gently towards him.
If he doesn't get it and the treat falls to the floor, try to scoop up the treat before he gets it. This will act as an incentive for him to try another way to get the treat before it hits the floor.
Repeat about five times and stop. Have short sessions; you may have three to five sessions a day. Practice every day and it will not be long before he masters catching treats.
Once he is consistently grabbing treats out of the air, start trying the trick with toys. Start with light-weight smaller toys so if he misses and they hit his face, it does not hurt him and turn him off catching. Good choices are tennis balls and light-weight cloth discs.
Don't forget that the most important thing is for you and your dog to have fun!
AKC GoodDog! Helpline Trainer Milena Barreto has taught her Standard Poodle, Phoebe, dozens of tricks that they perform on their therapy dog visits.
For more tips and training advice, enroll in the AKC GoodDog! Helpline – a seven-day-a-week telephone support service staffed by experienced dog trainers: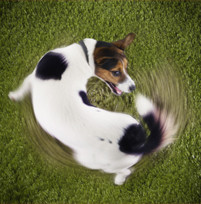 5 Tricks You'll Want to Show Off
Are you looking for inspiration on new tricks to teach your dog? If the answer is yes, then this is the e-book for you!
https://www.akc.org/wp-admin/admin-ajax.php
Get Your Free AKC eBook
Does Your Dog Have What it Takes to be a Therapy Dog?
My dog is great with people, I want her to be a therapy dog. Where do I start? If you have asked this question then this e-book is for you. Download to learn more about Animal Assisted Therapy and how to get started.