If you notice that your puppy is beginning to protect her toys, bed, balls, food, and other prized worldly possessions, she is starting to do what animal behaviorists call "resource guarding." As with many behavior problems, the best solution for resource guarding is prevention and doing early training to keep the behavior from happening in the first place. If not stopped early, the protecting of possessions can escalate and you may find yourself with a puppy on your hands who is willing to snap or bite rather than give up a treat or her stuffed animal.
Since resource guarding is a problem that is often accidentally shaped over time, watch for any signs that your puppy is being over protective of her possessions. Plan activities throughout the day that give you a chance to handle your pup's toys, dishes and bed. If the puppy ever objects by growling, do not give in. This starts you down the dangerous slippery slope of having a puppy who will growl, then snap, then bite to protect her possessions.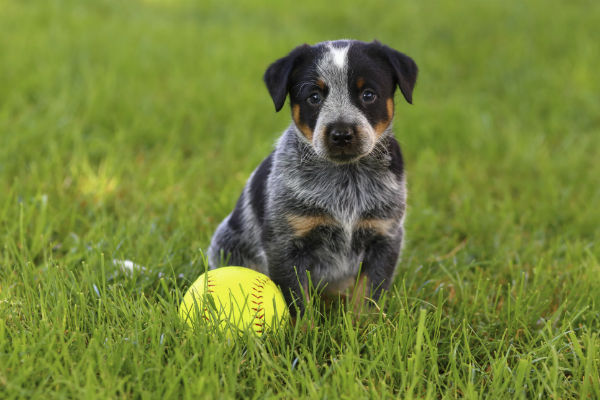 Some exercises you can do with your puppy to avoid having a resource guarder are:
Develop your mindset. Start by understanding that basically, you are the human and everything in the house, yard and car belongs to you. It is all on loan to your precious puppy.
Life is about give and take. During puppy playtime, occasionally ask your puppy to, "Give." Take the toy away for a few seconds. Then give it back and praise the puppy. When you are teaching this skill, you can exchange one chew toy for another, or exchange a toy for a treat. In the beginning, as soon as the puppy releases the item and "gives" as you say the word, give the puppy a treat.
Don't let food become an issue. With a puppy, you can start early by handling the food dish and adding something to it so that your puppy learns good things come from you. If you've adopted a shelter or rescue puppy, know that prior to being rescued, these dogs may have been in a situation where they had to guard their food if they wanted to eat. You might need a behavior plan to address food guarding.
Compliance training on basic good manners skills will help you address your pup's problems with possessiveness.  Sit and down as well as sit-stay and down-stay are all behaviors that can be used to manage your dog while your work on possessiveness issues.
From AKC S.T.A.R. Puppy: A Positive Behavioral Approach to Puppy Training. Find a dog trainer near your location and take the Canine Good Citizen test for your dog.
To learn more training tips for your puppy, check out the video below.
https://www.akc.org/wp-admin/admin-ajax.php
Get Your Free AKC eBook
Canine Good Citizen (CGC)
This program is recognized as the gold standard for dog behavior. In CGC, dogs who pass the 10 step CGC test can earn a certificate and/or the official AKC CGC title.