By Bruce T. Paddock
Sometime back in the last century, I was living in New York City with my then-fiancée, a lovely woman who used to breed and show English Cocker Spaniels. She was no longer doing that, though, for two reasons. First, in moving to our ridiculously tiny apartment she could bring only one of her dogs. (No, she didn't abandon the other two. She left them living happily with her sister.) The dog we had with us was Oliver, who had done very well at the shows as a youngster—stellar, even—but was now a retired champion.
Second, shortly after arriving in New York she took a job as an editor for the American Kennel Club, and as an AKC employee, she was not allowed to show dogs.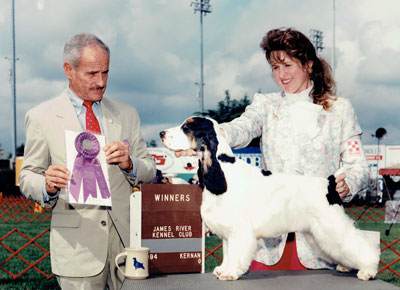 Here is my wife showing Oliver while he was a puppy, on his way to becoming a champion.
I didn't think she seemed to mind that until one day she sighed wistfully, "Now that I'm living in New York, too bad Oliver can't go to Westminster." So I joked that I could show him there.
For some unknown reason, she thought I was serious. Keep in mind that at this point, my entire experience in canine events consisted of going to a dog show in New Jersey once. Still, my fiancée picked up the idea, and the very absurdity of it attracted me. I decided to learn how to show a dog.
I read a couple of books, and then Oliver and I took a class. We practiced in the apartment, but as I said, it was so small that "down and back" was pretty much just "turn in a circle."
In the fall, we competed in a show at the old World's Fair complex in Queens. Oliver won the Best of Opposite Sex award, which unfortunately made me terribly complacent. Our training schedule pretty much disappeared after that.
Come December we sent in our entry hoping to get a spot in the lineup, and we were soon informed that I would be showing Oliver at Westminster in February.
This was back when the prelims were held at Madison Square Garden. Our ring time was 10:20 on Tuesday. My wife and her sister, who was also entered, took the dogs over early Tuesday morning, as was required. I was left with the simple task of getting our teenaged nephew up and dressed and to the Garden. (Those of you with teenaged sons can stop laughing now.)
We arrived at the venue at 10:12, at which point I realized I had left the tickets in the apartment. There must be some way for entrants to enter without a ticket, but I didn't know what it was. I bought two more tickets, handed one to the nephew, and ran.
If you were at Westminster before they relocated the day shift, you know what comes next. The place was as crowded as the F train at rush hour. If you're not from New York, that's not a helpful analogy, so try this: Think of the most crowded place you've ever been, and then forget it, because this was much, much more crowded. I soldiered on, elbowing and body-blocking my way through as fast as I could.
This was before cell phones had become the universal annoyance they are today, so my fiancée had no idea where I was or what I was doing. She wisely corralled someone else to handle Oliver for us. The dogs were already entering the ring when, panting and huffing, I got there. Fortunately, Oliver and his ersatz partner were at the back of the line, so I grabbed the leash and took him in.
The whole reason I was doing this was that I wanted to experience it. I wanted to know what a high-stakes show was like, and what attracted my fiancée to it. I wanted to take in the sights, the sounds, the smells, so I could share that experience with her later.
Instead, I spent the whole time in the ring trying to catch my breath and trying not to puke or faint. Oliver, meanwhile, had not been in a ring in six months, so he spent all his time trying to make friends with the other dogs. When we lined up, he would turn around and lick the face of the dog behind him. When I stacked him, he would immediately step forward to sniff the butt of the dog ahead of him.
Needless to say, we didn't place. But I chose to look at the bright side. Only one English cocker went on to compete in the group, so you could say the final results were:
First — that dog
Second — every other English cocker
So when anyone asks how I did at Westminster, I tell them I came in second.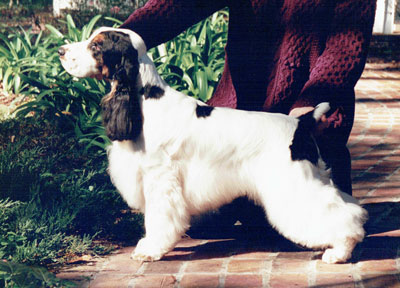 Oliver after finishing his championship
More like this:
Why Show Dog Champions Need CGC Skills
https://www.akc.org/wp-admin/admin-ajax.php
Get Your Free AKC eBook
Canine Good Citizen (CGC)
This program is recognized as the gold standard for dog behavior. In CGC, dogs who pass the 10 step CGC test can earn a certificate and/or the official AKC CGC title.