Thanks to technological advances and a robust economy in the years following the second world war, the modern media took off like a rocket—and the Westminster Kennel Club dog show took off with it.
Of course, the big event at Madison Square Garden had been America's most prestigious dog show since it began in 1877. But the expanding new media of the mid-20th century increased America's appetite for drama, strong visuals, and big personalities—the very things that editors and TV producers could count on Westminster to provide. The show quickly scaled to heights of national fame unimaginable to the gentleman sportsmen who founded the club in the pre-electronic 1800s.
With the 142nd Westminster Kennel Club Dog Show presented by Purina® Pro Plan® nearly upon us, we dip into the archive to bring you images from the collection of the AKC Gazette. Here are a few vignettes from the happy marriage of Westminster and the modern media.
Bang Away, The Breakout Boxer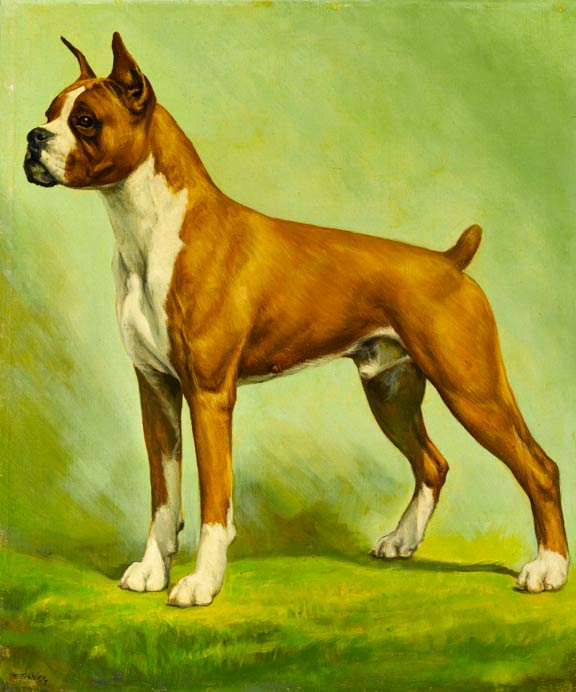 The end of World War II in 1945 is a clear dividing line between eras of American sport. Peace and postwar prosperity reinvigorated our national pastimes, and a fresh crop of superstar athletes arrived on the scene. Wartime heroes like Joe DiMaggio, Joe Louis, and Sid Luckman gave way to Mickey Mantle, Rocky Marciano, and Johnny Unitas; network television, in its infancy, magnified the fame of these young turks in ways previous generations couldn't imagine. In 1949, the sport of purebred dogs produced a similar figure: Ch. Bang Away of Sirrah Crest, a Boxer bred and owned by Dr. and Mrs. R.C. Harris, of California.
Bang Away was the first dog to win more than 100 Bests in Show. He also helped to define the look of his breed by siring 86 future champions.
Bang Away was a crossover media star. His Best in Show at the 1951 Westminster show became national news: The first California-bred dog to win at the Garden, he was a true coast-to-coast celebrity and the first "breakout" show dog of the TV era. This, along with heavy exposure in Life, Esquire, and Time magazines, brought Bang Away—and by association, all show dogs—into the modern era of mainstream pop culture.
The Swimsuit Issue It Ain't!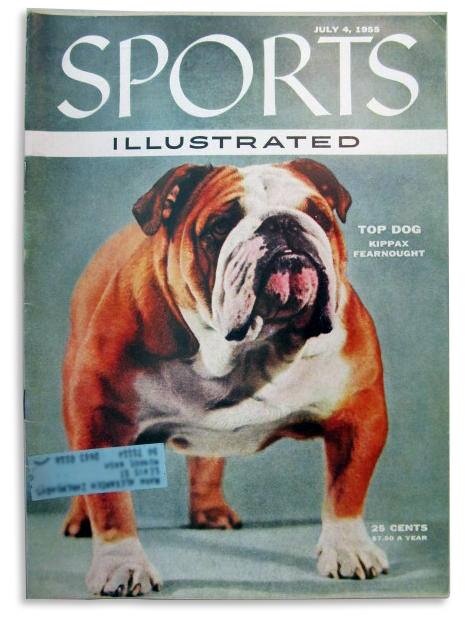 For general-circulation magazines, with their emphasis on eye-catching photography and in-depth writing, the spectacle of Westminster was made to order. Sports Illustrated was launched in 1954, and in its early days the magazine regularly gave Westminster the deluxe treatment. Several Westminster winners appeared on SI's cover. The first was Bulldog Ch. Kippax Fearnought (Jock), featured in July 1955 issue.
Jock was a popular ring great whose mystique was enhanced by the brevity of his career. Dr. John Saylor of Long Beach, California, imported Jock from England in December 1953. The highly touted show prospect won 17 Bests in Show in less than 25 times shown. Jock came east to win Westminster's Non-Sporting Group twice, in 1954 and '55. On the second occasion, he was judge Albert Van Court's choice for Best in Show. "You must have a certain gait and movement to be a true Bulldog," Van Court said. "This dog has it. He is certainly the best Bulldog I've ever seen."
After his Westminster BIS, with nothing left to prove in the ring, Jock eased into a cozy California retirement and sired seven champions.
Extra, Extra! Breed All About It!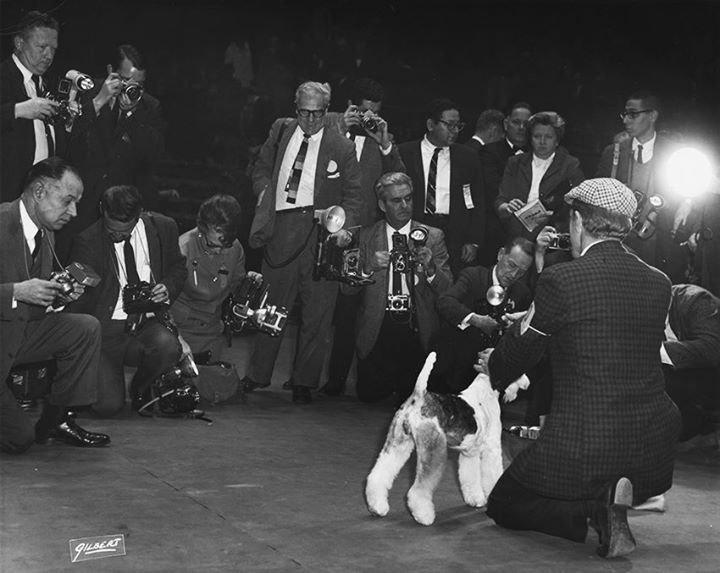 Here's a dog's-eye view of the Westminster photo corps surrounding handler Jimmy Butler and 1966 Best in Show Wire Fox Terrier Ch. Zeloy Mooremaides Magic.
Westminster Best in Show was then, and remains, a popular story in newspapers from coast to coast. Today, of course, a photo can be taken, edited, and sent to readers in a matter of minutes. But for photographers working for Associated Press, United Press International, Reuters, and other "wire services" of the pre-digital era, disseminating photos on deadline was a high-pressure ordeal.
Between the awarding of Best in Show at about 11:00 p.m. and when the morning papers hit the streets at about 5 a.m., photographers had to get their "money shot" and hand off the film to a messenger, who whisked it to the wire service's New York headquarters to be developed. The best shots were selected, and the pictures were sent over telephone wires to newspaper offices around the country. Only then could local papers compose the page earmarked for Westminster coverage, run the presses, and finally truck their early editions to newsstands and paperboys before sunrise.
The impact wire-service photography had on bringing news of Westminster and the sport of dogs to America's biggest cities and smallest hamlets was incalculable.
Annie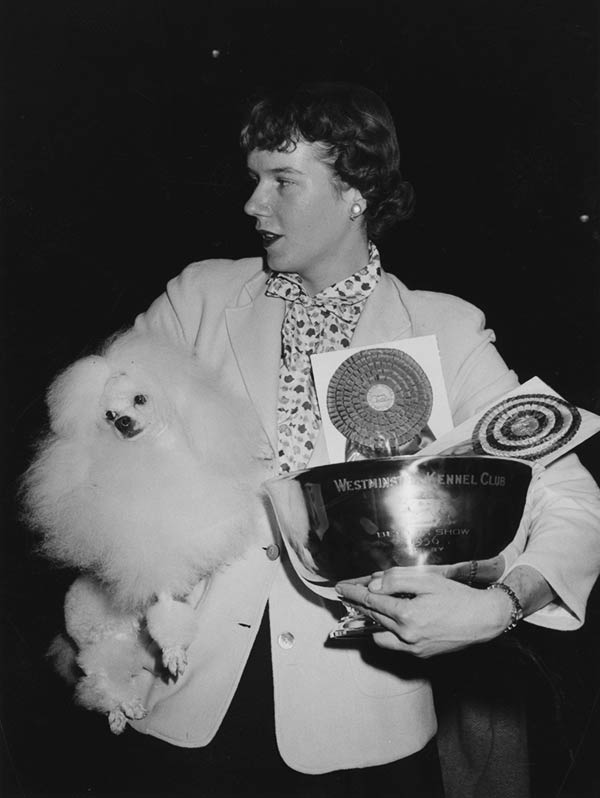 The annual telecast of Westminster goes back to 1948, the dawn of commercial TV. The show's first TV commentator was society matron Hayes Blake Hoyt, whose world-famous kennel of "Blakeen" Poodles was the last word in dog-show elegance.
By the mid-1960s, the husband-and-wife team of Jim and Anne Rogers Clark had settled in for a 20-year run in the Westminster broadcast booth. Old-timers fondly recall the depth of knowledge and show-ring savvy these two highly respected dog fanciers brought to the job, to say nothing of Mrs. Clark's deliciously dry sense of humor.
Mrs. Clark—"Annie," as she was known around the rings—figured prominently in Westminster history long before she joined the broadcast team. A top professional handler, Annie piloted three different Poodles to Westminster Best in Show between 1956 and 1961. She remains the only woman to handle three BIS dogs at the Garden. (She's pictured here with Wilbur the Toy Poodle, her first Westminster winner and the first toy dog of any breed to take the top prize.) By the time she retired from handling to embark on a long career as a revered all-breed judge, she was already a show-ring legend.
Elvis, Dancing Bears, and Show Dogs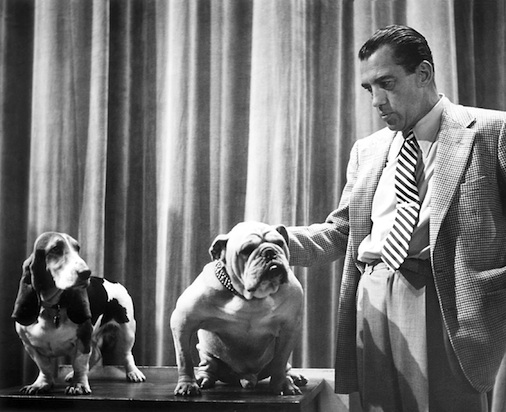 The Ed Sullivan Show was "appointment TV" every Sunday night from 1948 to 1971. Despite his stiff delivery and unfortunate gaffes (He once urged a paraplegic in the audience to stand up and take a bow!), Sullivan was TV's master showman. He introduced America to Elvis and the Beatles, to say nothing of dancing bears, plate spinners, chimps on bicycles, and anything else he thought would engage his audience of some 40 million viewers.
In this rare circa-1950s photo, Sullivan presents a few Westminster hopefuls on the Sunday night before the "really big show." The annual exposure Westminster received from Sullivan's weekly extravaganza and other network shows solidified its reputation as the nation's premier dog event.
The Greatest Beagle Since Snoopy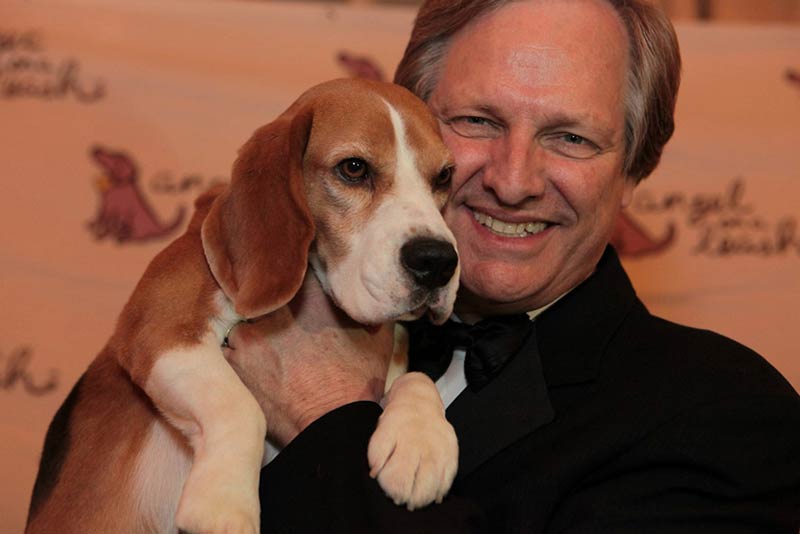 Afghan Hound breeder-exhibitor David Frei became the "Voice of Westminster" in 1990 and began his 26-year tenure in the TV booth. In 1994 Frei, once a PR man for the Denver Broncos, was joined by game-show host and former big-league catcher Joe Garagiola. During their nine-year partnership, Garagiola perfected the role of "everyman," asking Frei the questions about dog shows that folks watching at home might ask.
Frei left Westminster after last year's broadcast to accept a West Coast position with NBC. During his "exit interview" with akc.org, Frei cited his time with Uno the Beagle, the 2008 Purina® Pro Plan®-fed BIS winner, as among his most memorable Westminster experiences.
"It started with the crowd reaction in the Garden when [judge] Dr. [J. Donald] Jones pointed," Frei recalled. "It was incredible. I thought they were going to storm the court like the Knicks had just won the seventh game of a NBA championship series.
"Then, with Uno in the year following, we visited the White House, Walter Reed National Medical Center, rode on a float in the Macy's Thanksgiving Day Parade, threw out the first pitch at two major-league baseball games, visited Ronald McDonald Houses around the country, did a red carpet walk with Hollywood celebrities, and much more.
"There will never be another Uno."
Frei will continue as the voice of the Thanksgiving Day broadcast of the National Dog Show brought to you by Purina® on NBC (with John O'Hurley in the "Garagiola chair"), and Gail Miller Bisher takes over behind the microphone at Westminster in 2017.
The Specialists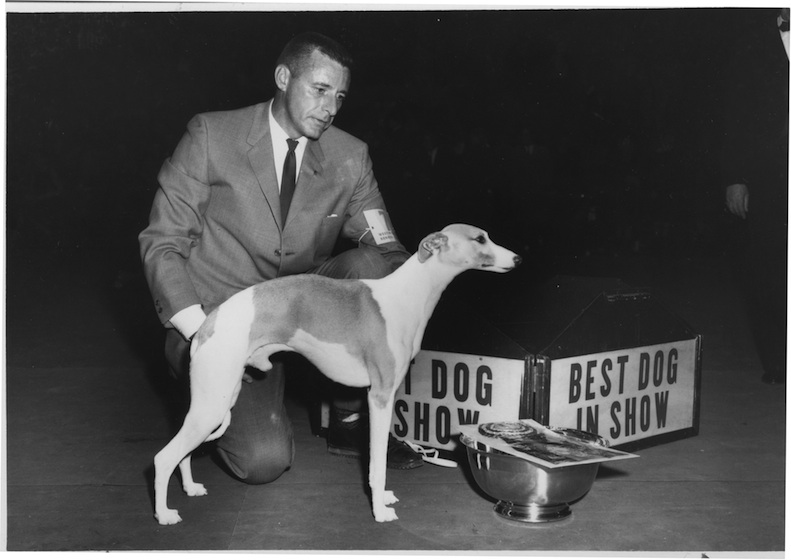 Network TV, glossy magazines, and newspaper spreads were vital to building the fame of Westminster far and wide among the general public. But serious dog fanciers relied on specialized dog magazines for information and show photos. Back in the glorious black-and-white heyday of the "sporting press," full-time show photographers like William Brown, Evelyn Shafer, and William Gilbert covered thousands of miles a year to supply countless photos to the AKC Gazette and other journals of the sport.
The images these intrepid artists left behind are part of the sport's visual record, providing insight and inspiration to future generations. The "win shot," a formal portrait taken in the winner's circle, is part of the AKC's documentation of a show award. (The Shafer win shot, seen here, of handler Bob Forsyth and Westminster's 1964 Best in Show, Ch. Courtenay Fleetfoot of Pennyworth, is a superior example of the genre.)
Also, win shots are indispensable to breeders and ownersastools in publicizing individual dogs or entire kennels. Ads in outlets like AKC Winners are part of a champion's campaign strategy, reminding judges and potential breeding partners of a dog's best qualities.
Tune in on Monday, Feb. 12 & Tuesday, Feb. 13 to see who will be crowned this year's top dog!
Browse the internet's biggest and best archive of vintage dog show photography at AKC Gazette Facebook.
Sponsored by Purina® Pro Plan®.
https://www.akc.org/wp-admin/admin-ajax.php
Get Your Free AKC eBook
Tips for Responsible Dog Owners
This e-book is a great resource for anyone who's considering dog ownership or already owns a dog. Download for tips on how to be the best dog owner you can be.