After owning dogs his entire life, retired Marine Cpl. Justin Crabbe feels that having a dog is second nature to him. However, when he enrolled in the United States Marine Corps in 2008, it's unlikely he realized the crucial role a dog would come to play in his life seven years later. Crabbe is now the proud owner of Gnome, a four-year-old yellow Labrador Retriever. Gnome is Crabbe's service dog.
A Courageous Marine
"I joined the Marines to follow in my grandfather's footsteps," says Crabbe, who was originally stationed in Hawaii with the 1st Battalion 12th Marines Echo Battery. In 2011, Crabbe was sent to the Kajaki Dam area in southwestern Afghanistan for his second deployment. On the morning of Aug. 26, Crabbe's life changed forever when he stepped on an improvised explosive device (IED). As a result of the explosion, Crabbe had both his legs amputated above the knee, as well as losing his right thumb, the tip of his right middle finger, and parts of the thumb and three fingers of his left hand.
Crabbe, who took medical retirement from the military in November 2012, spent 15 months at Walter Reed National Military Medical Center, in Bethesda Maryland, recovering from his injuries. During his hospitalization, he realized a service dog could be just what he needed to help him live independently. Crabbe remembers, "When I was still in the hospital recovering, I saw other injured guys with dogs. I would talk to them and ask them how a dog helps them out and makes them feel." Almost everybody he spoke to had nothing but good things to say about their service dog, so Crabbe knew a service dog could help him, too.
Being Matched with a Service Dog
In his quest to be partnered with a service dog, Crabbe approached Canine Companions for Independence, a non-profit organization that partners people with disabilities with highly trained assistance dogs. The application process was thorough. "First, you fill out paperwork in which they ask what type of things you need a service dog to do, what are your limitations, and if you have ever had a pet dog or a service dog," recalls Crabbe. Then he had to write a biography and explain how he thought a dog could help him with his challenges.
Canine Companions for Independence accepted Crabbe into its program, and after further interviews and paperwork, he was invited to a team training course to meet the four or five dogs they thought might best meet his needs. He needed to learn all of the different commands the dogs already knew and how to accurately give those same commands to the dogs. During the training, he was also taught how to groom and care for his future dog, including brushing the dog's teeth and trimming his nails.
Throughout the two-week course, Crabbe worked with each of the possible canine candidates. The goal was to eventually partner him with the dog he worked best with. But Crabbe knew right away that Gnome was the dog for him. "Gnome was the second dog I worked with, and I knew instantly he would be my dog. We work so well together."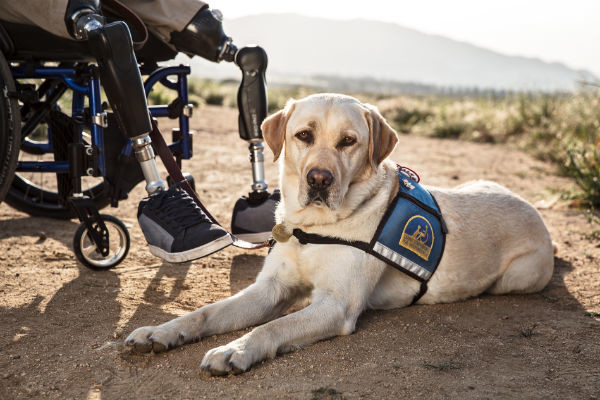 Before Crabbe and Gnome could graduate from training, they needed to pass a public certification test. Along with an instructor, Crabbe took Gnome to the mall and showed what the two of them could do in a public place. Gnome passed the test, and on Valentine's Day, two years after his initial application, Crabbe was officially matched with Gnome.
Life at Home with a Service Dog
Crabbe has fostered a positive attitude from the beginning. He says, "Since the day I first woke up, I've had the mentality that my legs and fingers are not going to grow back, so time to move on and accept it. The most important thing is that I'm alive and can still live a normal productive life." His partnership with Gnome goes a long way toward that productivity, and Crabbe adjusted easily to life with his service dog. "From day one, Gnome and I have always clicked."
Currently, Crabbe is still recovering from surgery on his right leg and can only walk in his prosthetics for an hour or so before needing to sit and rest. He also finds it difficult to hold objects and to bend over and pick things up off the ground. Crabbe explains, "I still have bad arthritis in both hands. Sometimes, I can't even close my hand to grip an object."
That's where Gnome comes in. He can pick up objects from the ground, open and close cabinet doors, and flip light switches on and off. He also helps with daily chores, doing things like pulling the laundry basket to and from the washer and dryer. In addition, Crabbe has push plates in his house that operate his doors. Gnome pushes on the plates whenever Crabbe needs a door opened. All of this adds up to greater independence for Crabbe.
Gnome is a great help emotionally, as well. He senses Crabbe's moods and knows whenever he is sick or having a difficult day. "He will come up to me, put his head in my lap, or sit right beside me. All I need to do is pet him and talk to him, and he makes me feel better."
Out in Society
Physical disabilities can sometimes cut people off from society. Strangers don't always know how to respond and may avoid the disabled. Crabbe feels very fortunate to have had nothing but good experiences with people since his return to the U.S. And he doesn't let his injuries stop him from getting out in the world. He believes, "If people don't like the way I look, then those are the types of people I stay away from. I don't let my injuries or other people dictate my life."
However, before being partnered with Gnome, people would stare at Crabbe's legs when he would go out in public. That all changed when he got Gnome, because service dogs attract a different kind of attention, drawing people to the owner and serving as an ice breaker for conversation. Crabbe appreciates how Gnome makes it easier for him to do things out in public. "He takes the attention off me. The conversation starts out about him, then it's about me. He makes it easier for people, especially kids, to come up and talk to me." Now, instead of people staring at his legs, they focus on Gnome.
Gnome has been partnered with Crabbe for just over two years, and Crabbe is proud of Gnome's performance. Along with Gnome's assistance, Crabbe has also benefited from the strong support of his family. In fact, he never would have met his wife if he didn't sustain his injuries. The elated father has a daughter and another child due in July. He has found gratitude in a very challenging situation. "So, in a way I'm thankful I got hurt. I have an amazing wife and daughter and couldn't be happier."
How You Can Help
There are many veterans like Crabbe who served in Afghanistan and Iraq and have returned from their service with critical disabilities. There is an immediate and growing need for programs that offer them support as they face new and difficult challenges upon their return to the U.S. Service dogs can be the essential ingredient in helping these brave men and women re-establish productive and independent lives, once they return home.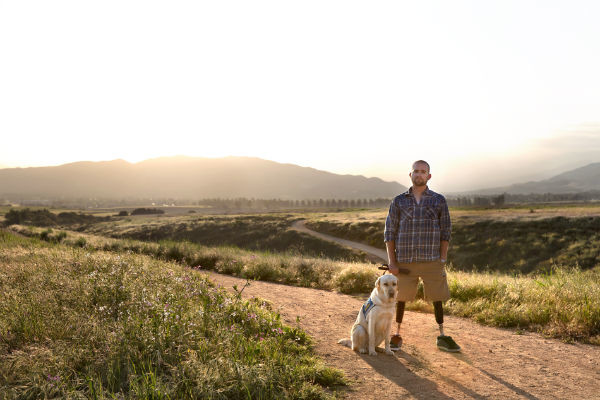 These dogs are specially trained to assist veterans who have impaired hearing, impaired sight, balance issues, post-traumatic stress disorder (PTSD), and so on. Their physical assistance can give a veteran a new sense of self-sufficiency. In addition, the veteran's relationship with a dog, the love and responsibility, can have a meaningful influence on his or her emotional state, giving hope and purpose. But it takes up to two years to train each dog, and the cost can be more than $30,000 per dog. Therefore, providing enough dogs for all the veterans in need is an enormous challenge.
That's why Blue Buffalo and PetSmart Charities have partnered with Service Dogs for Heroes to raise awareness of this urgent issue. Service Dogs for Heroes' goal is to become a national leader for advocacy, education, and promotion of service dogs for the emotional and physical wellness of veterans. They aim to develop strong partnerships with service dog organizations to provide the necessary funding for connecting deserving veterans with first-rate service dogs and serve as an efficient and effective resource.
If you would like to help fund the training of service dogs and help connect veterans in need with the life-changing opportunity of partnership with a service dog, please join Blue Buffalo and PetSmart Charities to support Service Dogs for Heroes by donating at your local PetSmart or directly to Service Dogs for Heroes. You will be helping to make a critical and positive difference in the lives of veterans, allowing them to overcome their visible and invisible wounds. Retired Marine Cpl. Crabbe and his service dog, Gnome, are proof positive that the partnership between a veteran and a service dog can lead to a productive, independent, and enriched life.
Sponsored by Blue Buffalo.
https://www.akc.org/wp-admin/admin-ajax.php
Get Your Free AKC eBook
Does Your Dog Have What it Takes to be a Therapy Dog?
My dog is great with people, I want her to be a therapy dog. Where do I start? If you have asked this question then this e-book is for you. Download to learn more about Animal Assisted Therapy and how to get started.