After leading more than 400 patrols in Iraq and Afghanistan over six years and losing a leg to an IED, K-9 Lucca was been awarded the Dickin Medal by UK charity People's Dispensary for Sick Animals at the Wellington Barracks in London earlier today. Lucca is the 30th dog, and the first American dog, to receive the honor since it was introduced in 1943. According to PDSA, it is the "highest award any animal in the world can achieve while serving in military conflict." (Read why U.S. military dogs are not given Purple Hearts here.)
In March 2012, U.S. Marines ventured dangerously near an improvised explosive device in Afghanistan. That day—and many days before it—no lives were lost thanks to the efforts of K-9 Lucca, a bomb-sniffing German Shepherd. But just after signaling the presence of the IED, a secondary device detonated, injuring Lucca.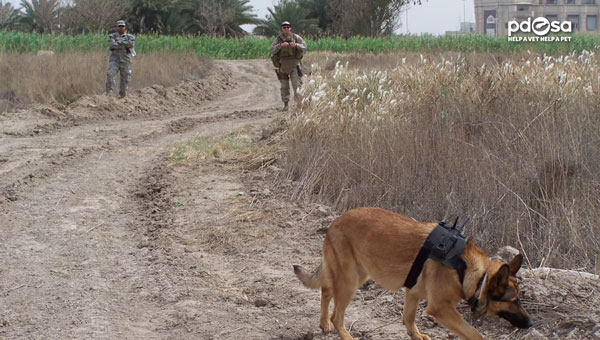 She lost her left front leg and was burned on her chest, but because of quick thinking by her handler and a life-saving surgery, she was able to return home.
"The explosion was huge and I immediately feared the worst for Lucca," Juan Rodriguez said in statement. "I ran to her and saw her struggling to get up. I picked her up and ran to the shelter of a nearby tree line, applied a tourniquet to her injured leg and called the medics to collect us."
Rodriguez stayed with Lucca during her recovery, even sleeping next to her. "She had saved my life on so many occasions," he said. "I had to make sure that I was there for her when she needed me."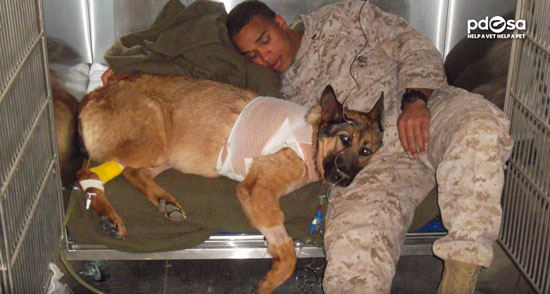 Lucca has since been retired and now lives at home in California with her first handler, Gunnery Sgt. Christopher Willingham.
"Lucca is very intelligent, loyal and had an amazing drive for work as a search dog. She is the only reason I made it home to my family and I am fortunate to have served with her," says Willingham. "Today, I do my best to keep her spoiled in her well-deserved retirement."
Other dogs to receive the Dickin medal include K-9 Diesel, the Belgian Malinois killed during a raid following the terrorist attacks in Paris last year, and K-9 Gander, a Newfoundland who served The Royal Rifles of Canada during World War II.
See a video about Lucca:
Header image: Gunnery sergeant Christopher Willingham, of Tuscaloosa, Alabama, USA, poses with retired US Marine dog Lucca, after receiving the PDSA Dickin Medal, awarded for animal bravery, equivalent of the Victoria Cross, at Wellington Barracks in London, Tuesday, April 5, 2016. (AP Photo/Frank Augstein)
Related:
Learn about the AKC's new Canine Officer Program.
Police Dog Killed in Paris Terror Attack Raid Receives Top British Medal
Hero Dog Receives Special Honor After Giving His Life to Save Soldiers
https://www.akc.org/wp-admin/admin-ajax.php
Get Your Free AKC eBook
Tips for Responsible Dog Owners
This e-book is a great resource for anyone who's considering dog ownership or already owns a dog. Download for tips on how to be the best dog owner you can be.