Fourth of July is the classic American holiday, packed with classic American traditions. Most of them involve food, fireworks, and free time. In Southern California, surfing is often as much a part of the long weekend as hotdogs and sunburn.
We include our dogs in almost all of these pleasures, and for the group known as So Cal Surf Dogs, that includes—you guessed it—dogs. Their website describes the group like this: "We are a fun loving group of dog owners who surf with their dogs. We promote safe dog surfing and having fun … for the mental and physical health for both you and your dog. It's a great workout! Don't be fooled, it's not an Extreme Sport … just extremely fun! We also promote safety in the water by requiring all of our Surf Dogs to wear a Canine Flotation Device (CFD) every time they go into the water."
So Cal Surf Dogs also makes it very clear that not all dogs enjoy the activity, and that owners should never force or coerce their dogs into participating, nor use harsh techniques. Remember their mantra: "Fun!"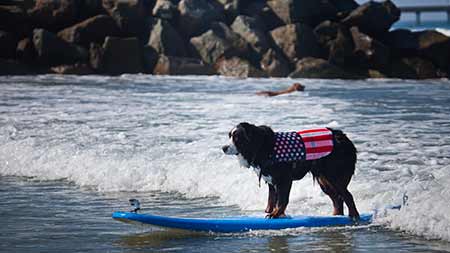 Bernese Mountain Dog Nani
Last month,  the Purina ProPlan Incredible Dog Challenge Surf Dog Competition (that's a muzzleful!) was held at Huntington State Beach. The field of dogs was large, the competition close. First place in the "small surf dog" category was Ziggy (owned by Susan Heberer) and the "large surf dog" winner was Haole (John and Kim Murphy are the owners).
For the full list of surfing stars, visit http://www.socalsurfdogs.com/purina-incredible-dog-challenge-surf-dog-competition.html
Watch this report about the competition ABC News
Dogs aren't the only mammals hitting the waves in California. Check out this pioneering veterinarian from the University of California-Davis' vet school, who turns surfs to keep himself in top mental and physical shape for the operating room.
Here are some tips from the AKC for making your Fourth of July holiday fun and safe for your dog.
-Erika Mansourian
Photos courtesy Dale Porter
https://www.akc.org/wp-admin/admin-ajax.php
Get Your Free AKC eBook
Tips for Responsible Dog Owners
This e-book is a great resource for anyone who's considering dog ownership or already owns a dog. Download for tips on how to be the best dog owner you can be.