On Saturday and Sunday, August 15-16, the weekend of AKC obedience and rally trials at On The Run! Canine Center in Ham Lake, Minnesota, arrived—and with it heat and humidity, as is typical for this time of year. But that didn't stop local dog folks from showing up early to help set up and run the annual Cambridge Minnesota Kennel Club (CMKC) event.
Popular local judges Louise Botko and Diane Propst were joined by out-of-stater Lora Seale to judge the 200 runs.
No matter the weather, dogs and owners who train as a team have fun working together to test their skills. A high "Q" rate in the rally competition—a "Q" is a qualifying score of at least 70 points out of a possible perfect score of 100—made for a fun weekend.
In rally, the dog and handler complete a course of designated "stations" (from 10 to 20 different stations, depending on the level), where each station has a sign indicating the skill that is to be performed. The team moves at their own pace, as in rally-style auto racing. Rally was designed to be less rigorous than traditional obedience, but it can still be very challenging for those who enjoy the higher levels of competition.
In obedience, Kori Bevis won High in Trial with her Labrador Retriever on both days. Obedience trials showcase dogs who have been trained to perform a set of increasingly difficult skills—from "sit," "heel," and "stay" to jumping on command, finding a correct object by scent, and more—and to do these skills in a public place, and in the presence of other dogs.
The events allow exhibitors and their dogs to enjoy companionship and competition as they earn AKC titles.




The Twin Cities area of the Midwest is known for top-level dog training opportunities. Not only were these trials attended by folks who enjoy competing with their dogs for titles, but there were also a number of participants who were working toward national-level awards such as the AKC National Obedience Championship and competition at national specialties. It brings to local trials a level of training quality that is unique to the area, as well as a great opportunity to learn how to prep and handle performance dogs. The area is also fortunate to have a wide variety of breeds represented at trials—from toy dogs to giants, they're all here!




About the Cambridge Minnesota Kennel Club
Established in April 1974 as the Rum River Kennel Club, the Cambridge Minnesota Kennel Club holds monthly meetings and provides dog lovers with an opportunity to get together and learn more about their favorite breeds and associated interests. Club members organize weekly training classes, and the club hosts fun matches under AKC rules, as well as all-breed AKC dog shows and obedience and rally trials every summer.
CMKC members take pride in not only their show-giving achievements but also in contributing to the community. The club has contributed toward the spay-neuter programs of the Isanti County and Anoka County humane societies and toward the local 4-H dog-training program. In 1991 the CMKC constructed a shelter at the Isanti County Fairgrounds that is used for dog shows and used by the local agricultural society and the community throughout the year. CMKC also has funded construction of two all-purpose buildings on the fairgrounds and has contributed to upgrading other fairground facilities.
CMKC conducts public education programs related to dogs and staffs a booth at the Isanti County Fair, in addition to hosting an annual education seminar for club members.
For more information on the club, go to cmkc.org. For local trial information, dogshowsbydesign.com offers secretarial services and links.
To find out about obedience trials, rally trials, dog shows, and other AKC dog events across the country, check the AKC Event Calendar.
Text and photos courtesy Sunny DeYoung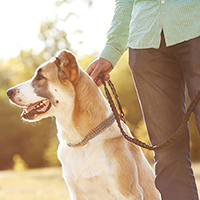 10 Essential Skills: Canine Good Citizen Test Items
Whether you are planning on getting your dog CGC certified or just looking to learn more about the test this e-book is a great place to start.
https://www.akc.org/wp-admin/admin-ajax.php
Get Your Free AKC eBook
Canine Good Citizen (CGC)
This program is recognized as the gold standard for dog behavior. In CGC, dogs who pass the 10 step CGC test can earn a certificate and/or the official AKC CGC title.