Mark Daniels and Aura after he was awarded a Purple Heart for his service in Afghanistan in 2013. Credit: CherryBlossoms Photography.
"What oxygen is to the lungs, such is hope to the meaning of life." — Emil Brunner, Swiss theologian
Hope has been an important ingredient in the lives of San Diego-based Marine Staff Sgt. Mark Daniels and his wife Jesca Daniels' life since June 8, 2013, when Mark and Aura, his K9 military companion, were injured in Afghanistan while returning from patrol as their vehicle struck an improvised explosive device (IED).
Daniels suffered a traumatic brain injury, and the 55-pound Belgian Malinois, a patrol and explosive detection dog, had a collapsed lung and heart arrhythmia. The Marines awarded Daniels a Purple Heart. They also offered him a medical retirement, which he declined.
Exactly four years later, the resilient couple renewed their vows during a fairy tale Missouri wedding, thanks to "A Warrior's Wish" granted by Hope For the Warriors. The national nonprofit is dedicated to restoring a sense of self, family, and hope to service members and their families, and to helping families of service members who died.
And guess who was front and center during the ceremony? That's right: Aura, a galvanizing force and familial artery for Team Daniels that includes daughters, Aurora, 6, and Annalily, 5.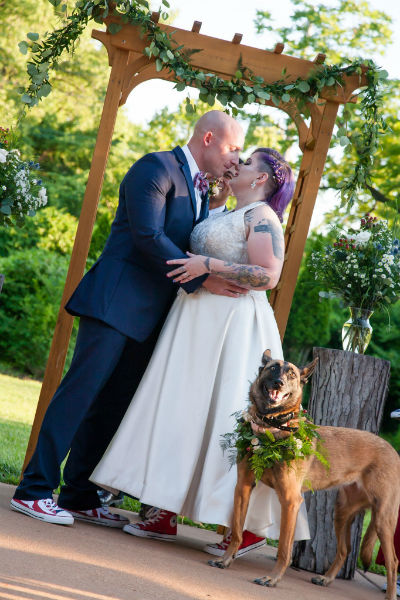 After all this time? The Daniels enjoy a first kiss following the renewal of their vows, with Aura as the Pup of Honors. Credit: Vintage Lens Photography.
"Originally, she was just going to be standing with us, but the day of the wedding I was taking her outside," explains Jesca, "and a short time later when it was time to walk down the aisle, she just heeled alongside me all the way. I wasn't going to proceed at first but when she wouldn't leave my side, I knew she was meant to walk me down the aisle."
The Daniels applied online last year for A Warrior's Wish. Those who meet the program's parameters are presented to a selection committee for consideration. "The committee considers each wish and its long-term impact on the applicant," says Chrystal Keilers, a Hope For the Warriors community development official. "The Daniels received rave remarks from the committee, specifically regarding their strength and resiliency."
Thus far, the organization has granted 168 wishes. Hope For The Warriors paid for the ceremony venue, reception/wedding package, and lodging for the family's destination celebration, as well as airfare and lodging for three wedding attendants. Private firms donated Jesca's wedding dress, the formal-wear rentals, and flowers.
"We are eternally grateful and humbled for the opportunity to celebrate our love and life with the people who we love," Jesca says. "This whole experience will be one our family will cherish for the rest of our lives."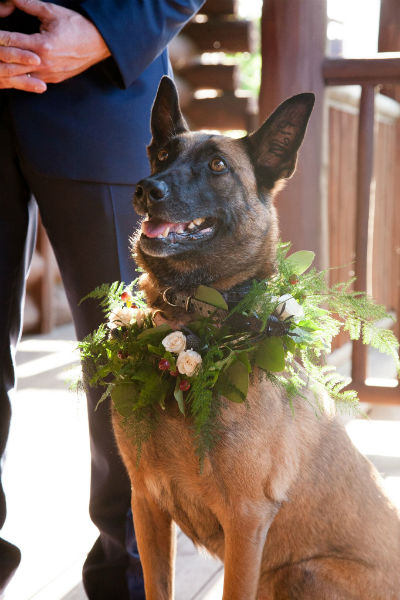 Aura waits with Daniels to get a first glimpse of Jesca in her wedding dress at the special Missouri ceremony in June, funded by Hope For the Warriors. Credit: Vintage Lens Photography
The importance of the date and the ceremony was, Jesca emphasizes, a chance to celebrate her husband's life, the gift of family and friends, and a "new normal."
The Daniels originally married in May 2009, just a month after losing their first-born child, Jaxon. But that ceremony was without family or friends. "That's why this one (attended by 60 family members and friends) was very special," she says.
Daniels, in his twelfth year as an active-duty Marine, has seen two tours of duty in Iraq and one in Afghanistan and Japan.
Aura is his strongest link to his past tours and has become the center of attention for the active family. "The girls absolutely love her," says Jesca, "and the feeling is mutual. Aura covets snuggling with Rory (Aurora), keeping her from emotional meltdowns, and loves to play fetch with Nilly (Annalily). They are all peas in a pod."
Jesca laughs when recalling one tender incident. "Aura is quite the comedian. Rory was put in timeout, and Aura was so bothered that she had to go lie down with her. I looked over about three minutes later to see them snuggling, asleep together."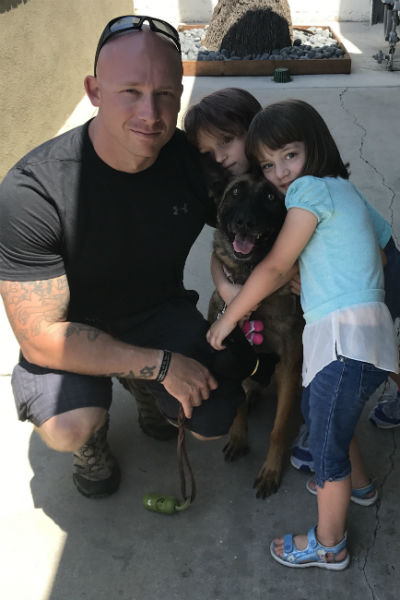 Aura enjoys her ninth birthday this year with Dad and daughters, Rory, left, and Nilly.
But making Aura a full-fledged member of the household was not easy. Daniels was paired with the dog in 2010 and was her only active handler until she was retired after twice injuring her cruciate ligaments in 2014 training incidents stateside.
At that point, Jesca started preparing mentally to take Aura. "I was kind of nervous because Mark left for Japan, and I had never interacted with her without Mark," she recalls.
Jesca visited the kennels weekly to build a relationship and comfort zone with Aura, whose retirement paperwork was being processed.
Their first meeting was entertaining and engaging. "She buried her face in my chest and smothered me in kisses. At that point I knew we were good to go. I got the call on my birthday (May 22) to come get her. I couldn't get there fast enough."

Newly retired Military Dog Aura welcomes her Dad home for short visit in Texas, from deployment in Japan. This was his first time seeing her retired. Credit: LSCS
Any apprehension Jesca had about Aura's interaction with the girls were relieved within five minutes. "Aura jumped on the couch (they refer to it as Camp Couch) and immediately cuddled with the two girls. And she has been doing so ever since."
Daniels returned stateside about one month later for training, and thanks to Mission K9 Rescue, he and Aura enjoyed a sugary, heartwarming reunion for a short time before he returned to Japan. "That's when she, the girls, and I really bonded," explains Jesca. "In his absence for that year we held each other up. Aura represented a piece of him to physically love. So instead of feeling like his dog lives with us now, it was more like our dog came home."
Daniels, a Military Working Dog handler and kennel master, adds, "I've worked with many dogs, but Aura is different. From day 1 we just clicked. I picked her up as a new dog and had the pleasure of being her sole handler for five years. We've been through a lot. While she's our family dog today, any time I'm feeling down or stressed, I can always rely on her to even me out. And likewise, me to her."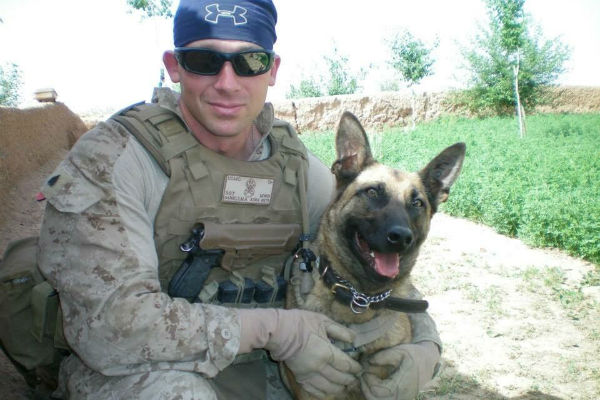 Daniels and Aura, a Patrol and Explosives Detection Dog, take a break while deployed in Afghanistan in 2013.
In retirement, Aura is a volunteer for the Military Working Dog Team Support Association, attending West Coast fundraisers and social functions, in addition to being a toy tester (her favorite part!) for items being sent overseas to K9 teams.
While Aura came to Daniels with her name, it's a perfect fit. She embodies the definition: a luminous radiation. "She is our soul dog," concludes Jesca. Adds Daniels, "Aside from my wife and kids, she's the best thing to happen to me."
https://www.akc.org/wp-admin/admin-ajax.php
Get Your Free AKC eBook
Does Your Dog Have What it Takes to be a Therapy Dog?
My dog is great with people, I want her to be a therapy dog. Where do I start? If you have asked this question then this e-book is for you. Download to learn more about Animal Assisted Therapy and how to get started.