Make no mistake about it, dog sport competitors are no different than finely tuned human athletes. These dogs long to get in the ring and give it their best, while performing in concert with their handlers.
In the process, doggy dynamics are accented with plenty of psychological gymnastics. If ever there was a prototype for evaluating the psyche and teamwork involving one of these teams, it's Sizzle, a 7-year-old Golden Retriever, and his owner, Sharon Colvin, of Snohomish, Wash., a Seattle suburb.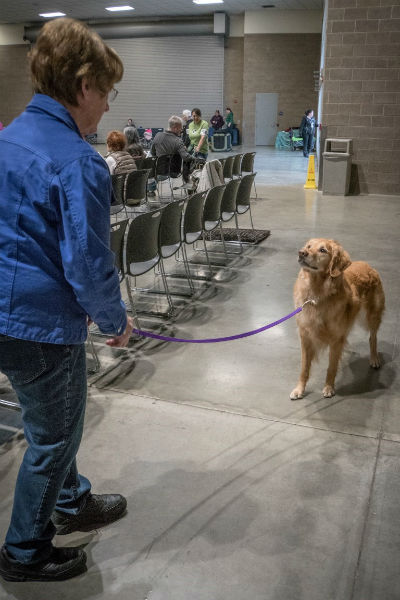 Colvin, a longtime, premier Pacific Northwest obedience owner-handler, began showing Sizzle in novice and open classes when he was 5 years old. The long wait wasn't because he lacked potential; it was prompted by two other older and superb Goldens in the household. Chilly won 71 highs in trial and 50 highs-combined. And Blaze earned two highs in trial and retired early due to health issues. Colvin lost both dogs to cancer in recent months—Chilly to hemangiosarcoma and Blaze to intestinal lymphoma, leaving Sizzle and Dazzle, a 4-year-old Papillon.
Now here's where doggy dynamism kicks in. "After losing Chilly in late November, the other dogs spent a few days looking for him. And repeat that process in early March with Sizzle and Dazzle when Blaze passed.
"Sizzle started showing more confidence in his day-to-day life and in training. The go-outs for directed jumping in utility have been very hard for Sizzle, but now he is doing them with much more drive. In the past when he became stressed in training, he would attempt to leave. When he is successful, I give him plenty of praise and offer him cookies and let him play. He feels good when he works through a tough training session."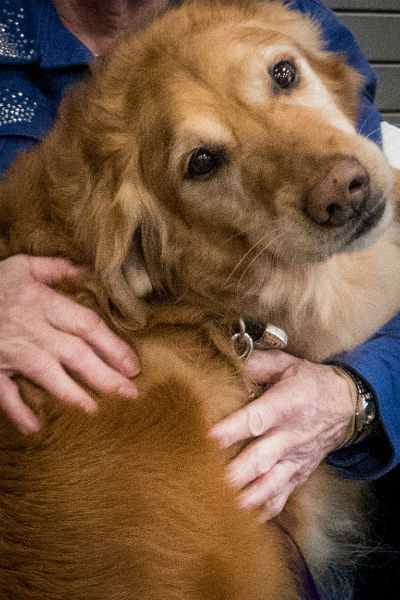 Being in the top dog role and the focus of Colvin's increased attention is bringing out the best in this 60-pounder. Consider, for a minute, the physical and psychological demands awaiting an athlete returning to top-level competition for the first time in two years. Add the deaths of two fellow housemates into the mix, and you're serving up a formidable challenge of potential angst and anticipation.
Colvin carefully prepared Sizzle for his coming-out party at the Seattle Kennel Club's back-to-back, all-breed shows in early March, but nothing could have prepared her for his twin highs-in-trials with scores of 199, giving him a career total of six. He has no high combined wins, since he does not own a (Utility Dog) UD title yet. That will hopefully be earned this summer, Colvin says.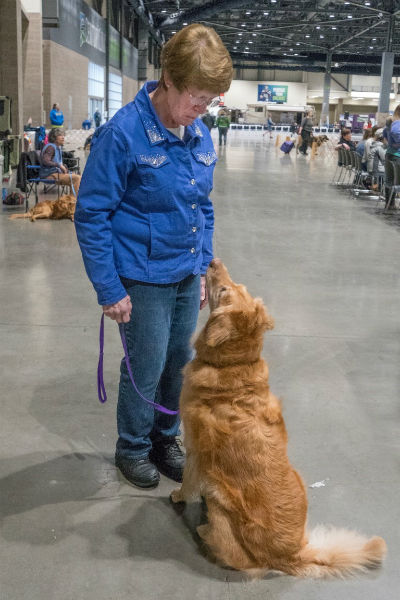 "I spent time developing his mental and physical stamina," she says. "I did some training all the time with Sizzle, but when I started showing Dazzle to try to qualify for the AKC Obedience Classic in Florida, poor Sizzle was put on the back burner. When I had the opportunity, I would train with others for the distractions. I trained weekly with a friend, so she could judge and add some pressure. This was designed to allow me to help him be successful, even when he felt the pressure of the ring."
To prepare him for his return to the limelight, Colvin had eight speakers installed in her training building at home, allowing her to play a dog-show CD simulating the noise level in the giant venue (CenturyLink Field Event Center).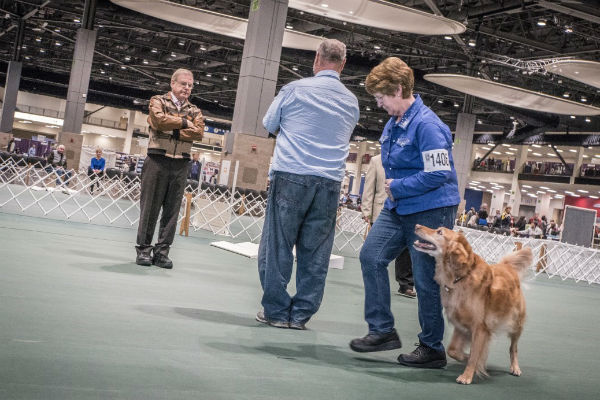 "I entered him at Seattle, thinking it would be fun and to determine his confidence level after two years off. I thought he would qualify both days, but I didn't expect him to get such high scores. I was ecstatic that he was happy in the ring and worked with such confidence and accuracy."
For Colvin, her dogs are her life. The veterinary technician takes both to work at a Seattle area veterinary hospital and heads for training afterward, reducing her travel time and maintaining the bonding with the pair.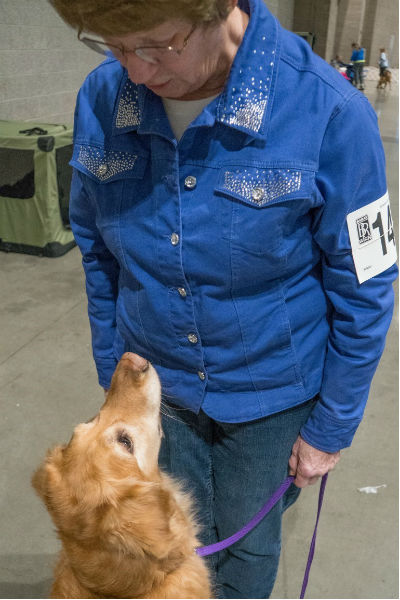 Sizzle is a registered therapy dog with Therapy Dogs International. He formerly went to Ryther Center for Children and Youth in Seattle, where he worked with children—"and loved it." But upon moving to Snohomish several years ago, the distance and driving time became too challenging for Colvin.
When asked what prompted her to name him Sizzle, Colvin responds, "The theme for his litter was "Re" because it was a repeat breeding. I wanted a strong name, so decided on Webshire's Redhot N Ready, hence Sizzle.
The breeders are Lisa and Brian Hartfield of Webshire Kennel in Larsen, Wis. Chilly, Blaze, and Sizzle are from the kennel; Chilly and Sizzle are brothers.
"Breeding of a mentally and physically sound dog is important," Colvin emphasizes. "And I have not been disappointed. Every dog I have selected has had a sound temperament, which is key whether it's simply a household pet or a high-level competitor."
Asked how she views the handler/dog teamwork in the duo's overall success in the ring, Colvin answers, "The handler is a large part of the equation, and this is a hobby that I have decided to enjoy. My dog didn't sign up for it, so I need to take responsibility for helping him reach his full potential and enjoy the ride with me. My dogs are my pets, first and foremost, and showing them is icing on the cake.
With Chilly's amazing stats, you're left to wonder if Sizzle's story has plenty more tantalizing chapters ahead, focused around this veteran's resilient, can-do spirit.
"Like Chilly," Colvin concludes, "I will continue to show Sizzle as a long as we are having fun. It's all about the journey and not the destination."
Photos by Gretchen Taylor
https://www.akc.org/wp-admin/admin-ajax.php
Get Your Free AKC eBook
Life with a Senior Dog
As your dog ages his needs will start to change. Download this e-book to learn what to expect and get helpful tips on caring for your senior dog.