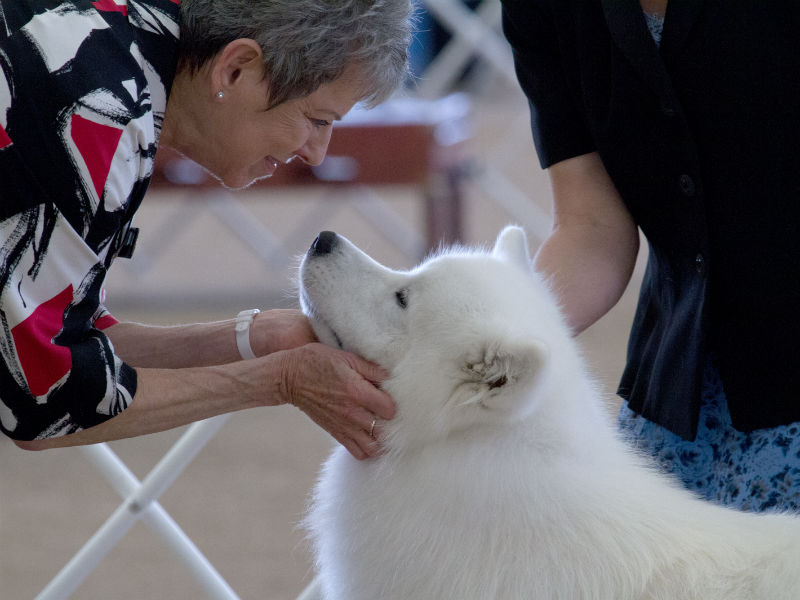 He's a show dog—and he knows it!
When Floppybear struts his stuff with swagger and verve—the wow factor kicks in! At last month's Kennel Club of Beverly Hills Dog Show the glistening-white, 4-year-old Samoyed, owned by Jessica Pao and Limore Shur of Los Angeles, left little doubt about his crowd appeal.
And you can catch the show at 8 p.m. Easter Sunday on USA Network in the strong Working Group final ahead of the Best in Show judging. It repeats at 9 a.m. Monday, April 17 and 1 p.m. April 23 on NBC. In the edited telecast, Floppy appears on the group entry.
This is a show dog with a resumé that reads 20,000-plus Facebook followers, 8,000-plus Instagram fans, a wide mix of film and advertising credits, and four group placements. Pao and Shur are hoping to add a book and television series to those credentials in the near future.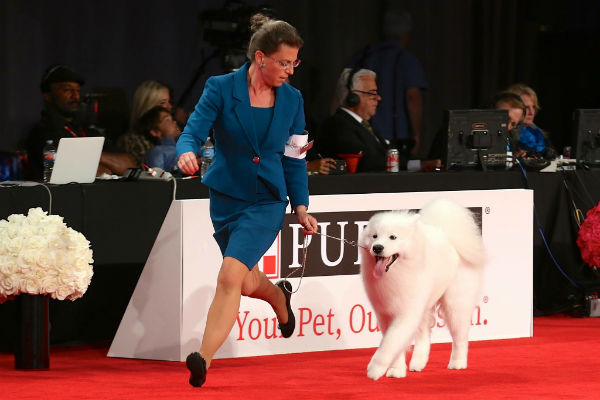 Asked to characterize his dog's personality and why he appeals to audiences, Shur, the chief creative officer and partner of an advertising agency called ModOp, replies, "Besides being cute as a button and fluffy as a cloud, he has a calm and loving demeanor. He is self-confident and intelligent, but loves any attention he can attract. We call him and our other Samoyeds, the 'petting zoo,' because wherever we go, we stop traffic and draw a crowd."
For example, when Shur was promoting the film, "Alive Inside," at the 2014 Sundance Film Festival in Utah with no budget, he was left to find a means to attract an audience to the production, which captured how music positively affects Alzheimer's and dementia patients. The movie, directed by Shur's brother, Michael Rossato-Bennett, ultimately won the 2014 Sundance Film Festival Audience Award for U.S. Documentary.
"I suggested we bring Floppybear and our Polabear (their other Samoyed), as well at two Sammys from Utah to the site where the film was being screened. The intent was that if anyone stopped to pet or say 'hi' to the dogs, that person was the right audience to see the film and most likely to be receptive to us telling them about it. It worked so well, some of the other big brands asked us to stand outside their event spaces to help draw a crowd. We won the Hulu Best Promotion at Sundance Award. To say the dogs were worth a million bucks is an understatement."
That same appeal has been reinforced in commercials and viral videos. "They really look like polar bears and stuffed animals, all in one," smiles Shur. "But you have to remember this is a working breed, too."
Make no mistake about it: Floppy earns his keep. "Normally there is a day rate and then residuals," Shur explains. "Sometimes there is a full buyout. So he can be paid $300-$500 for the day's work, and residuals can range from a few hundred to a few thousand, depending on the media buys and the duration the commercial airs." There is no charge for Floppy's appearance in those commercials Shur directs. All shoots have been in the Los Angeles area.
Pao handles him on set for commercials, but when a future television series, "Mia and the Bear," is shot, the couple will likely hire a professional handler. The series is not yet in production, and Shur cannot disclose the network on which it will air. "The short video that was used to sell the concept," he says, "was shot all along the West Coast, but we will be traveling worldwide for the production when filming begins."
It centers on a young girl who is an animal and environmental activist, and follows her travels and interviews at animal sanctuaries and more. She is accompanied by Floppy on each outing. The dog's exploits aren't limited to video. He is the star of a series of children's books the couple is fashioning. Shur is the illustrator; there is no publisher yet.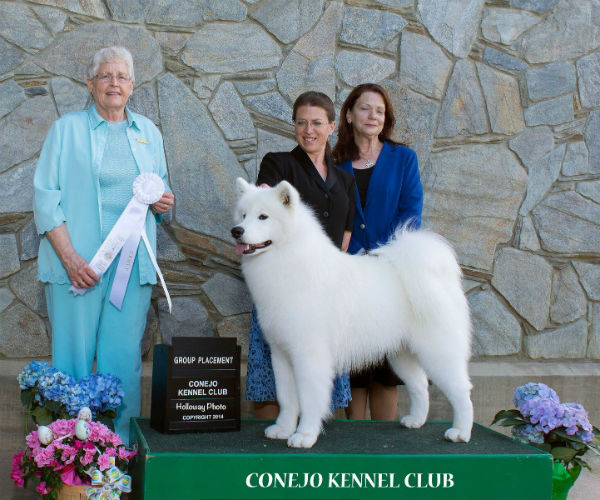 The busy Floppy is also a certified (Pet Partners) therapy dog, centering his efforts at Atikopa, a Buddhist temple that hosts events and camps for children with a wide mix of social and medical problems. In particular, the 55-pound fluff ball meanders about the youngsters offering hands-on interaction at a sleep-away camp focusing on meditation, healing, and activities. Conversely, he is a stress-relief valve for students at Santa Monica College during finals weeks.
Pao and Shur have four Samoyeds, with Floppy the first they've shown. He has earned a Grand Champion title, and Polabear has earned a Champion status. They recently had five puppies, and they kept two and sold the other three to new homes.
The couple wasted little time putting Floppy on a fast track after purchasing him from Ken and Kathy Granacki, of Snowater Samoyeds in Bend, Ore.
"It started the day we picked him up in Bend," recalls Shur. "We joke that for the first six months, he thought his name was 'Oh, my God!' shrieked loudly in a valley girl voice."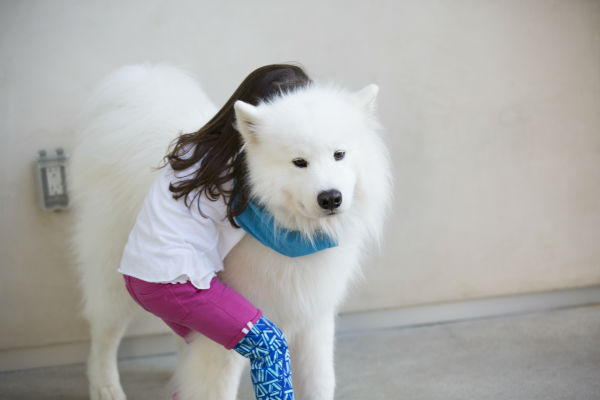 Floppy was obtained as a pet, but Pao decided to start showing him when he was young. The pair quickly discovered that to seriously campaign a dog, it took considerable funding. "I felt it was a price we could not afford," adds Shur, "so I took it upon myself to grow his social media presence."
"It made sense to spend that time for my personal growth and benefit Floppy, too. I also wanted to brand him with a trademark logo and create products around his breed." In the process, this led to Floppy hooking up and branding with celebrities, like Shaun White and Kelly Clarkson.
Seguing to conformation, Shur and Pao have chosen to stay chiefly on the West Coast when showing Floppy. The dog is handled by Karen Bruneau, of Apple Valley, Calif. They made the decision to show regionally based on "the tutelage of a wide range of handlers/breeders/owners that Jessica quickly engaged and befriended," says Shur. Within months, they had a strong Sammy community around them and were "quickly adopted into a competitive, but very warm and inviting circle."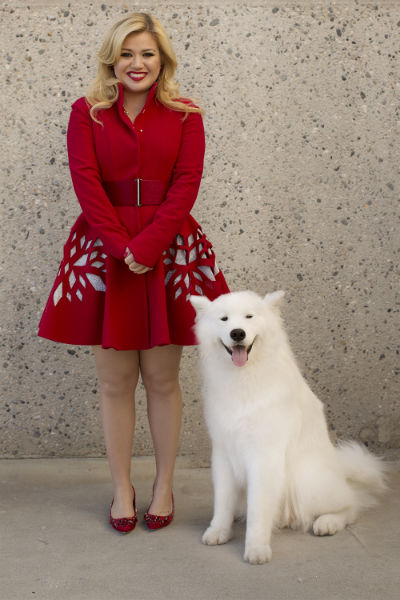 Floppy's social media flash and flair has segued into the show ring, too. For instance, at the Beverly Hills show, Shur was sitting in the owners' section during the judging of the Working Group. When Floppy came out, Shur heard a woman behind him gasp and say she wanted that dog. He turned to see actress Lisa Vanderpump ("The Real Housewives of Beverly Hills"). "If she could have, she would have rushed the carpet and tackled him. She was so enthusiastic," the owner recalls. Following the group, she asked Shur to bring him around for some one-on-one. The two had a selfie that was posted for all of both of their fans to see.
 
While Floppy seems to be right in his element in Los Angeles, it's not exactly the weather this Northern breed calls home. So to satisfy those urges, Shur and Pao periodically usher their Sammy family off to Mammoth and Bear Mountains for playdays in the snow.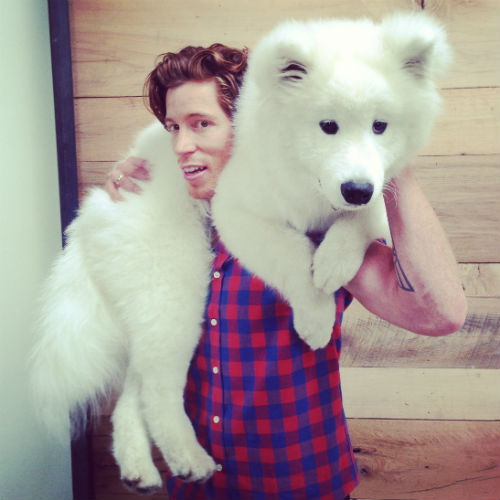 This showman's customary working environment is a far cry from his ancestors' herding, hunting, and hauling roots in Siberia, but Team Floppy has found this "mountain magic" to be the perfect fun tonic for all.
https://www.akc.org/wp-admin/admin-ajax.php
Get Your Free AKC eBook
Canine Good Citizen (CGC)
This program is recognized as the gold standard for dog behavior. In CGC, dogs who pass the 10 step CGC test can earn a certificate and/or the official AKC CGC title.