Papillon celebrates 100 years in AKC Stud Book
In 1915 the AKC registered an itty-bitty dog named Joujou, its first Papillon. In the 10 decades since, the small breed with the big ears has beguiled American owners with its sunny personality and surprising athleticism.
This year we welcome the Papillon, along with the Flat-Coated Retriever, as the newest member of the AKC Century Club—that is, breeds with 100 years in the AKC Stud Book.
The Papillon resides in the AKC Toy Group. Measuring just 8 to 11 inches at the shoulder, a Pap can still be spotted a block away thanks to the large, wing-shaped ears that give the breed its name ("papillon" is French for "butterfly"). Some Papillons have erect ears; in others, known as the Phalene type, the ears are down. Papillons are dainty and elegant, with a plumed tail and a showy but low-shedding coat. They come in several color combinations, with the base color being white.
For hundreds of years the enchanting Papillon lived on the best-dressed laps of Europe. Originally bred as loyal and beautiful companions for noblewomen, they appear in portraits of long-ago queens and courtesans by Europe's painting masters—Rubens, Rembrandt, Goya, Toulouse-Lautrec. Though their name and earliest lineage is French, the Papillon can be said to be a breed of the world. They first became a fad among the nobles of Spain, and breeders and merchants in Bologna, Italy, played a central role in the Pap's early development.
Papillons were bred down from spaniels (they were known as Dwarf Spaniels in Renaissance times), and their sporting-dog blood makes them highly trainable and more athletic than most other toy dogs. Pound for pound, Paps stand with the best athletes in the canine kingdom. They excel in competitive agility and are regular winners at the sport's highest levels.
Zak, a Papillon from Marco Island, Florida, is a 14th-level Master Agility Champion officially known as MACH14 Cilloette Jumpin' Zak Flash, MXB4, MJG4, OF, T2B. Owner-handler Kathleen Krieder is steadfast in her devotion to Zak and her other high-energy performance Paps. "I home cook for all the dogs," she says, "predominately beef and salmon, or chicken. They eat a lot of sweet potatoes, green beans, blueberries, and cottage cheese."
For less ambitious owners, Papillons can be trained to do all kinds of party tricks: A Pap up on his hind legs doing the cha-cha is a sight not soon forgotten.
Papillons are more robust than they look. They thrive in warm or cool climates, in town or country, and are always eager to greet whatever the day might bring. This is a Renaissance dog for all seasons and reasons.
All of us at the AKC wish the little Frenchman another hundred years as a perennial American favorite.
—Bud Boccone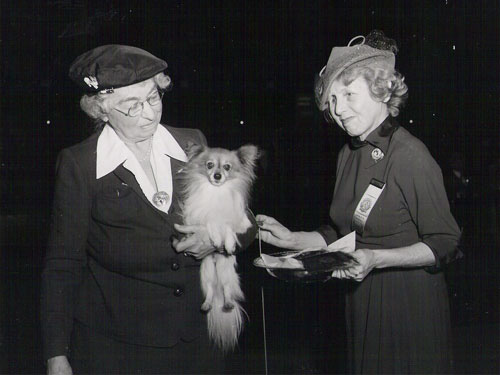 Papillon Fun Facts
Another Pappy anniversary: In 2015 the Papillon Club of America celebrates 80 years as an AKC parent club. 

Marie Antoinette's Papillon, Thisbe, stood faithfully outside the prison where the queen awaited beheading. 

Papillons weren't bred for the job but they make excellent household exterminators, small rodents a specialty.

By law, King Louis XIV had first choice of any Papillon brought into France.
https://www.akc.org/wp-admin/admin-ajax.php
Get Your Free AKC eBook
The All-Purpose Grooming Tool kit
Do you have everything you need to keep your dog in tip top shape? Not sure where to start? This e-book will outline how to put together the perfect grooming kit for your dog.