The first thing you should know about 2½-year-old Floyd is that he's relentless… and a lifesaver.
Last autumn, after his owner Leon Green, 57, and his family returned home to Kirkland, Wash., outside of Seattle, from a two-week vacation in Maui, Hawaii, Floyd, a Berger Picard, began burying his nose in Green's armpits and groin for four-to-five days. "He was persistent about the message he was sending me," says Green, a furniture and cabinetmaker. "It was kinda like, 'Come on you stupid human being, don't you get it?'"
Both Green and his wife, MaryAnn, are avid cyclists, but after returning from some challenging cycling in Hawaii, Leon Green was feeling the effects. Five years earlier, he underwent a battery of tests when feeling similarly ill, but the tests failed to produce a specific diagnosis.
"I would always suffer after going on vacation and playing too hard," Green explains. During the 2015 trip, he rode the challenging West Maui Loop, a tight 65-mile trip, of which about one-third is single-lane, cliff road hugging the shoreline around the western section of Maui. The loop challenge features about a 5,000-foot climb and takes an experienced, well-conditioned rider about 4½ hours to complete.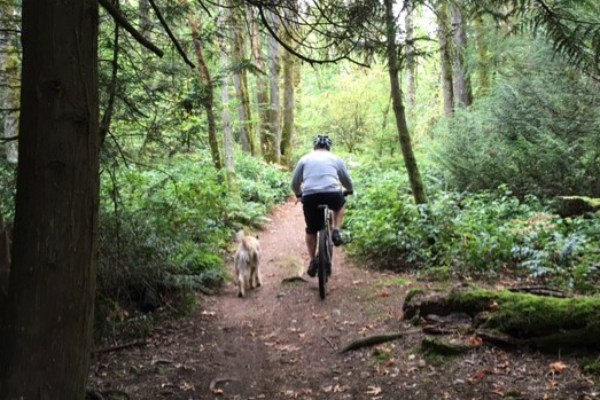 Back home, however, Floyd, an unrelenting, four-legged scent detector, won the battle of wills. Green gave in and scheduled a check-up with his primary-care physician, Dr. Kim Pittenger, at Virginia Mason Kirkland Medical Center. Pittenger ordered a series of tests that led to a diagnosis of follicular lymphoma, a type of non-Hodgkin lymphoma where lymphoma cells build up in the lymph nodes. The most common symptoms are painless swelling in the neck, armpit, or groin, as well as fatigue.
"Give your dog a big pat on the head for getting you in here," Pittenger told Green. "He might have saved your life."
The next stop for Green was with Dr. Timothy Carlos, at Seattle Cancer Care Alliance at EvergreenHealth in Kirkland, where he began monthly chemotherapy treatments in late November, a regimen that continued for six months. "Throughout the treatment, Floyd would insist that we get out on the bike every day," Green smiles. "My doctor credits him for helping me get through the treatment as well as I did. We still ride together every day."
The Greens live near a Kirkland park where there are about 25 miles of biking trails. "Consequently, I have no excuse for not getting out there," he says. "And when you have a 65-pound dog that looks you in the eyes, barks, and says, 'Hey dad, it's time to go,' how can you say no?"
Happily, the chemotherapy treatments were successful, and Green is in full remission.
Each day, he and Floyd do a morning walk and in the evening undergo a park ride ranging from 2-to-10 miles on either a road or mountain unit, depending on his choice of bikes. At night, Green simply turns on the lights on his bike. MaryAnn accompanies them on many of the outings, which continue in inclement weather, too. "Living here, you can't let the rain stop you," he laughs.
Floyd is Green's shop dog, too. "We're kinda bonded at the hip," he says.
"I chuckle when people ask me what I do for work. My standard line is, 'I play, therefore I work.' Our family has always been very active. Sea kayaking the west coast of Vancouver Island, rafting the Grand Canyon in our own boats, summiting Denali, ski racing at Stevens Pass (Wash.). You get the idea. And Floyd usually accompanies us. He has a true love of water and yearns to be with us everywhere we go."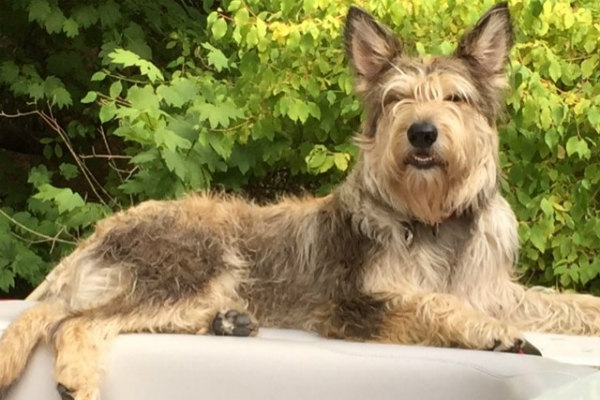 What led him to a Berger Picard?
"Floyd is our third family dog," Green says. "When I was growing up, my parents raised Irish Setters and were very involved in club activities in the Seattle area. When I was about 20, I broke from the breed and purchased my own dog, Tundra, a Samoyed, who lived to age 14 and was a great companion for our sons Paul and Gabriel as they grew up."
Years later the Greens brought home a Yellow Labrador Retriever, Roy, who became a Velcro sort of dog for MaryAnn. But he succumbed to bone cancer at age 6, and the heartbroken couple waited another five years before opting to bring another dog into the household.
Watching a Travelers Companies, Inc., commercial on TV, their interest was piqued by a perk-eared dog that was burying his bone for a later day. "Doing a Google search on the dog, someone speculated that it might be part Berger Picard. After following a link, we found the breed of our dreams," Green adds.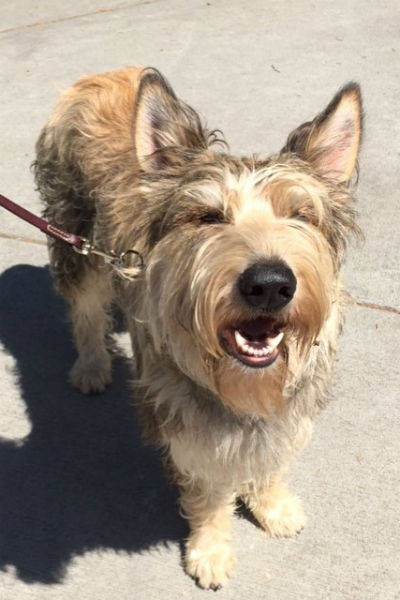 The Greens' pursuit of a quality Berger Picard didn't take long. After again using the Internet, they contacted Betsy Richards, of Roanoke, Va., President of the Berger Picard Club of America, who directed them to a breeder, Jackie Lundy, in Davis, Calif., from whom they purchased 8-week-old Floyd. "I flew down to Sacramento with a cat carrier," Green recalls, "and turned right around and brought him home."
"Floyd's ability to communicate is truly what amazes us. He has very expressive eyes. Then you add the ears. They're very distinctive. While this is an incredibly intelligent breed, it's highly sensitive, too. When he is reprimanded, he takes it hard. For Floyd, it's all about positive reinforcement."
With Floyd, the Greens' lifestyle is constantly in high gear, no matter what the topography. "He just doesn't have a pause button," Green says. Conversely, his fast-forward character personifies friendship, loyalty, and a nourishing can-do spirit.
Header photo: Floyd, a 2 1/2-year old Berger Picard, is Leon Green's Velcro dog and life saver. The dog scented something different with Green after he and his wife, MaryAnn, returned from a trip to Hawaii last year. Several days later he made an appointment with his doctor and the diagnosis was lymphoma.