Photos courtesy of Mike Perrin.
If you're a dog lover and aren't watching BBC's 'Dirk Gently's Holistic Detective Agency,' you should be. It has mystery, sci-fi, humor, Elijah Wood, and most importantly, a Corgi!
Played by Bentley the dog actor, this Corgi was a mysterious (and adorable) element of the pilot episode of the show which premiered on Saturday, October 22nd.
Luckily for you all, we talked to Mike Perrin, Bentley's owner, to get the inside scoop on filming the show, Bentley's personality, and Corgi-stardom.
Check out the interview below.
AKC: Where did you get Bentley from?
Mike Perrin: Bentley is from Missouri, from Kara Crass at K-Jacs Kennels. Kara was exceptional in explaining the process of adopting a puppy and getting the "right" puppy. We wanted a cuddler, with a great personality and a smaller stature, which is "fateful" (as I'll explain later). We were excited to find all of that in spades as Bentley is a real sweetie who loves cuddling and attention—he carries an energy about him that really has him stand out with his incredible personality.
Why did you choose a Corgi?
We chose a Corgi, first because of the personality of the breed. It's no secret that you can find countless videos and pictures of Corgis that are beyond cute! Their antics, their "stumpiness", the floppy ears, the playfulness—it's all true! They are like permanent puppies. Seeing Corgi meet up videos are infectious and it's incredible seeing hundreds of stumpers running around. We hoped we would get just "some" attributes that Corgis exhibit, and we were blessed to get most of them in Bentley!
What's something special that Bentley does that you can share with us?
One thing that is fun to share is my morning greeting! Every morning, without fail, I open my bedroom door and quickly lay back in my bed… I hear the "tickie tickie" sound of Bentley gaining speed in the hallway, he leaps at speed, hits the bottom left corner of my high stacked mattress, and propels himself straight up landing almost six feet later on my chest, his paws falling on either side of my neck and he rests his face directly on my forehead so he gets his cuddles squeezing in delight! Every morning!
What do you love about Bentley and the Corgi breed?
Corgis are hilarious! They are incredibly loving and they all have distinct personalities. I think that's why there are so many really great Corgi sites—each one shows off their buddies so well—that's their personality shining through. People love it, and so far as I can tell, they can't get enough of it. With Bentley, it's like everything is to love! Except teething. Teething we did not appreciate much! Very sharp, very intense. Glad it's over!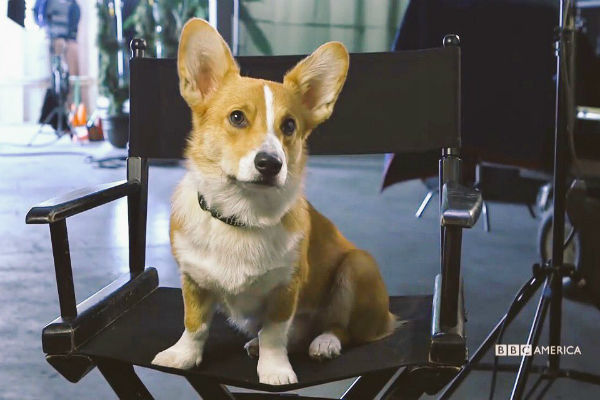 Bentley has an energy about him, people see it from far away. In fact, the trainer, Ian, said "Oh, he's a trouble maker!" and laughed. When the main trainer, Grace, met him for the first time, he proceeded to raid a picnic and got away with it! He was around 8 months old and just a rocket! We love his energy, his love for life and his desire to be around people! Everywhere we go we get "OMG! a Corgi!" I just don't see it as often with other breeds, and our trainers said they have never seen anything like it! Corgi parents will know exactly what I mean with that. We are always approached to let and cuddle with Bentley, and he lovingly obliges!
How did Bentley get involved in acting?
We had no intention to get into acting or modeling! Our Corgi meet up group in British Columbia was approached by a well known talent agency with close to 300 projects in TV/movies under their belts. They were looking for a Corgi for a TV show. We didn't know anything about the show or who was in it. We auditioned twice, and it was felt that Bentley was too small, but could be used for stunts and distance work. Two other dogs were selected before Bentley. However, those dogs were not able to perform all the required "behaviors" or were too large to be held. Bentley was 19 pounds, compared to the other two dogs at 35-45 pounds. The production almost changed out the Corgi breed for another smaller dog, until Bentley was showcased again while meeting with the producers. When they met Bentley, they loved his compact size and he performed perfectly, because he responded to some of the "behaviors" they needed for the show!
It was then that Arvind Ethan David the Executive Producer and creator of the show video taped him and posted a video saying "We're gonna make this dog a star!"
 
Tell us about the process of filming "Dirk Gently's Holistic Detective Agency."
Bentley started auditioning at 8 months old, trained at 9 months old and then started filming at 10 months old! Not bad for a puppy, huh? What were all of us doing at 8-9 months old?
We were given the basics of the script and were shown how they were going to train Bentley on these new scenes. We assisted in maintaining the training, but Grace McDonald was integral in establishing trust and teaching him confidence and, of course, trained him relentlessly. You will see him in crazy situations, but just keep in mind that there is a massive film crew, multiple cameras, gear, wires, noises, extreme heights and loud machinery that would normally scare a little dog like Bentley. Grace took him to areas and prepped him for all of this, and as a result, he gained a tremendous amount of confidence. As such, it became clear that he was sassy at home! He had this confidence, it wasn't necessarily new, but it was certainly heightened. Bentley just may be the most confident dog I've ever met, and acting really just brought out his confidence and personality more.
 

Additionally, Bentley's ability to learn all the "behaviors" made it such that they only needed one dog to do all the scenes. That is unusual as there are often multiple dogs on any set of this magnitude, so this is really cool- this IS Bentleys production! He IS the Corgi of "Dirk Gently"!
What is Bentley's role in the show?
Bentley's role is still a secret. What I can tell you is that he is not just a family pet that shows up in silly ways. He's a big player. Bentley has been described by producers and cast as a lead role, a main character. He is very active and is prominent throughout each episode, and I am confident that Corgi lovers will really enjoy the journey each week!
Bentley was, in fact, very much a secret for much of the filming—no info was shared, and we had to keep it "hush hush." We were elated when little leaks would pop up, like photos of his "stunt double"—a stuffed animal that was to be a perfect match of Bentley. They made two of them at a reported cost of $2,000.
 
How does Bentley feel about being a star?
I think he loves it! I know he absolutely loves his costars, and I know they love him! So often the radios would say "bring up the dog" and Elijah would say "Oh, can I walk Bentley up?" (to the scene) which really impressed me. The cast was just amazing. What was really great as well, was the crew. The night we filmed the bridge scene that you see on the trailer, everyone from the transportation crew, to makeup artists, to the food artists, would come up and proclaim "Bentley!" They would come to pet him or sit with him… and it was crazy busy!
What is Bentley up to now?
Now that Bentley is in between projects, he waits, I believe, for his friend Grace to pick him up. He waits at the door with his head cocked to the side—this guy loved working, and he loved performing for Grace! A working dog is a happy dog! So now that he's not on set everyday we meet up with other Corgis and their families. We are fortunate that folks reach out and want to meet Bentley, we try to meet up with everyone we can, and we have a following all over the world, where we talk directly with fans. We try not to leave anyone without being heard or acknowledged. As such, we are active with photos and activities that Bentley enjoys, traveling, playing, splooting! So that "stardom" really isn't there, it's recognition I suppose and allows for more interactions, so for that, Bentley is loving it.
 
How do you think the show will influence the public perception of Corgis?
First of all, the Corgi breed will get some high visibility and a point of reference outside of the "Queen's dogs." I'm sure there will be a lot of chatter, and a following. With all the interactions that occur, Bentley won't be overlooked.
Second – I think the public will be really pleased with what they see, I can safely say that no show has done anything like this, and the little Corgi is really a central focus! There is something endearing about a little stumpy dog in the arms of the two lead characters! I think more and more people will tune in each week to see how it ramps up!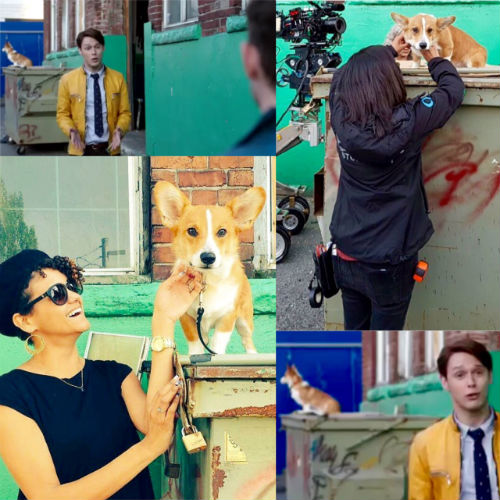 We'll certainly be tuning in each week! You can watch the first episode here. A special thanks to Mike for talking to us; it was great to hear about this special working dog and how his personality is being shared all over the world. You can also follow him on Instagram @poorcorgiactor.
Watch the trailer for "Dirk Gently's Holistic Detective Agency" below. See if you can spot Bentley!
 
This interview has been edited for brevity and clarity.
https://www.akc.org/wp-admin/admin-ajax.php
Get Your Free AKC eBook
The Five Commands Every Dog Should Know
Do you want a well behaved dog but don't know where to begin? The Basic five commands e-book is a great place to start and will give your dog a strong foundation for future training.