The AKC/USA World Agility Team is currently competing on the global agility stage for the 20th year in a row. The US Team joins 33 team from other countries in Italy for this year's FCI World Agility Championship on Oct. 8-11. Watch a live steam of the Championships online here: www.agility-awc2015.it/en/live-streaming
Meet the team below and follow along with the them on Facebook as they compete at the World Championship.
Laura Dolan and Race

While competing with one of her dogs in an obedience competition in 1995, Laura and her husband came across an agility competition and have been hooked ever since. She's had the privilege to be taught by four amazing dogs, including her first dog, a Shetland Sheepdog named Willie, who started agility at the age of 7. In addition to Race, Laura has competed as a member of the AKC/USA World Team with two other dogs.
Laura is incredibly grateful to her family for keeping her grounded and focused on what is important in life.
Abigail Beasley and Dreamer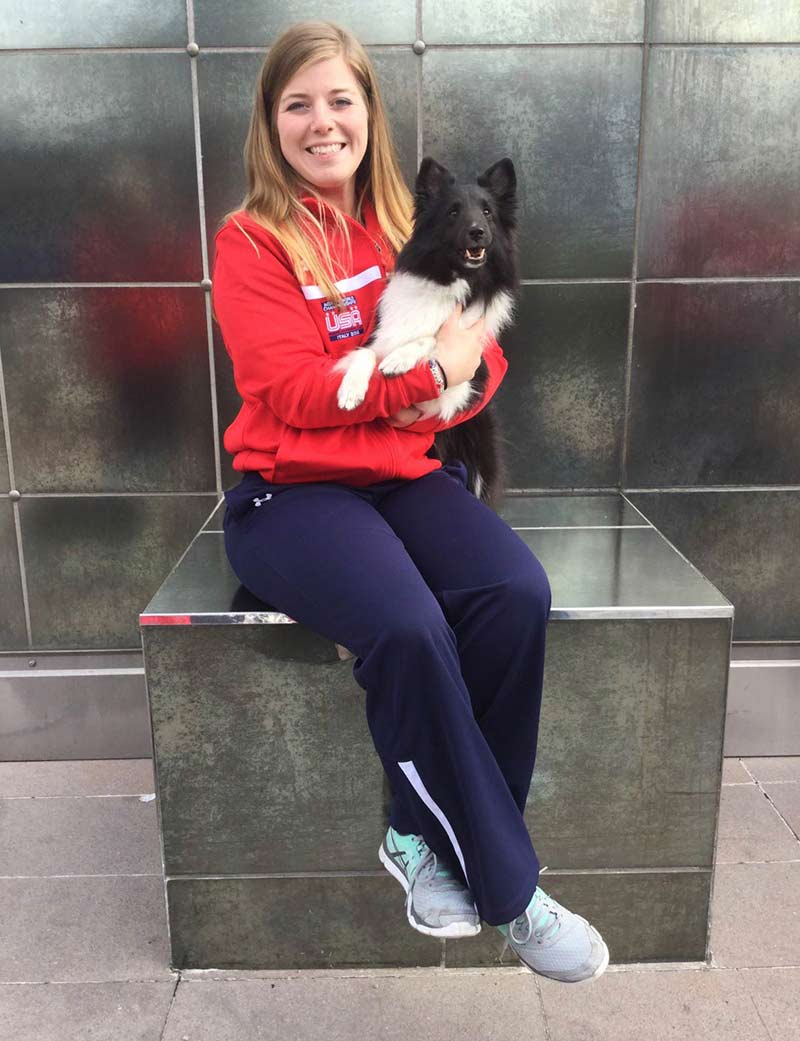 Abbey started competing in agility at the age of 8 with her first Shetland Sheepdog, Lucky. She has since handled, trained, and learned from many dogs along the way, including Dreamer, her 5-year-old Sheltie. From the moment she met Dreamer, Abbey knew she was something special. Her fiery and fun personality has helped her to achieve many things, on and off the agility field. Together they have been in eight national finals, including a 2nd place at the 2014 AKC Nationals, as well as on 4 international teams. The journey with Dreamer has been and will continue to be an exciting one.
Kathie Leggett and Shout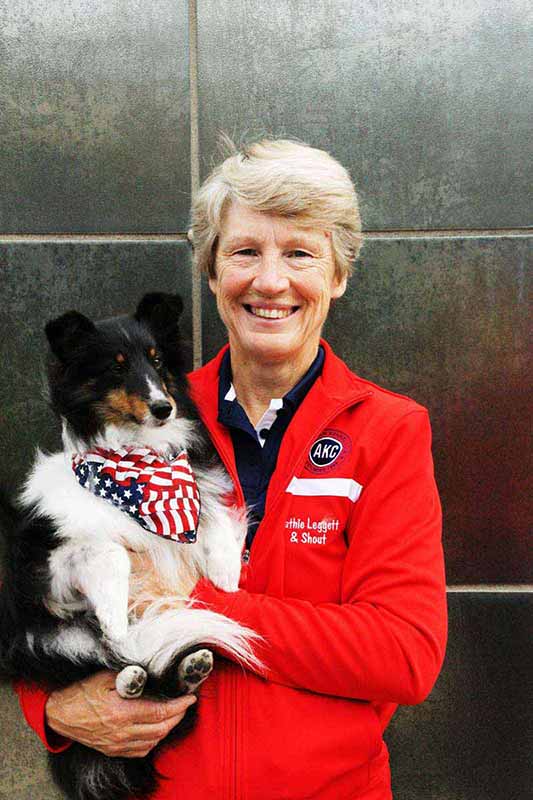 Kathie is a retired Air Force Chief Master Sergeant who discovered agility in 1989. She went on to win the 1992 USDAA National Championships with her first Shetland Sheepdog, Spirit. When AKC announced they would be taking a small dog team to the World Agility Championships in 1997, Kathie set her sight on making the team the following year with her amazing little blue Sheltie, Heather. In 1998, Kathie's dream came true as she and Heather were selected to compete in Maribor, Slovenija. That year, the US Small Dog team achieved a first for AKC Agility, bringing home the very first Gold Medal from the FCI World Agility Championships. Kathie and Heather were part of the AKC Small Dog World Team from 1998 through 2003, missing only 2001 due to injuries. She won a total of one gold and two silver medals with Heather.
Kathie was the Assistant Coach for the AKC World Team from 2006 through 2014, helping prepare the US Team for international competition. In 2007, Kathie participated in the European Open competition with her Sheltie, Gryphon, who was subsequently sidelined by a career ending injury in 2010. Kathie and Shout have been members of the US European Open Team in 2013, 2014, and 2015. Kathie and Shout were Finalists in the 2014 Cynosports Grand Prix and 2014 Steeplechase, taking 2nd in the Steeplechase. This year, Kathie and Shout placed second at the AKC National Championships
Kathie is very proud and excited to represent the US at the Agility World Championships and wishes all competitors fast, clean runs.
Barb Davis and Sketcher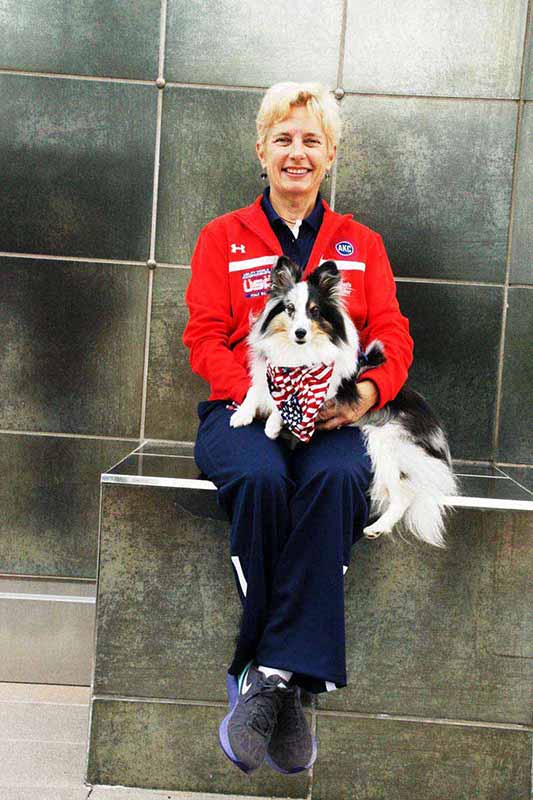 Barb taught mathematics at a community college for 15 years until 2007 when she decided to teach agility full time. She has nine National wins and has been on the AKC World Team nine times. 
Skecher is 7-years-old and this is his third time as an AKC World Team member. In 2011 in France, he placed second in individual jumpers, and in 2013 in South Africa he was second in individual standard. He is also the 2013 and 2015 12" AKC National Champion! Both his father, Rock-It, and grandfather, Shimmer, were World Team members and National Agility Champions as well.
Barb is so grateful to have such special dogs in her life and to experience the many amazing journeys they have taken her and her super supportive husband, Jeff, on.
Kimberly Line-Berger and Racket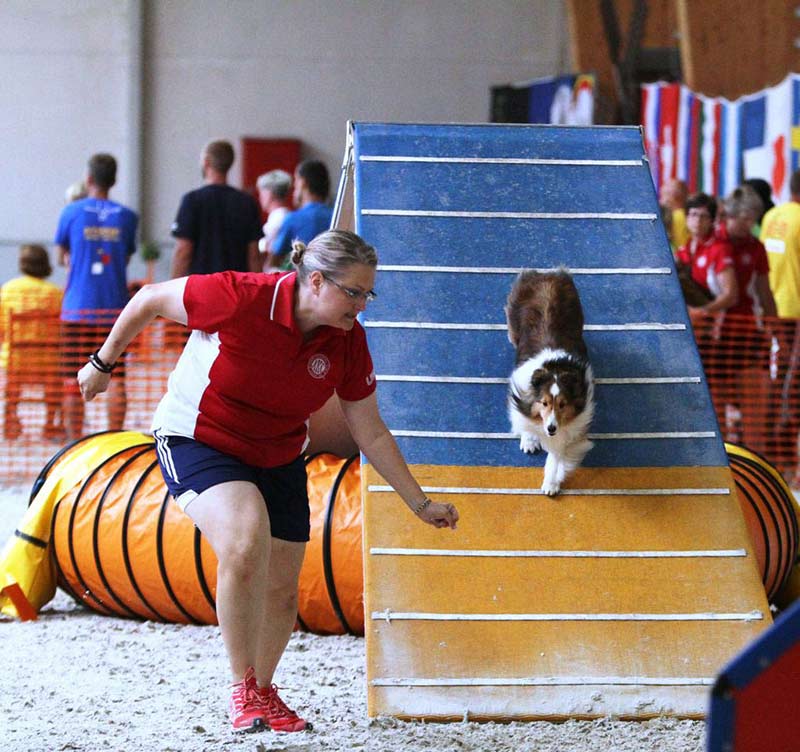 Kimberly and Racket are the current small dog alternates for the AKC/USA World Team. Kim has been competing in agility for 10 years, but first began training dogs at 8-years-old through her local 4-H program. 
In 2013, Kim and Racket began their international career in Belgium after winning a spot on the European Open team. The following year, they again won their way onto the 2014 European Open team, later becoming both individual and team finalists at the event in Hungary. The duo also won a spot onto the 2014 AKC/USA World Team, representing the USA in Luxembourg, and most recently competed at the 2015 European Open in Germany.
Susan Crank and Speedo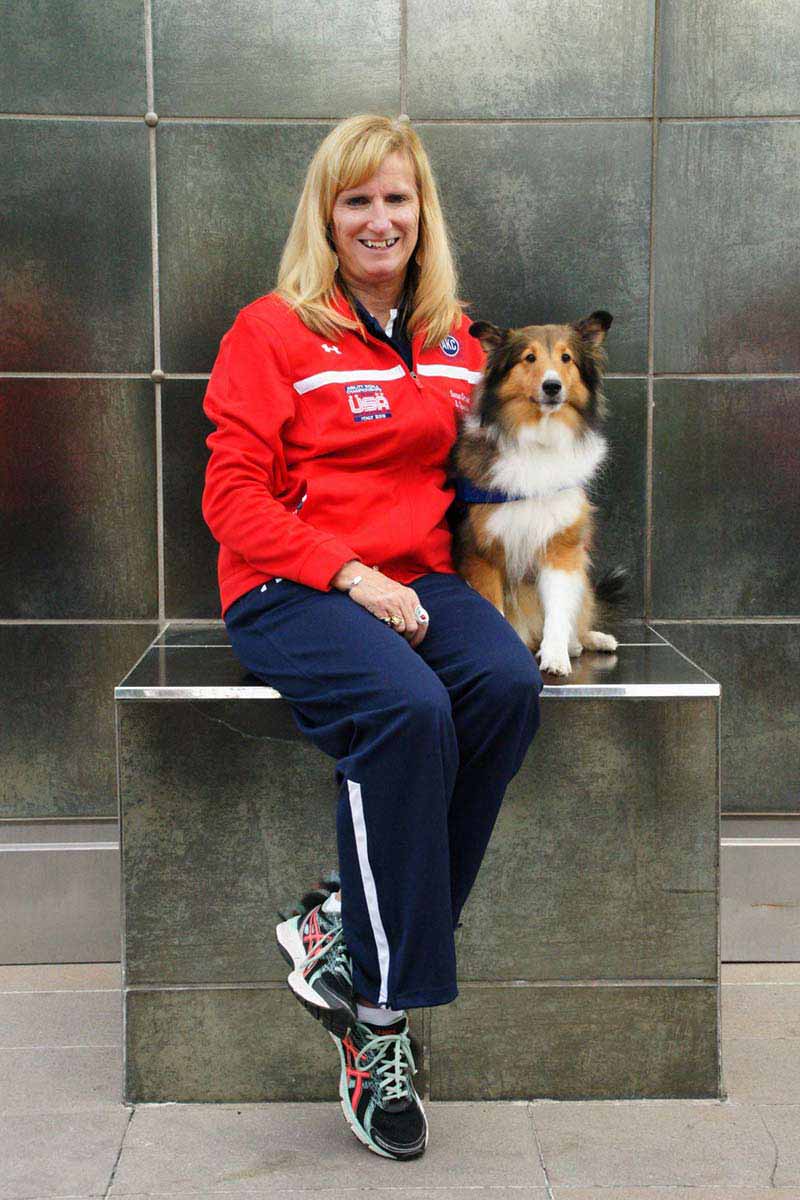 Susan has been involved in dog training for more than 37 years. While she started with obedience, she soon discovered agility and participated in some of the first AKC agility trials in Ohio. Currently, Susan is the business manager and an instructor for IncrediPAWS, owned by her daughter and coach, Jennifer Crank.
Speedo was bred by Susan and is her fifth Sheltie. His willingness, drive, and love of agility make him a great teammate. Susan is excited to be part of the 2015 AKC World Team and is looking forward to competing in Italy.
Denise Kilpatrick and Jovey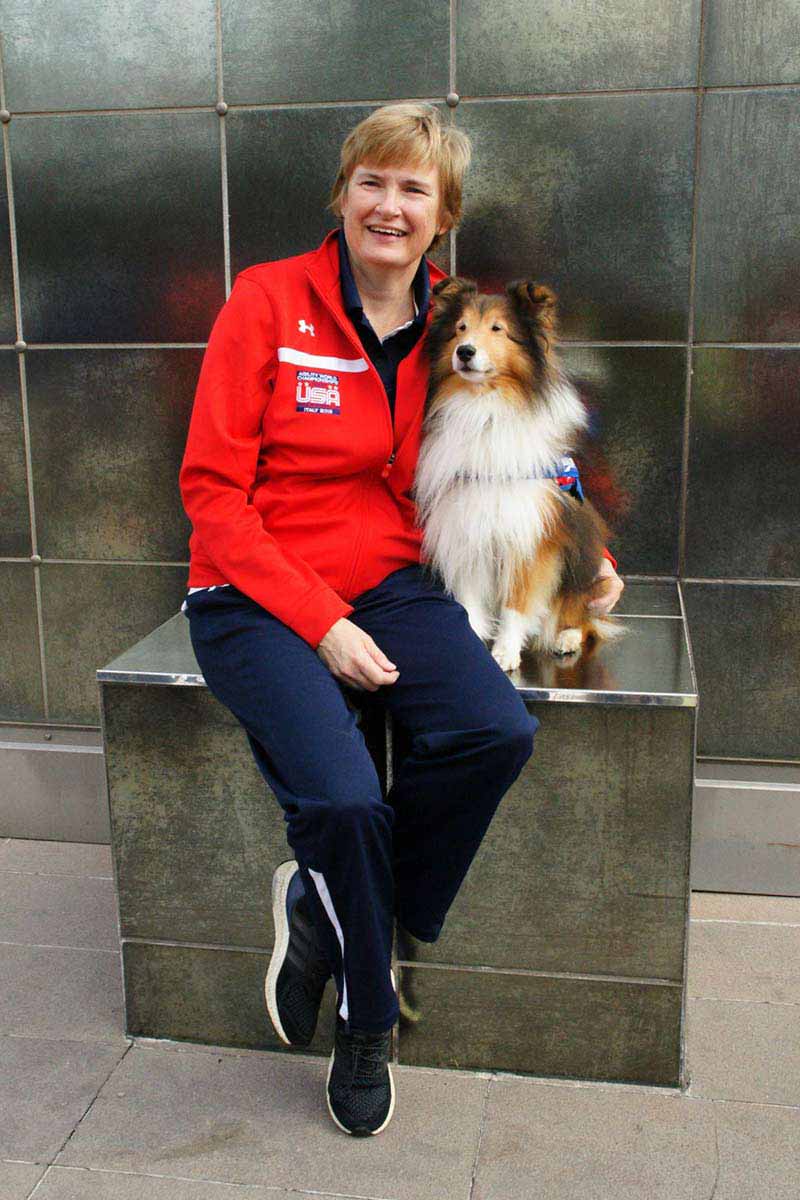 In 2014, Denise and Jovey were European Open Team members, competing in Hungary where they became finalists. Denise has also represented the USA on the 2012 AKC/USA World Team, 2013 European Open Team, 2014 AKC/USA World Team, and 2014 European Open Team with her dog, Tyler.
Jovey is a laid back little guy who amps up for agility and herding. He's quite the social butterfly and very willing to invite himself to anyone's picnic. He's stolen Denise's heart, and she can't wait to run alongside her best friend in Italy.
John Nys and Rush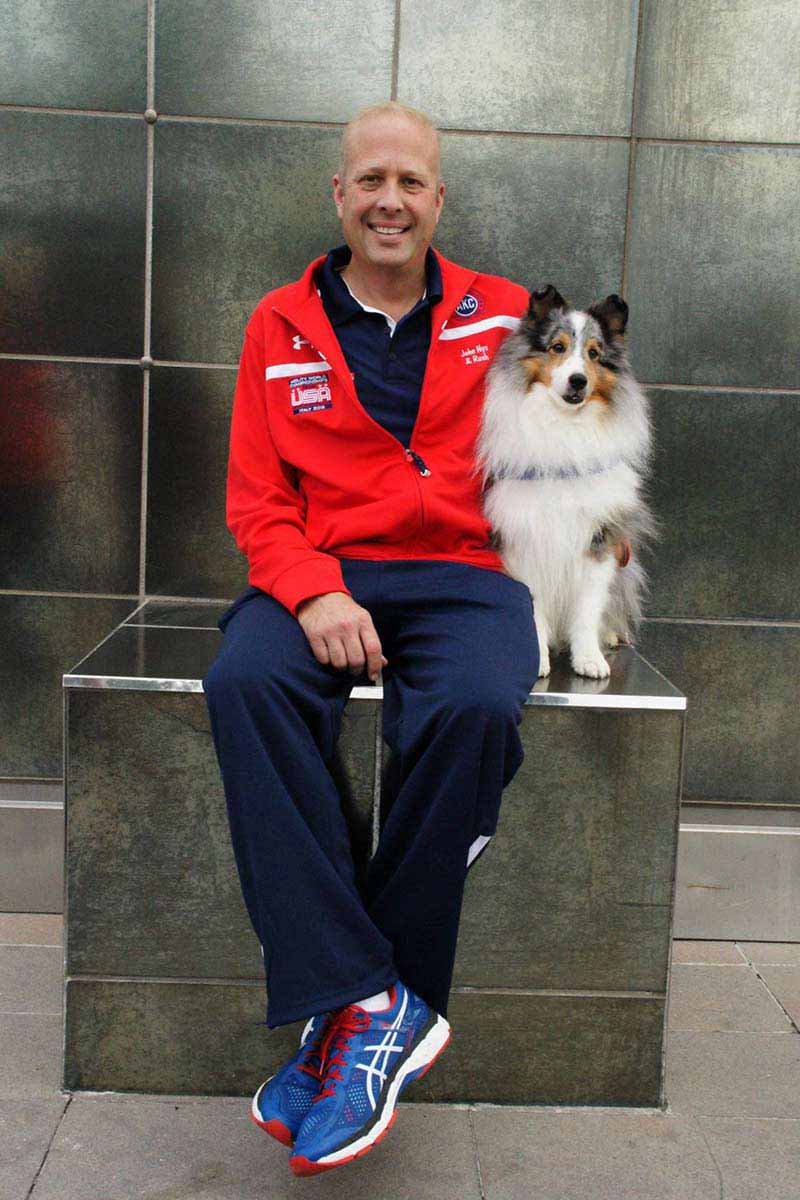 John Nys has been competing on the local, national, and international dog agility stage for more than 15 years. During this time he has become one of the most respected competitors and instructors in agility.
John has been a consistent finalist at the AKC National Agility Championships on more than a dozen occasions, placing in the top three on eight occasions. John is also an eight-time International World Team Member. He has represented the U.S. six times as an AKC World Team member at the FCI World Championships and one time at the European Open Championships. In 2010, John and Rush took home the FCI Silver Medal in Individual Agility, FCI Silver Medal in the Individual Overall Combined, and the FCI Silver Medal in Team Jumping. In 2014, John and Rush took home the FCI Silver Medal in Team Agility and the FCI Gold Medal in Team Overall Combined events.
Maureen Waldron and Michael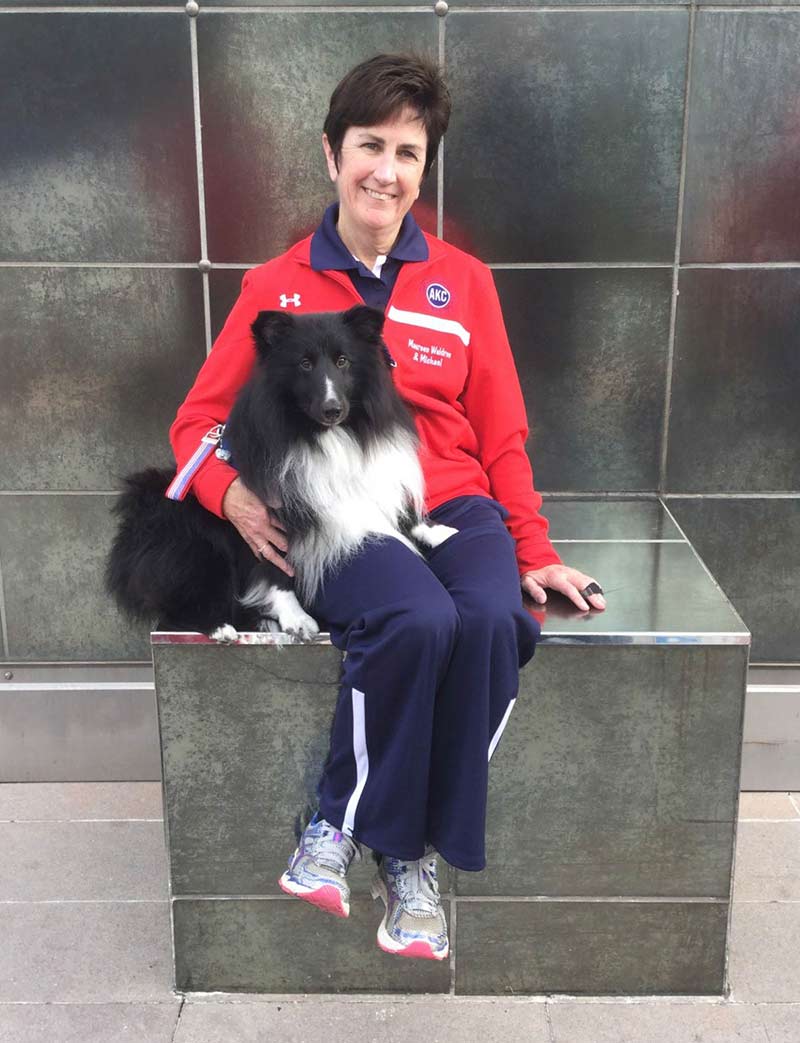 Maureen stumbled across agility at a conformation show 20 years ago and thought it looked like a great way to spend time with a dog. So when she got her dog Molly, a Keeshond, she took up the sport.
Maureen competed with two more Keeshonds, Mike and Meg. Meg placed second at the 2005 AKC Agility Invitational. While she achieved incomparable success with what most would consider an atypical breed for agility, Maureen thought it was par for the course – until she ran a friend's Sheltie and found out what fun a fast, naturally drivey dog could be.
In 2006, Shetland Sheepdog Mickle joined the pack. At 4 years old, Mickle placed third at the 2010 AKC Nationals. Mickle was on the AKC World Team from 2010 to 2013. Mickle compelled Maureen to become a better handler by sharper delivery of her cues.
Michael is Maureen's fifth agility dog. He placed third at the 2014 AKC Nationals and also competed on the gold medal winning medium team at the 2014 Agility World Championships.
Kathleen Oswald and Whizmy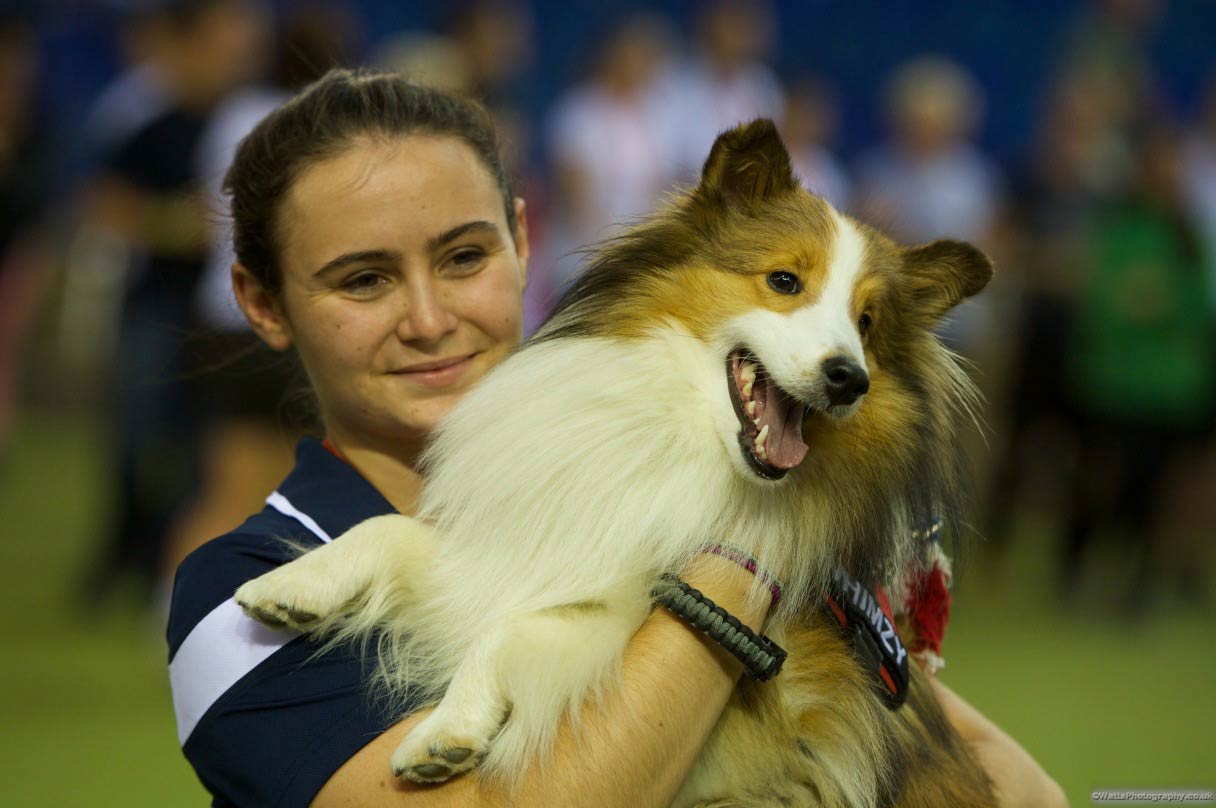 Kathleen and Whimzy helped take home a gold medal with the medium team in Luxembourg at last year's World Championship. They are excited to be part of Team USA once again, this time as the medium team alternates. While they won't be attending the competition in Italy this year, they are both delighted to have the experience that comes with being part of such an incredible team. The pair will be proud to cheer on Team USA via livestream!
Rosanne DeMascio and Strafe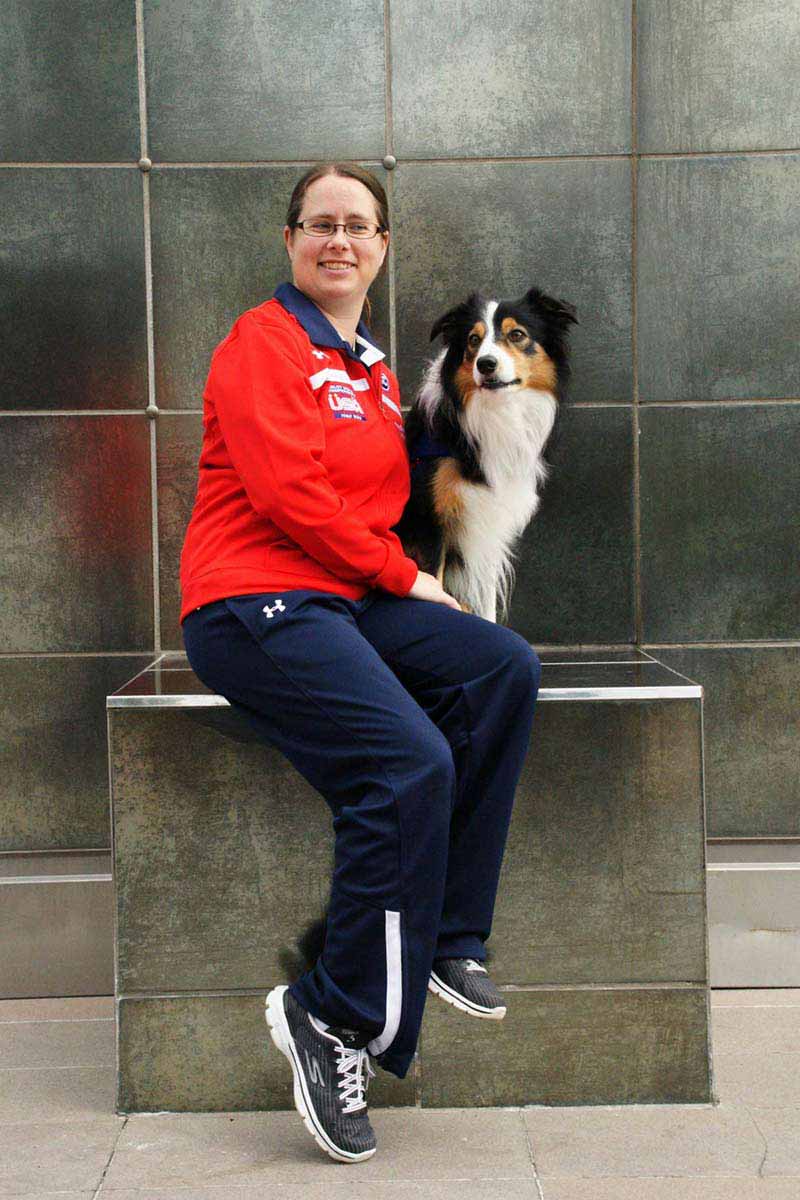 Rosanne has been involved in agility since 1992, when she started training her Flat-Coated Retriever. At the time, she was 10 years old, but started in Starters/Novice like all the adults, and worked her way up from there. She first made the USDAA Grand Prix Finals in 1997 at the age of 14, and made them again in 1999 (both with her Flat-Coat, Dreamer). Since then, Rosanne has been training and running Border Collies. With every dog, her handling has evolved to suit both the dog and the changing sport of agility.
In 2013, Rosanne and Strafe were silver medalists at the European Open, and again individual finalists in 2014. The pair also represented the USA at Crufts in 2014. Strafe is now just shy of 5 years old, and this is his second year on the AKC/USA Agility World Team.
Lori Michael and Solei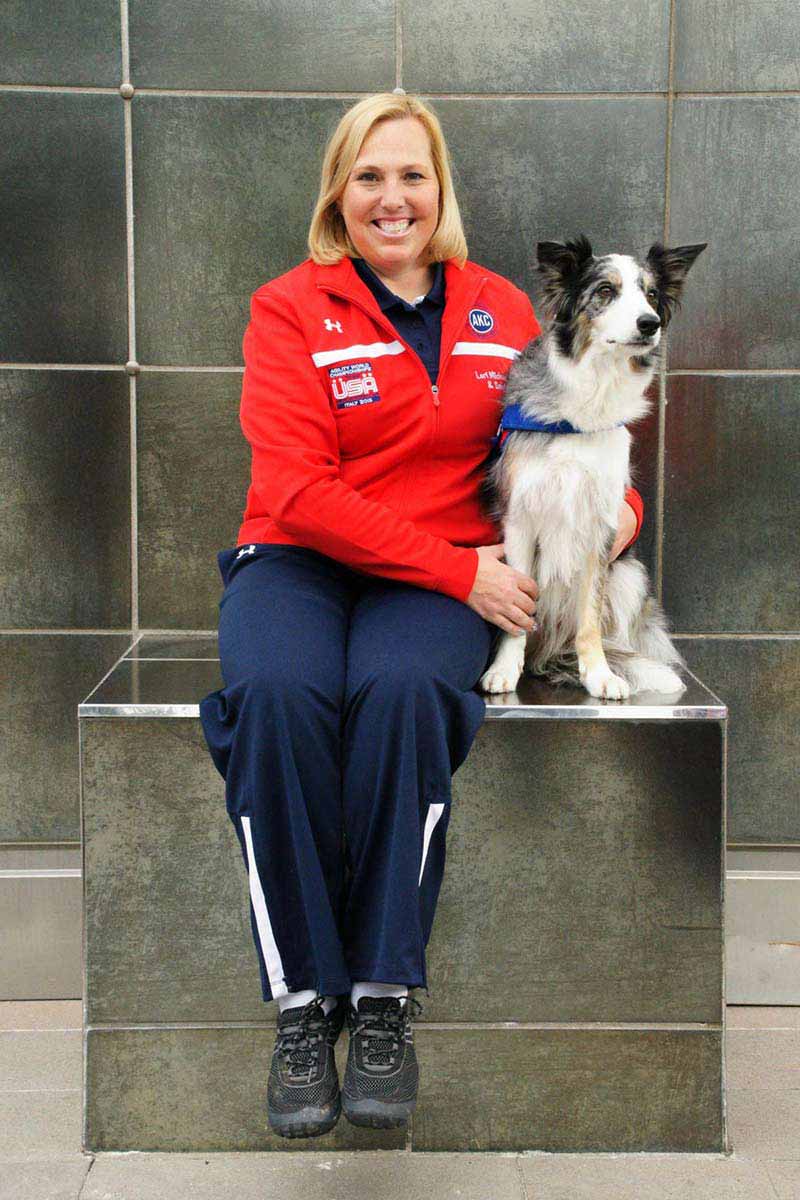 Lori has been involved in the world of agility since the mid-1990s and is a full-time agility instructor. She was a member of the 2006 and 2007 AKC Agility World Teams with her Sheltie, Skye, and this year earned a position on the large dog team with her 6-year-old Border Collie, Solei. While this is their first time together on the AKC team, they have been to multiple international competitions the last four years, amassing 10 medals in both team and individual events.
Tori Self and Revolution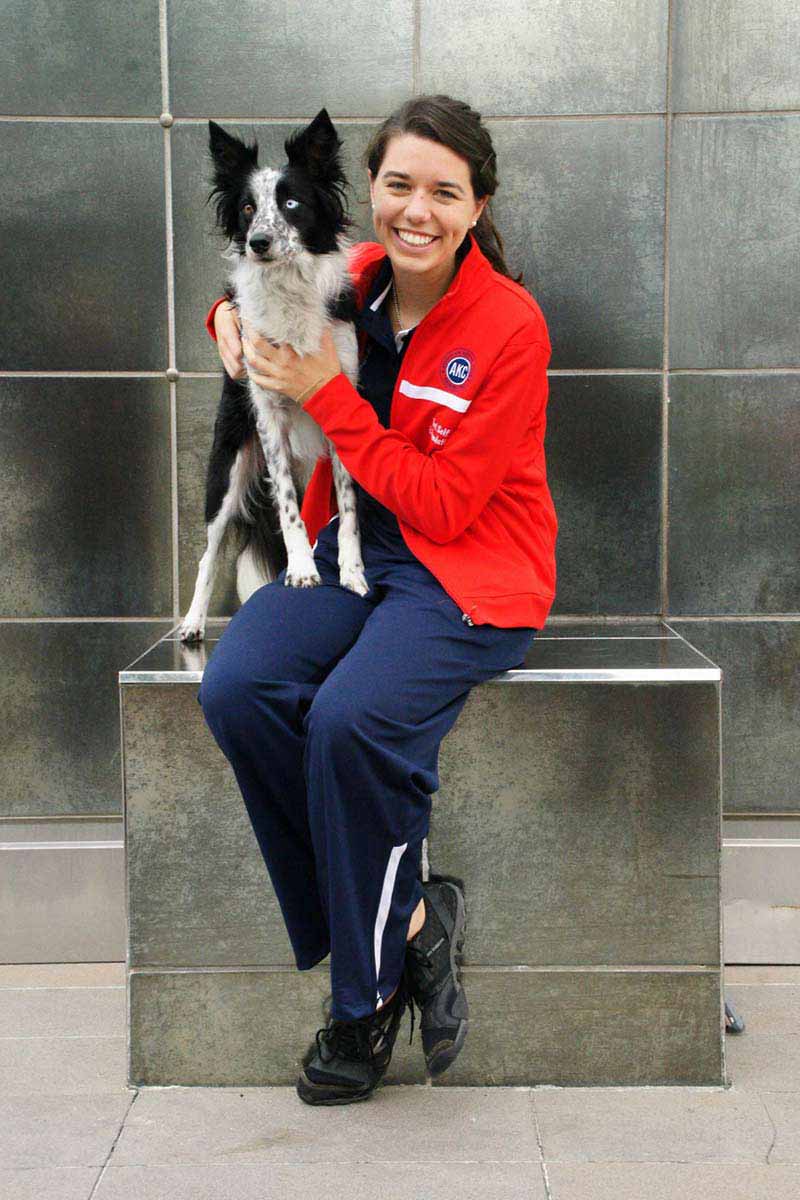 Rev is Tori's heart. Tori and "Rev" have been competing in agility together for seven years with much success and a whole lot of joy. This is their third time representing the USA at the FCI Agility World Championship. They first competed at the AWC in France in 2011, taking first in Team Jumping and fifth in Individual Agility. The following year in Czech Republic, they helped bring home the gold in Large Dog Team Jumping. Tori and Rev also represented the USA at Crufts in 2012, and competed at the European Open in Belgium in 2013. They are more excited than ever to compete once again at the FCI World Championship, and can't wait to see everyone in Italy!
Desiree Snelleman and Pace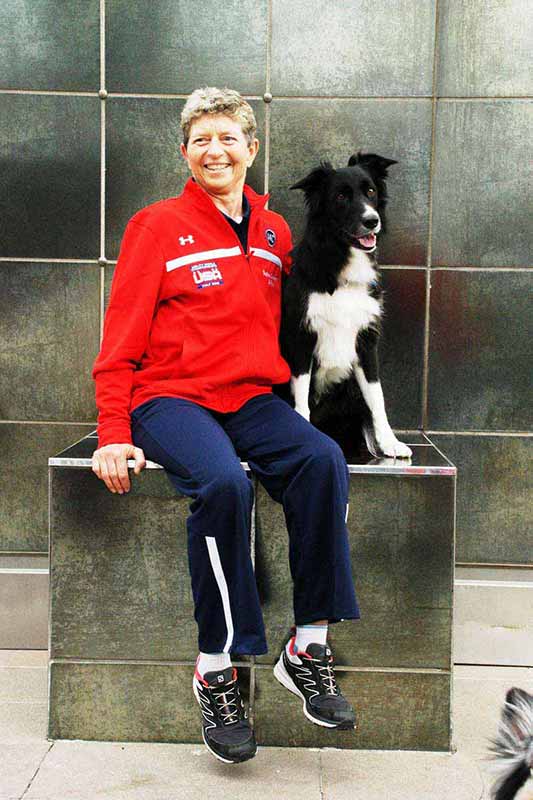 Desiree and Pace have been spreading their wings in the agility world for a few years now. This year has been a big year for them with Crufts, the AKC National Agility Championship, the IFCS World Agility Championship, and the European Open, but they do believe that their biggest and most exciting challenge still lies ahead in Italy at the FCI Agility World Championship. They are honored and proud to be part of a very strong Team USA.
Linda Mecklenburg and Special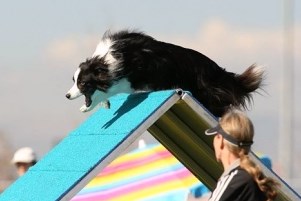 Linda is honored to have been chosen as an alternate for the 2015 AKC/USA World Team with Special. This is Linda's 12th time as a World Team member; her first was 18 years ago with Nifty in 1997. In 2001, she was a member of the gold medal team with Awesome, and in 2007, she was a member of the silver medal team with Stellar. Awesome and Stellar each had multiple top 10 placements individually. Special is a 5-year-old Border Collie bitch sired by Stellar, now his eighth pup to compete internationally. Linda says Special truly is "special" and she is looking forward to more adventures with her in the future!
See the team show off their dancing skills in their fun take on Taylor Swift's "Shake It Off."
https://www.akc.org/wp-admin/admin-ajax.php
Get Your Free AKC eBook
Tips for Responsible Dog Owners
This e-book is a great resource for anyone who's considering dog ownership or already owns a dog. Download for tips on how to be the best dog owner you can be.