In addition to the renowned conformation show, the Westminster Kennel Club Dog Show presented by Purina® Pro Plan® hosted the third annual Masters Agility Championship and the inaugural year of the Masters Obedience Championship.
Masters Agility Championship
Agility is an athletic event designed to demonstrate a dog's willingness to work in a variety of situations. In the ring, handlers and dogs must complete an obstacle course of jumps, weave poles, tunnels among others and are judged on time and accuracy.
At this year's Master Agility Championship on Feb. 13, an Australian Shepherd named Holster was top dog out of 330 dogs entered. Handled by Wendy Cerilli of Greenwich, New York, the team completed their run in 35.10 seconds.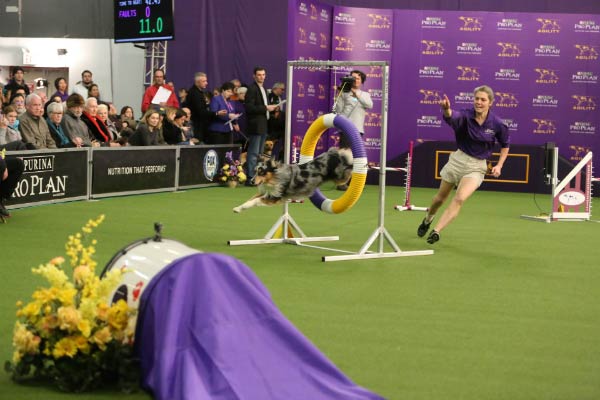 "Holster's success in the agility ring is attributed to his consistency and his heart," Cerilli said. "He's a dog that always tries to be good and right. His love for the game, his love for playing drives him to succeed.
"I was especially pleased that he was so fast tonight because he's a country dog, not a city dog, and he's a little nervous being in the city."
The All-American Dog Winner was Hailey, who was handled by Karen Profenna of New City, New York.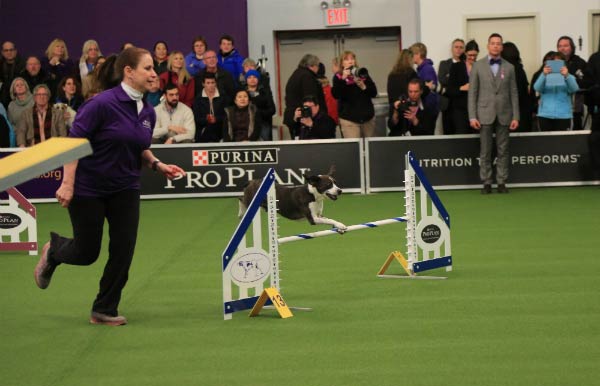 "If there was a single quality that accounts for our success in the agility ring, it's our relationship and our bond," Profenna said. "She'll do anything under the sun for me."
The 8-inch division was won by Wren, a Papillon handled by Betsey Lynch of Delaware, Ohio. Quill, a Parson Russell Terrier, was second, followed by Gracie, a Cavalier King Charles Spaniel, and Squish, a Chihuahua, in third and fourth, respectively.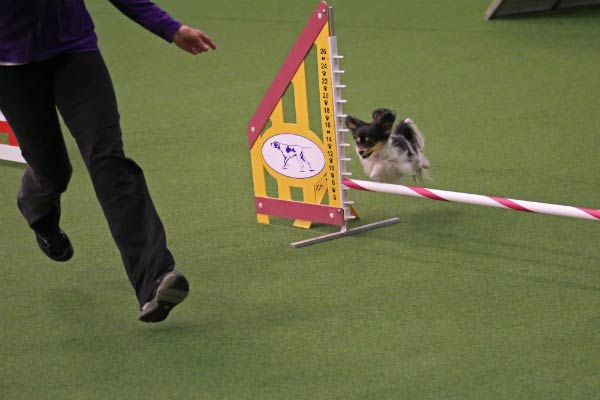 Keebler, a Pembroke Welsh Corgi, handled by Roger O'Sullivan of Giahanna, Ohio took the 12-inch class. A Papillon named Camber took second, followed by Dobby, an All-American dog, and Jett, a Schipperke.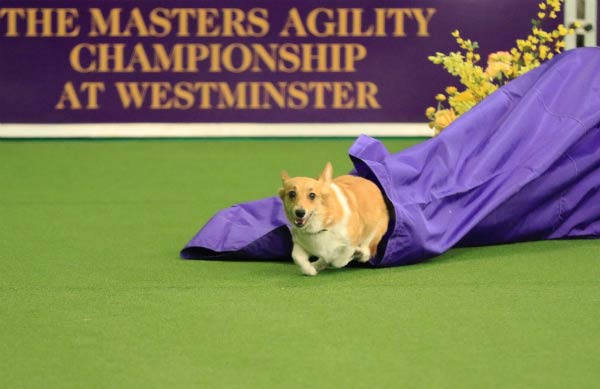 Cruzer, a Shetland Sheepdog, handled by Diane Patterson of MIddletown, Connecticut won the 16-inch division. Bolt, a Shetland Sheepdog, came in second, followed by Hailey in third and Lilac, an Australian Shepherd, in fourth.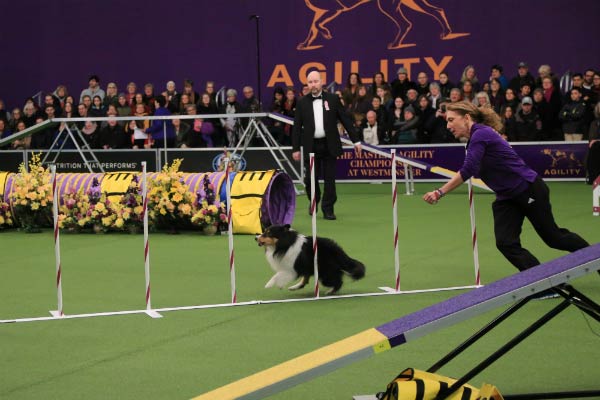 The 20-inch division was won by Holster. Rusty, a Nova Scotia Duck Tolling Retriever, finished second with Baco, a Portuguese Water Dog, and Gitchi, a Golden Retriever, third and fourth.
Smartie, a Belgian Tervuren, handled by Julie Hill of Mandeville, Louisiana took the 24-inch division. Banshee, a Labrador Retriever, came in second with Shambhu, a Poodle, in third and Ffynch, a Border Collie, in fourth.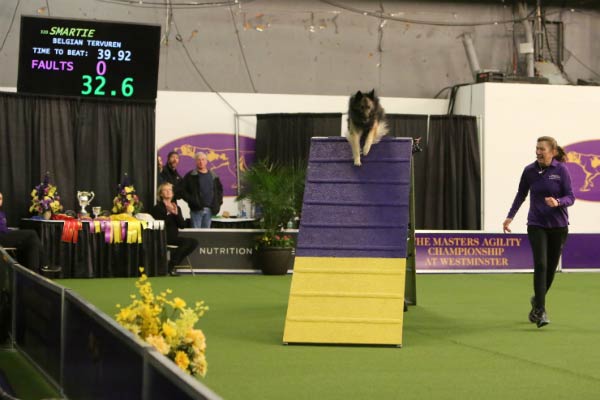 Masters Obedience Championship
Obedience trials also demonstrate a dog's willingness to work, but in a different way. Obedience showcases the responsiveness of dogs to their handlers' commands.
The inaugural, invitation-only Masters Obedience Championship on Feb. 15 saw 34 entries — 13 of which were Golden Retrievers. Competitors were tested on AKC-approved Open and Utility exercises. Sharon Ann Redmer of Whitmore Lake, Michigan was the judge.
OTCH Rhumbline's Once In A Blue Moon UDX OM2 BN GN RE, a 3-year-old Labrador Retriever was named Master Obedience Bitch. "Heart" is owned by Linda Brennan of Columbia, New Jersey.
"I'm so proud of my dog," Brennan said to NJ.com. "She's just amazing. She loved the crowd, she loved the energy of it. I couldn't be happier with her. She's the dog of a lifetime."
Watch part 1 of the Masters Obedience Championship:
Watch part 2 of the Masters Obedience Championship: