Patti Stanley and 18-pound Lucy, her Miniature Poodle-Miniature Schnauzer mix, were the leaders in the Run for Music 5K in Lakewood Ranch, Fla., and were a tantalizing quarter mile from the finish line when Lucy stopped in her tracks and licked Stanley's leg.
"She pulled me to the side of the road and refused to move," recalls the University Park, Fla., runner, about the May 2014 event. "At first I got mad and told her I was fine, and said 'let's go!' But a few seconds later I became dizzy and shaky and recognized I needed to take a GU Energy Gel from her service dog running vest. About five minutes after taking the gel, I felt 100 percent better. Lucy licked my leg a couple of times and jumped up so we could finish."
The two finished second, but Lucy did what she was trained to do. She is a Medical Alert Service Dog.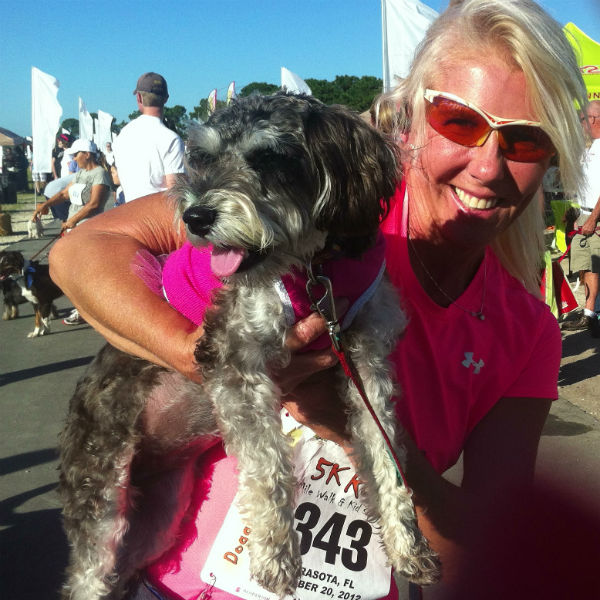 The 51-year-old Stanley and Lucy are fluid, high-octane partners in just about everything from the agility ring to races ranging from 5K to half marathons, events that prompt a wide range of emotions—from angst and frustration to sugary, heartwarming relief.
The pair has competed in American Kennel Club agility since 2013, shortly after Stanley took the then 6-month-old dog to the Celebration of Pets in Sarasota, Fla. Lucy became excited and was glued to the dogs performing in an agility demonstration. "In fact, she did not want to go anywhere else that day," recalls Stanley.
That encouraged Stanley to enroll her in an agility class a few weeks later, and, as they say, the rest is history. "Service dogs also need time to be a dog and participate in activities," offers Stanley, a certified dog trainer who assists South West Florida Therapy Animals with training dogs for the AKC's Canine Good Citizen test.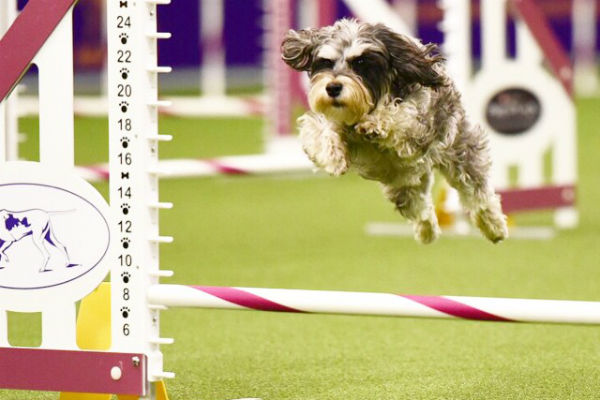 "Agility is a good fit for a service dog because it is working daily for its handler in other ways. It is a natural extension from its other job," she adds.
"Lucy prefers larger venues, so we have traveled to New York City for Westminster and to Perry, Ga., where there is a fun weekend in April that includes agility, dock diving, barn hunt (which she loves), conformation and obedience. It usually has a 5K downtown, too," Stanley says. "Many times, if we are visiting family out of town, we will also try to find an agility trial or 5K nearby to enter for at least one day."
Teamwork and rapt attentiveness are integral facets of the hard-wired Lucy's job description, no matter what the competition platform. As Stanley's running buddy, Lucy carries along medication and an EpiPen in a special vest in preparation for Stanley's allergic reactions to cats, bee stings, chocolate and nuts.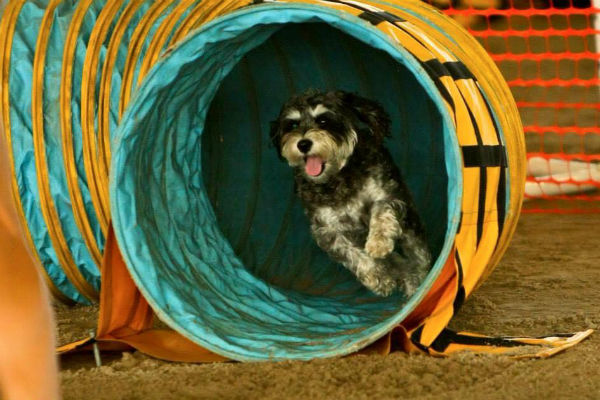 Lucy is equipped with a running leash that attaches to Stanley's running belt. The pair trained for running, just as they would for any dog sport. "She had to learn to wait at the start line, remain quiet during the national anthem, and then go when they set off the horn. She was instructed to start out slow, then build up her speed, then maintain my pace and follow my lead."
Asked if race officials had ever rejected her entry because she would be accompanied by a service dog, Stanley replies, "No, we have not been turned away. But if it is a situation that looks like it could be dangerous for Lucy, we will not run. Safety is my number one priority. There will always be another race."
Lucy alerts to Stanley's signs of post-traumatic stress disorder or low blood-sugar levels (like in the aforementioned Florida race), allowing her to help Stanley handle the situation in a constructive manner. "She will place herself between me and strangers on command, as a way of preserving my personal space. She will sit or lie down quietly, and people automatically give her more space, which reduces my stress level. She also provides a point of focus for my attention to help me navigate out of a situation that is causing me to panic."
She is trained to use a K9 emergency phone similar to the Staples Easy Button and is also schooled how to close low cabinet doors to alleviate Stanley's pain following a 2010 spinal fusion surgery.
Her training for low blood sugar detection involved using cotton swabs. "I swabbed the inside of my mouth at different levels and presented the swabs to Lucy," Stanley explains. "She learned which levels were good and which could be bad. "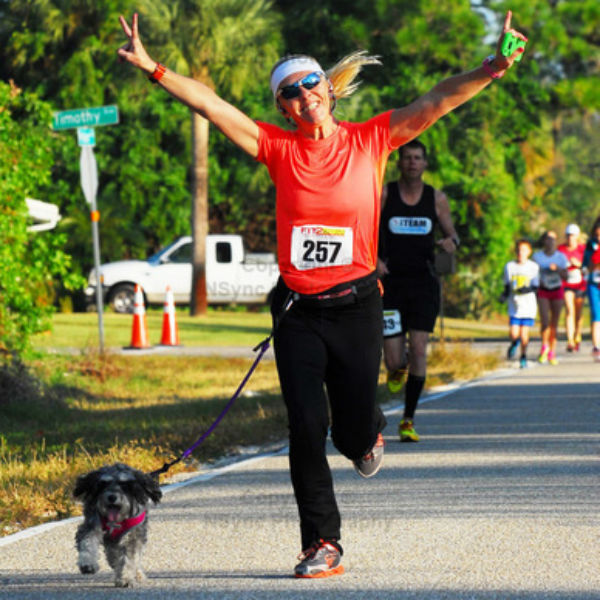 Lucy has traveled to 19 states and Canada and has flown 42 times, as well as accompanying Stanley on subways, trains, boats, ferries, buses, gondolas, and even horse-drawn carriages.
Lucy and Stanley competed in the Masters Agility Championship Trial at Westminster in 2015.
"She [Lucy] loves crowds. In fact, she is the only way I feel at ease going out in a large city or crowd. She made my Westminster experience memorable, and more important, enjoyable," adds Stanley, a group fitness manager for a Florida fitness firm. "In fact, the night before the Masters Agility Trial, we went to a basketball game at Madison Square Garden. So you might say I passed Lucy's crowd test."
After obtaining Lucy from an Alabama breeder, Stanley, began working her with a local service dog trainer. Lucy quickly went on to earn her AKC S.T.A.R. Puppy and Canine Good Citizen titles and next passed the Assistance Dogs International Public Access Service Dog Test through the International Association of Assistance Dog Partners, for which she is retested every two years.
As a certified dog trainer, Stanley, along with Lucy, helps other owners with comfort zone training of their service dogs during outings at shopping malls, amusement parks, zoos, airports, and museums.
For Stanley, the megawatt Lucy has been the perfect mate—passionately intuitive, with an extraordinary emotional and intellectual range, complemented by never-ending physical stamina. In other words, this Schnoodle's physical and mental tank never seems to read "empty."
https://www.akc.org/wp-admin/admin-ajax.php
Get Your Free AKC eBook
Does Your Dog Have What it Takes to be a Therapy Dog?
My dog is great with people, I want her to be a therapy dog. Where do I start? If you have asked this question then this e-book is for you. Download to learn more about Animal Assisted Therapy and how to get started.