For victims of domestic violence, facing their abuser to testify in court can be terrifying and stressful, which is why the role Penny plays is gold.
Penny is the first dog in Allegheny County, Pennsylvania, to provide canine-assisted court services and therapy through the Crisis Center North in Pittsburgh.
Penny's handler, Rachel Olszewski, explains that Penny plays a crucial role in helping victims feel calm and stress while testifying or during counseling sessions. When victims have to confront their attackers, Olszewski explains, Penny will often place herself between the victim and the defendant, helping the victim feel protected. According to Olszewski, her presence in court leads to more victims showing up for court hearings and higher prosecution rates for abusers. She also lends an ear to victims as they practice telling their story prior to the hearing.
Penny has been on the job officially since 2011, but her talent for helping others has been apparent to her owner, Grace Coleman, for much longer.
"When I looked into her warm brown eyes and nuzzled her cold nose, I knew she had a special destiny, but I wasn't sure what it was yet, " says Coleman, who is the executive director of the CCN.
Coleman realized how Penny's personality could be beneficial to the individuals served at the center in 2010 when a young boy bonded with Grace on his way to a counseling appointment. He told Coleman he didn't want to go to his appointment, so she suggested that he bring Penny in with him. The counselor later reported that the boy made more progress during that appointment than during the previous six months of counseling.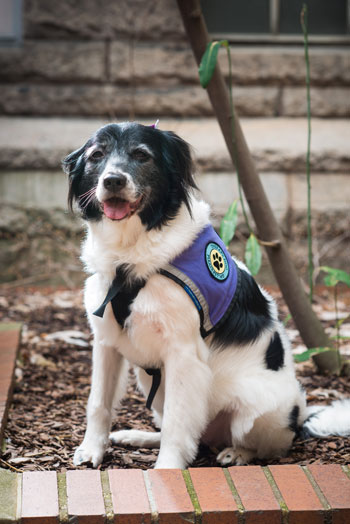 After this defining moment, Penny went on to earn her Canine Good Citizen title, followed by a therapy dog certification. By 2011, she had become CCN's official canine therapist, first working solely with children; later, because of the success of the program, she began serving adults as well. In 2013, the Honorable Anthony Saveikis allowed his magisterial district to serve as a pilot site for the newly developed Canine Court Program. Through the program, Penny was allowed to be present during proceedings.
According to the American Bar Association, the effectiveness of dogs in the courtroom first became apparent in the 1990s in Mississippi when a German Shepherd named Vachss began helping abused children testify against sex offenders.
Canine court programs have become more widespread in recent years. One organization, Courthouse Dogs, estimates that there are 95 dogs working 29 states through their program alone.
The calming effect dogs like Penny have on victims is invaluable in prosecuting offenders.
"Getting domestic violence victims to feel comfortable enough so that they can tell their side of the story in front of strangers, in what can potentially feel like a threatening situation, is where Penny comes into the picture," Judge Saveikis told Alleghany West magazine.
Penny's natural temperament allows for her to respond appropriately in multiple scenarios, but to hone those skills, she and Olsezwski regularly attend private training sessions focusing on the intuitive method, which requires Penny to assess the situation and make decisions on how to respond, rather than simply following commands.
"The very nature of Penny's work with trauma victims requires her to read and respond to an individual's needs be it in the courtroom setting or in the counseling setting," Coleman explains. "Our project is a true working project between the handler and the canine where both human and canine bring their respective talents to the setting with the overall goal of aiding victims."
Meet Penny in the video below:
Learn about the program the AKC Humane Fund supports to help dog owners in domestic abuse situations.
https://www.akc.org/wp-admin/admin-ajax.php
Get Your Free AKC eBook
Does Your Dog Have What it Takes to be a Therapy Dog?
My dog is great with people, I want her to be a therapy dog. Where do I start? If you have asked this question then this e-book is for you. Download to learn more about Animal Assisted Therapy and how to get started.