All puppies need socialization—that is, the introduction to new sights, sounds, smells, people, places, and textures—to help them grow to be confident, self-assured adult dogs.
This process is especially important for working dogs, like guide dogs for visually impaired individuals.
Southeastern Guide Dogs in Palmetto, Florida, which breeds and trains guide dogs, takes this process very seriously. In addition to hosting puppy-hugging sessions (seriously, you can volunteer to hug puppies, see below for details), they fit the young dogs with mini harnesses to help them become accustomed to the equipment they'll wear when they're old enough.
"From the time they are born until they are paired with their forever handlers, our puppies soak up a reference library of experiences. This includes getting accustomed to wearing a harness that will someday provide a lifeline for someone who needs them," a spokesperson for the organization told Buzzfeed.
See pictures of the young'uns trying out their mini harnesses.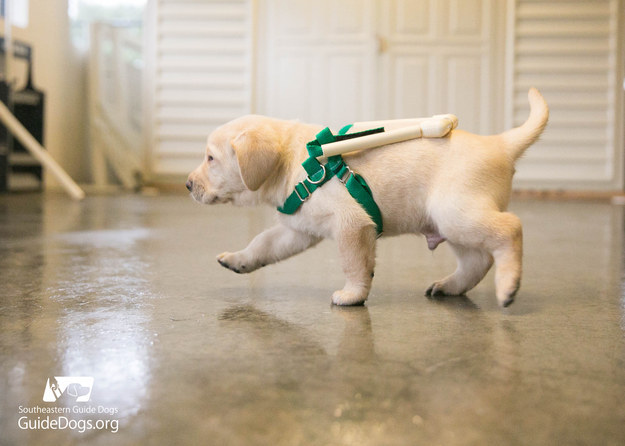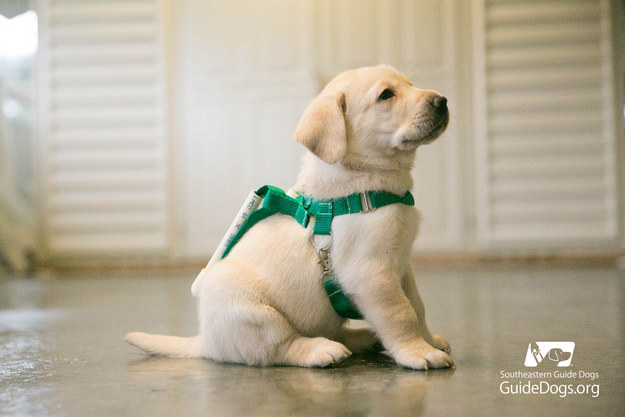 The puppy-hugging program is $10 (which goes toward food for the puppies) and includes a half-hour of playtime with the pups. Click here to make a reservation.