A Minnesota dog was reunited with her family earlier this week after she had been missing for 985 days. The Great Pyrenees, Betty White, ventured into the woods of her owners' 13-acre property on Nov. 16, 2013 and failed to return home, devastating her family.
We had the opportunity to connect with Betty White's owner, Anna, who exclusively told us about this beautiful story of survival, and how Betty White found her way back to her family.
Tell us about Betty White.
Betty has always been very easy going and very gentle and conscientious of our kids—especially our daughter Saige. She would follow the kids around the yard wherever they would go. I always would joke that she reminded me of the dog Nana in Peter Pan. It was like she was their animal nanny. She drew a lot of attention because she was so big, white and friendly. She was the perfect addition to our family and you could tell that she loved us too.
What happened when Betty White went missing?
The night before Betty went missing she was sprayed by a skunk. We lived on 13 acres of woods, which she would play in all the time, but this time she went into the woods and we never saw her again until we were reunited. We always felt the skunk spray messed with her sense of smell and she got turned around in the woods and lost. We would drive around looking for her for hours—I would knock on doors and stop people on the streets but nobody had seen her. It was like she vanished into thin air.
 
How did Betty White's disappearance affect your family?
Our family was devastated, we absolutely felt like we were missing a piece. We obviously would have to go through with our daily lives, but there wasn't a day that would go by that I wouldn't be looking for her or wondering where she was and if she was safe. I never did feel like she was gone forever though—I always knew she was alive out there somewhere. We did have one of her puppies which helped us to heal, since we felt that we had a piece of her with us and Bandit is so much like her too.
Was Betty White microchipped?
No—no chip. She will be now, though! Believe me! That, and a GPS collar for good measure!
When you realized that Betty White didn't come home, what did you do?
After Betty White went missing, I immediately contacted the Isanti County Sheriff, as well as the animal control. And, of course, Lost Dogs MN's Facebook page since that is the biggest platform in our area to share that your dog is missing. I also posted flyers, but the ultimate helping tool was when I started the Facebook page Help Bring Home Betty White. That is where I met all of the Betty Believers that would eventually help me to get her home.
These people are relentless. They would send me leads every time a white dog would show up found somewhere—whether it was Chicago or Iowa they would send it to me saying "You never know," or "I know it's far, but…" I followed up on each and every one, because they were right—I didn't know. I must have responded to 20 or more found dogs posted throughout the years. I don't want to say that we gave up hope, but at one point you have to kind of come to the realization that she is gone and not coming back. You only hope that she is safe and being loved by someone and just enjoying her life. The lives of my family just kind of went on—but we talked about her all the time and thought of her daily.
 
How was Betty White found?
She was found after wandering into someone's barn. The man that found her, Matt, had called his mom Nikkee and told her that she showed up in his barn like she was ready to have someone help her. Matt and Nikkee posted her picture on Lost Dogs MN or a lost pets website that is also affiliated with the Lost Dogs MN Facebook page. They then spent three hours cutting the matted areas from her fur and bathing her.
What happened when you saw Betty White for the first time since she had been found?
When the woman brought her outside I couldn't believe my eyes. It was BETTY! I knew it right away, and so did Betty. She came right up to me and rubbed on my legs. She remembered me. I just knew it.
How did your kids react to being reunited with Betty White?
As soon as my kids saw her, they knew, as I did, that it was her! In the days leading up to us getting her back we had been comparing dots on her face and nose length with the pictures that we had of her three years ago to the pictures that we had of her from when I saw her the first time. We knew it was her, but nothing could prepare my kids for seeing her that first time. Let's just say there was lots of hugs and tears. There was no doubt that she remembered them. But the absolute best part was once we got her home—I only wish I would have been smart enough to record her and her puppy seeing each other again for the first time. IT WAS AMAZING! He knew who she was right away, he rubbed and licked her, powerful stuff.
 
How is Betty White doing now?
She is doing great. Each day she gets more and more calm and settled. We have moved since we lost her, so we think she may have a little anxiety about that. I feel like she may still be trying to connect the dots—she knows us and the other animals, but is unsure of the property. We have thought about bringing her to our old home so she can hopefully see that she is in fact with the people she is supposed to be with, just in a different place. We try to remind her of things daily to help her memory. Betty loves riding in the boat, and if you ask her if she wants to go in a boat ride she absolutely responds and gets all happy. It's very cool to see. We are just taking things one day at a time and trying to help her heal mentally and physically the best that we can.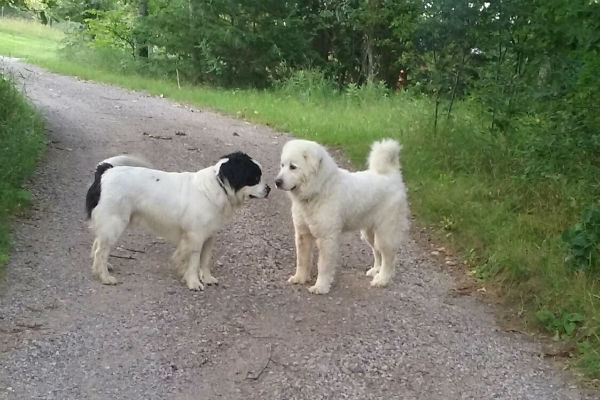 Are there certain people who helped bring Betty White home?
I don't know how I will ever repay Nikkee for everything that she did for Betty and our family. It was incredible. She was my angel throughout this, and if it wasn't for her I would have never gotten Betty back.
I can never say thank you enough to all the Betty Believers (especially Mary!) for all of the leads, and the constant watching and looking for her, and to the people that helped her along the way. She would not have made it all this time alone, so we know people have helped care for her so that she could find her way home. This dog had a family, a home and a name and it is Betty White.
We're so glad that Betty White and her family have been reunited after nearly three years. Losing your dog is every owner's worst nightmare. Learn what to do if your dog goes missing.
A great way to protect your dog in the event he does go missing is to have him microchipped. Find out more about microchipping from AKC Reunite in the video below.
This interview has been edited for brevity and clarity.
https://www.akc.org/wp-admin/admin-ajax.php
Get Your Free AKC eBook
What to do if your pet goes missing?
If the unthinkable were to happen, are you prepared? Download this e-books to learn what steps to take if your dog goes missing.