It was all over in a second, before you could even scream.
Jennie* and her daughter, Goose, 4, had just gotten out of the car in a shopping center parking lot in Durango, Colorado, when the child turned and bolted.
Jennie did not have time to react, but their Newfoundland, Porter, knew just the right move—he hit the ground, stopping Goose in her tracks.
Had he not been there, the girl would have run right into the path of an oncoming car.
"He saved her life," Jennie said.
For this two-year-old Newfoundland, lying down on the job is exactly what he's supposed to do. Porter is an anchoring dog, a new kind of service animal trained to deal with one of more frightening aspects of autism spectrum disorder (ASD).
It is called elopement or wandering, words autism experts use to refer to the tendency of these children to dart off on impulse. Many of these children drown, are hit by cars, or simply disappear.
"These kids are impulse-driven. When they turn and run, it's like a dog seeing a squirrel," said Kirsten Becker, founder of Portland-based Autism Anchoring Dogs (AAD).
Parents of wanderers live in a state of constant vigilance because it's impossible to predict when the children are going to flee. Becker says that many guardians develop rotator cuff injuries just from holding on to their kids for dear life.
"I'd lost her so many times, I couldn't go anywhere," said Jennie, who was unable to continue in her work as an outdoors writer because of Goose's condition. "I was becoming so isolated. I was scared to go to the grocery store." Even opening the front door was nerve wracking. Goose is so fast she can be out the door and in the street in the blink of an eye.
Now, with Porter, Goose is less likely to even try to run. If she does, the dog keeps her in check.
"We have a whole new life because of Porter," Jennie said.
 
Searching for Clues
Sadly, Becker has first-hand experience with the phenomenon of elopement. In 2006, her son, Sam, 8, was on a camping trip with his father in Crater Lake National Park when he wandered off and was never seen again. His case is still open. Each year, Becker follows search-and-rescue dogs and their handlers into the backcountry, hoping to someday find out what happened to him.
After Sam disappeared, the grieving mother turned heartbreak into action by learning how to train assistance dogs. That later led to founding AAD. Stephen Meck, a former apprentice instructor at Guide Dogs for the Blind, is the organization's head trainer.
"I didn't want another mother to go through what I've gone through," Becker said. A dog like Porter gives a parent another set of eyes.
In researching autism assistance dogs, Becker saw that the breeds most commonly used, such as Golden or Labrador retrievers, were too small and light to help if a child took off. A long-time fan of Newfoundlands, Becker reasoned that anchoring would only work with a giant breed, a dog is larger and heavier than the child and who will remain that way through several stages of growth. Her program has Newfoundlands, Saint Bernards, and Leonbergers, dogs who are often heavier than adult humans. These breeds can weigh 110 to 150 pounds or more—about twice the size of an average retriever— and can easily provide a counterweight for a running child. A specially-designed harness that connects the child to the service dog, and the dog to the adult handler.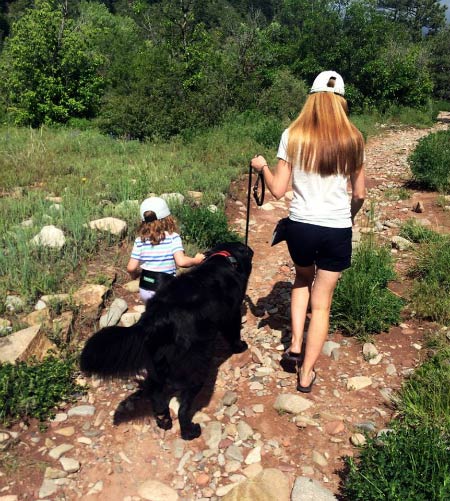 Goose, Porter, and Jennie
Another advantage of these breeds, says Becker, is that they are a "sensory gold mine." Autistic children are often calmed by things they can touch and feel, such as the large abundant coat of a big, shaggy dog. Even the drool from a Saint Bernard or Newfoundland can calm an agitated child.
 
Scientific Support
A small, but growing, body of literature has suggested that service dogs have an overall positive impact on families with ASD children. In one 2013 review of the scientific studies, published in the Journal of Autism Developmental Disorders, showed such benefits as increased social interaction and communication and a decrease in problem behaviors and stress. A 2014 study published in the British Medical Journal examined the outlooks of 134 parents or guardians whose children had assistance dogs, and 87 who were on a waiting list. Those with the dogs rated their children as significantly safer and perceived that strangers treat their children with more respect.
 
Job Well Done
AAD was founded two years ago, and Porter is among the first dogs placed with a family. The cost for an anchor dog is $15,000. One family has started a GoFundMe account to raise the money for Andy, a Saint Bernard, to help their son, Deklan Montes.
"This is a very expensive cost for us," Rochelle Montes, the boy's mother, told a reporter from The Columbian. But, she added, "$15,000 isn't going to stop us from finding something that could help him."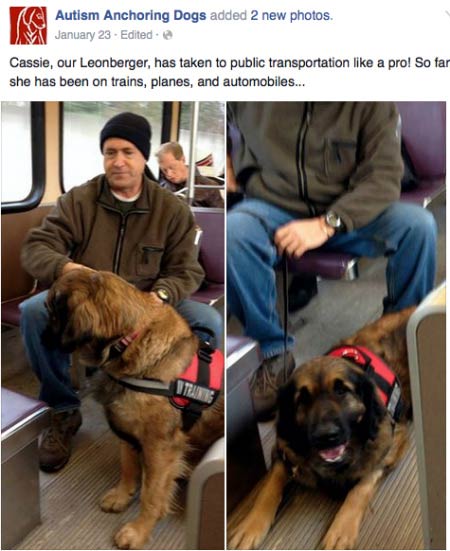 Leonberger Cassie in training to ride on trains.
AAD canine candidates complete about 200 hours of public-access training. They must demonstrate that they have skills to remain calm and steady in all kinds of environments, through such assessments as the AKC's Canine Good Citizen test. They also get weeks of team preparation in which Meck instructs the child and the family on working with the dog.
Porter's training was completed on June 21. Within two weeks, he had already saved the life of his young charge. When Becker got the text from Jennie on July 3, telling her that Goose was alive because Porter did what he had been trained to do, she cried and immediately thought of Sam.
"[Sam] couldn't be stopped," she said, recalling the day her son vanished into the woods. "Now, here was a child who was stopped. I was so proud of Porter. He did his job."
In this video, you can see some of the work that goes into training a canine anchor.
Here's a short video clip of a demo we performed with a client. It was unscripted… the young boy pulled, and "Bruneau" responded with a nice anchor.

Posted by Autism Anchoring Dogs on Wednesday, September 3, 2014
At top: Goose and Porter at Arches National Park. Jennie, an outdoors writer, feels safe bringing her daughter along on hikes because she knows the dog will keep her daughter from wandering.
*To respect their privacy, we have not used the real names of mother or daughter in this story.
https://www.akc.org/wp-admin/admin-ajax.php
Get Your Free AKC eBook
Canine Good Citizen (CGC)
This program is recognized as the gold standard for dog behavior. In CGC, dogs who pass the 10 step CGC test can earn a certificate and/or the official AKC CGC title.