Great things have occurred and will continue to do so in the coming months for the German Shepherd Dog.
The German Shepherd Dog Club of America has organized and implemented its Working Dog (SV) program. This was begun due to the extreme amount of interest from our members in the working dog sport, which for those not familiar is comprised of three phases of competition in one event:
1.obedience
2.tracking
3.protection—based on prey drive
The titles given are BH and IPO1, IPO2, and IPO3, based on similar criteria that are used in AKC obedience and tracking, with the added protection phase. (The BH title is basic obedience without tracking and protection.)
The GSDCA held its first national championship in this event last October at Purina Farms, in Gray Summit, Missouri. The event was called the GSDCA 2014 Sieger Show, and it was a rousing success, with competitors from the U.S., Canada, Mexico, and Germany.
The GSDCA 2015 National Specialty and GSDCA 2015 Sieger Show will be held again at Purina Farms. The dates are October 10–17 for the national specialty, with herding and agility October 10–12. On October 13 is an outdoor specialty show preceding the national conformation events, which begin October 15 and conclude October 17. The GSDCA Sieger Show begins October 15 and concludes Sunday, October 18.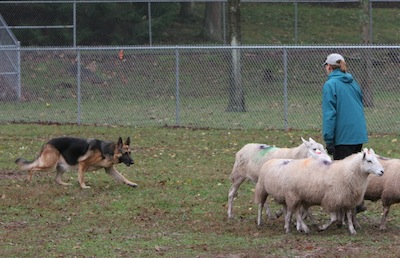 We anticipate a very large turnout for both of these great events and hope that many of you "out there in doggy land" will come and participate—or if you do not have our breed, just come and be amazed!
Internationally the GSDCA is recognized as the great protector of the breed here in the U.S. due to the efforts of our members, board of directors, and needless to say, our president, Frank Fasano, and we play a significant role in representing the U.S. and the German Shepherd Dog nationally and internationally.
I am sure everyone is aware that overall entries in basically all breeds are down in the conformation rings but up in other areas of dog sport. We see the same, but the quality of our dogs here in the U.S. is improved and improving due to the breeders who express strong "breed responsibility."
This is our election year, and that will be decided in the coming months with a new president as well as officers and some staggered board members up for election.
The international governing body of the German Shepherd Dog—the SV-WUSV—has a new president, Professor Dr. Heinrich Messler, who has just retired as a very well known orthopedic surgeon in Germany and throughout Europe. He will be a strong advocate for positive representation of the breed worldwide and has been invited to our national and Sieger show this year.
The German Sieger show —world championship for the German Shepherd Dog—will be held in Nuremberg, Germany, September 4–6.
Nationally and internationally the German Shepherd Dog (considered by many to be the greatest purebred dog in the world) continues to evolve within the standard as an advocate for canine versatility as a pet and companion as well as a working dog used throughout the world. Since its origin as a breed in 1899, anatomical evolution has occurred, but the temperament and character has remained true to its founders' goals—a service working dog!
—Morton Goldfarb, MD, FACS, German Shepherd Dog Club of America; June 2015 AKC Gazette
https://www.akc.org/wp-admin/admin-ajax.php
Get Your Free AKC eBook
Tips for Responsible Dog Owners
This e-book is a great resource for anyone who's considering dog ownership or already owns a dog. Download for tips on how to be the best dog owner you can be.