At only 33 years old, Christy Gardner has a lifetime of fighting behind her. But don't ever tell this national champion she's lost.
Gardner, a double amputee, helped bring home a championship with the U.S. women's sled hockey team, and she's preparing to represent the United States at the 2016 Paralympics in Rio this September. Helping her along the journey will be her service dog, Moxie.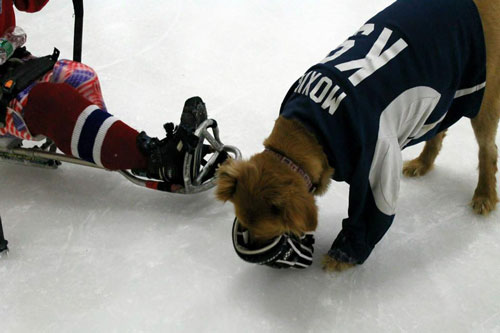 A Wounded Warrior
When Gardner joined the U.S. Army as a military police officer in 2004, she was following in her family's footsteps.
"They were all Navy and Marines, and of course they tease me about choosing the army," she says. "My grandfather was the biggest influence, though. He served with pride and honor and I wanted to live up to that legacy. He served in the Marines in the Korean War—he was even wounded but wouldn't accept a Purple Heart because he didn't believe he deserved it."
In July 2006, while serving in a demilitarized area of Korea north of Seoul, she suffered a severe injury—the details of which she won't discuss. She fractured her skull in two places and suffered a spinal injury, which paralyzed her from the knees down in both legs. She also fractured a wrist, tearing the tendons and nerves. But the initial injury was just the tip of the iceberg. Gardner still suffers from frequent seizures, and had to have two fingers removed. The loss of sensation in her legs led to injuries so she had both amputated from the knee down, the left in May 2015 and the right this past February. She had to relearn how to talk, spell, and do basic math.
Soldiering On
As a soldier and a competitive athlete in lacrosse and field hockey, among other sports, becoming disabled was a devastating blow to Gardner. But in spite of her setbacks and a long list of physical limitations, she was determined to one day maintain a life of independence. That's where Moxie enters her story.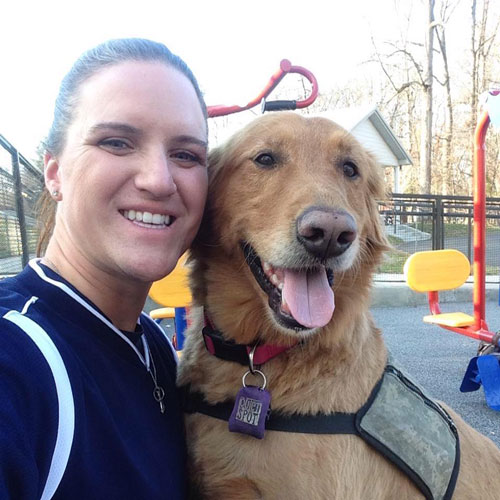 By 2010, Gardner's seizures had become both frequent and severe—one even caused her to fall down a flight of steps, fracturing her skull and jaw. At the advice of doctors, Gardner was paired with Moxie, a Golden Retriever trained to detect seizures.
"Moxie knows to alert me when she senses an oncoming seizure," Gardner says. "She then stays with me during it and can fetch my phone or go ring the neighbors' doorbells for help. She was also trained to call 911 on the home phone when I had a landline. It was flagged at the dispatch that if a dog called it was for me." Moxie is also trained to press access buttons, turn on lights, and carry things.
But it's what she wasn't trained to do that is perhaps as useful as the physical assistance. The experience in Korea has left Gardner with a case of Post Traumatic Stress Disorder—and Moxie's emotional support helps her face her demons.
"She's my shadow and constant companion," Gardner says. "Any time I'm having a bad day, she's there for me. It may sound silly, but I talk to her all the time and she really listens. She's my confidant and my best friend."
Breaking the Ice
Even with the support from her new four-legged buddy, Gardner struggled with a lack of independence and missed her days as an athlete. One day, after receiving disheartening news from a doctor about the limitations she'll have in life, she burst into tears in a VA waiting room. As Moxie tried to console her, disabled Vietnam Veteran Neal Williams and his service dog, Gunter, approached. "Moxie greeted Gunter like an old friend, seeming to know that he wanted to help Christy," Williams says. Williams told Gardner about the VA's local sports programs for paralyzed individuals. "I knew she would fit right in."
Gardner agreed to attend the New England Disabled Veterans Winter Sports Clinic, where she got to try sled hockey, also called sledge hockey, a sport in which players compete on sleds holding two shortened hockey sticks. "I was terrible at first," Gardner admits. But she keep trying. A nonprofit, Northeast Passage, loaned her equipment, and the Androscoggin Bank Colisee in Maine sponsored her for weekly ice time. "I started getting the hang of it!"
Moxie attends training sessions with Gardner, even running on the ice and playing "pretty good defense." But more importantly, she helps keep Gardner's heart in the game.
"She motivates me to get off my butt," she says. "She motivates me to be active every day."
Winning the Gold
Gardner's experience as an athlete helped her to quickly grasp the new sport. Not long after she first tried sled hockey in 2011, Gardner was invited to join the women's national team, which she remains on today. Two years later, she was named USA Hockey's Disabled Athlete of the Year, and in 2014, Gardner's team defeated Canada to win the world cup in the first-ever women's world championships. She's been featured on ESPN, USA TODAY, and other national outlets. This September, she'll travel to Brazil to compete for the U.S. as a javelin thrower in the Athletics division at the Rio De Janeiro Paralympics.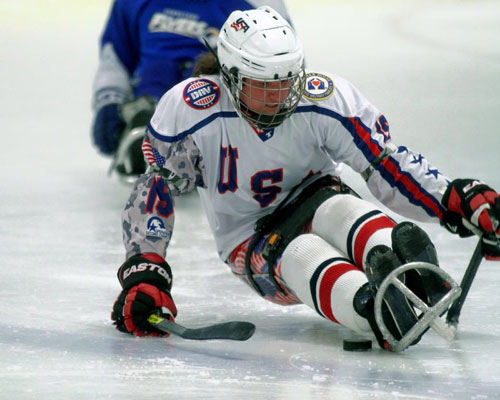 With all of these athletic accomplishments, Gardner credits her success and regained confidence to Moxie.
"When I was first injured, I was really down about everything," she says. "But then I got Moxie, and she allowed me to be independent again and gave me confidence to venture out of my safety net because she could help me if I needed it. She gave me my life back."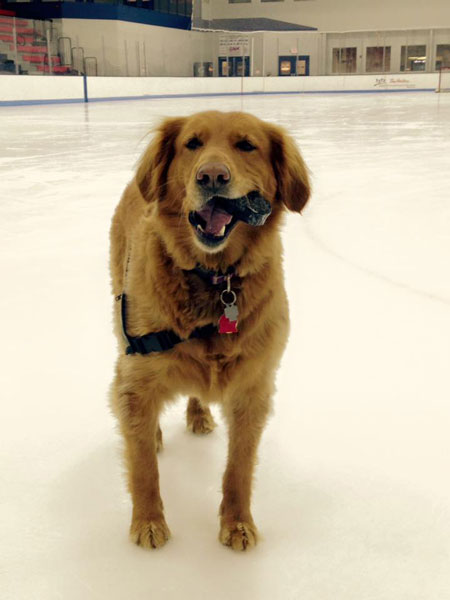 See a video featuring Gardner and Moxie:
 

https://www.akc.org/wp-admin/admin-ajax.php
Get Your Free AKC eBook
Tips for Responsible Dog Owners
This e-book is a great resource for anyone who's considering dog ownership or already owns a dog. Download for tips on how to be the best dog owner you can be.