By Margery Morstein
Every Welsh Terrier owner knows the Stink Eye, that intense look that conveys both independent thinking and annoyance when things aren't going the Welshie way. The look has become an endearing trademark of this feisty breed, and for the past two years, the logo behind the WTCARES (Welsh Terrier Rescue) yearly fundraiser, the Stink Eye Walk.
The Stink Eye Walk grew out of several yearly functions in the Midwest known as the Midwest Welsh Wag (MWWG). Local groups would gather for the day to watch the Welshies play, eat and hold a mini-fundraiser for WTCARES. It then expanded into Kentucky and Tennessee and the crowds grew even larger as the regions combined to bring terrier owners together from around the country.
Last year the event morphed into a mini-vacation in Greenville, South Carolina, known as the Stink Eye Walk and Social, a three-day adventure in a major southern city that welcomed the dogs with open arms and friendly smiles. Greenville has numerous dog parks, The Swamp Rabbit Trail and a trendy revitalized downtown area that invites dogs into their chic retail shops and outdoor eateries. There was no place these walkers couldn't go without taking their dogs, making the 1st Stink Eye Walk an instant hit for the attendees and a must-do event for all Welshie owners. And don't think you have to be owned by a Welshie to attend this event − Wire Foxes, Airedales, and Lakies were also invited – it's a terrier thing.

Although fun is the theme for the weekend, fundraising is the cause. Last year WTCARES spent over $30,000 on abused and neglected Welsh Terriers. Along with rehoming Welshies who lose their family to illness and financial problems, WTCARE reps also counsel and educate Welshie owners who are struggling with different aspects of terrier ownership related to the breed's independent, energetic nature. 
The Stink Eye Walk and Social helps make it all happen and we're hoping 2015 will be even bigger and better than last year's event. The planning committee co-chaired by Iris Fox, John Hoemann and myself (all Carolinians) wants to make sure every attendee gets a big dose of Southern Hospitality.
The 2015 event will include an extra day to explore Greenville, which was a popular request among the 2014 attendees. When guests check-in they will get a list of suggestions that will include Walking the Swamp Rabbit Trail, shopping and eating their way down Main Street, or taking the famous tour of the BMW plant. Friday night is the "Eat, Drink and Party" evening, and we will be adding bingo with prizes from sponsors that include the Carolina Panthers, BMW, ORVIS and the Tennessee Titans. On Saturday, the Pelham Historic Dog Park will be the spot for dogs to play and people to picnic. We will also repeat Saturday night's popular doggie costume party, followed by dinner, raffles and live auction.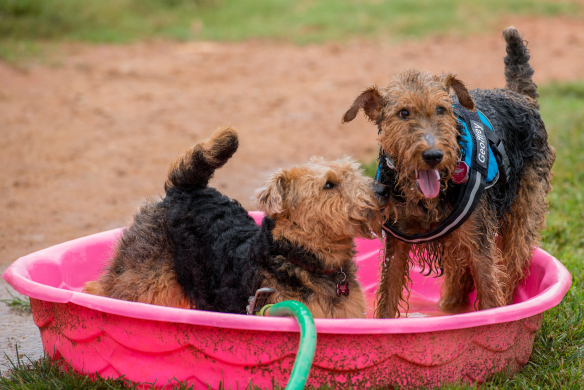 This year the event runs September 10-13, 2015. To learn more about the event or to register, click here. 
To learn more about WTCARES and read some of the Happily Ever After stories, visit www.wtcares.org.
https://www.akc.org/wp-admin/admin-ajax.php
Get Your Free AKC eBook
Canine Good Citizen (CGC)
This program is recognized as the gold standard for dog behavior. In CGC, dogs who pass the 10 step CGC test can earn a certificate and/or the official AKC CGC title.