Millennials, as it turns out, do want a home of their own—if only so their dogs are more comfortable.
In spite of reports that Generation Y is avoiding purchasing homes (and even an accusation that they spend too much money on avocado toast to afford one), a report by CNN Money showed millennials were the largest group of homebuyers in 2016.
But don't expect them to be walking down the aisle any faster. A recent survey conducted by Harris Poll found that 33 percent of millennials say having better space or a yard for their dog motivated the purchase of their first home. Marriage was the driving force behind 25 percent of homebuyers that age, and having a child was named by only 19 percent.
The generation born between 1980 and 1996 has often bucked tradition in both their work and personal lives, preferring careers as entrepreneurs rather than with traditional corporations (67 percent, a 2014 poll showed) and delaying marriage and kids. A Gallup poll in 2016 showed that 59 percent of millennials have not yet married, compared to 36 percent of Generation Xers and 48 percent of baby boomers of the same age.
But they sure do love their dogs. In 2015, the American Pet Products Association found that young Americans were more likely than baby boomers to make purchases (like toys, gifts, and care items) and take their pets to the vet more often. And this year, the APPA found that millennials surpassed baby boomers in pet ownership for the first time.
See an infographic of the recent survey below: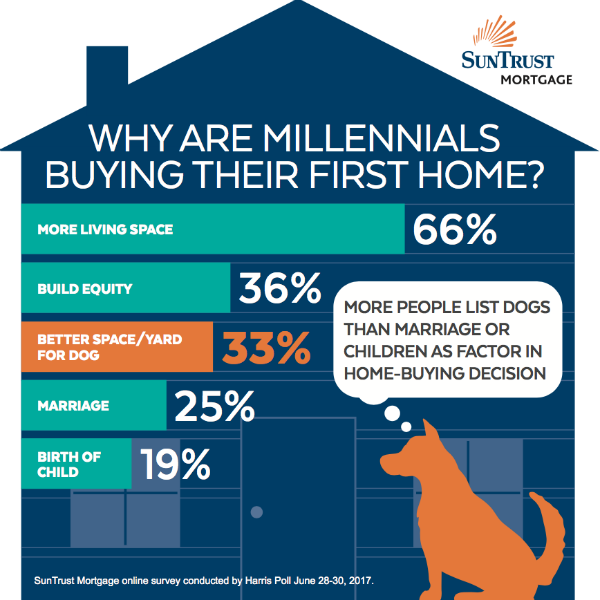 If you could buy a perfect house for your and your pup, which would it be? Take our poll!
https://www.akc.org/wp-admin/admin-ajax.php
Get Your Free AKC eBook
Tips for Responsible Dog Owners
This e-book is a great resource for anyone who's considering dog ownership or already owns a dog. Download for tips on how to be the best dog owner you can be.