According to a study of 2,000 adults in the United Kingdom, cited in The Huffington Post UK, 46 percent think being an animal lover makes a person more attractive. (Our only question is why the number isn't higher!)
Women were more likely to feel this way than men (49% versus 40%).
Approximately one-third of the surveyed Brits (32%) said they thought someone with a dog was more likely to be loyal, compassionate, and kind.
Conducted by Direct Line, a UK insurance company, the survey seems to indicate that having a pet may increase the odds of finding love, or even just making new friends. They enrich our lives in countless ways, but no matter what the motivation for bringing a dog into your life, their own health and happiness should be paramount.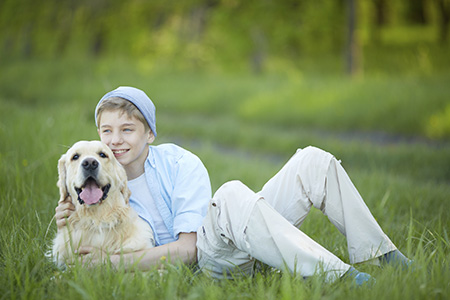 Another study, this one from Tufts University's Cummings School of Veterinary Medicine, found that people with strong connections to their pets also reap social and relationship benefits.
The researchers surveyed 500 people between the ages of 18 and 26 and found that those who had "strong attachment to pets reported feeling more connected to their communities and relationships."
Perhaps it's not surprising that so many people see animal lovers in a positive light: The Tufts' study also found that people who had a bond with an animal as a teen and young adult went on to be more empathetic and confident later in life than those who did not.
Dog owners seeking romance can also just cut to the chase (so to speak) with Tindog, the canine version of Tinder.
The tech world has caught on to the demand for innovations that create communities for dog lovers. 
https://www.akc.org/wp-admin/admin-ajax.php
Get Your Free AKC eBook
What's he thinking?
Dogs exhibit all sorts of bewildering, funny, and sometimes worrisome, quirky behaviors. Ever wonder what he's thinking and where the behaviors come from? Download this e-book to find out.