By: Debra Lampert Rudman and Arliss Paddock
"It becomes one of those events about which people ask, 'Did you go? Were you there?' M&E has it all – atmosphere, ambiance, ladies and gents in their finery, and the world's best dogs all together at the same time in a glorious outdoor setting. Everybody in the sport will be there, and I'm looking forward to the spectacle." —David Frei, in anticipation of today's Morris & Essex Kennel Club dog show.
Dog show judge and longtime Westminster Kennel Club TV commentator David Frei was delighted to be chosen as announcer for the Morris & Essex Kennel Club's AKC dog show happening today at Colonial Park in Somerset, New Jersey.
A revival of the lavish events hosted on the polo fields of her estate from the 1920s to 1950s by dog lover Mrs. Geraldine Rockefeller Dodge, the Morris & Essex show is now held only every five years and is a major event on the U.S. dog show scene.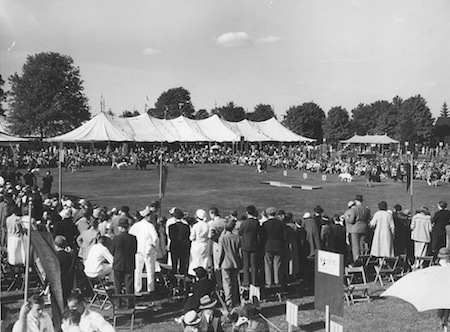 A scene from the show's golden era on the grounds of Mrs. Dodge's estate in the mid-1930s
"Everyone who enters is automatically a part of dog show history," said Frei. "What could be better?"
Despite a rainy and windy forecast, not to mention the potential threat of Hurricane Joaquin bearing down on the Northeast within a few days, thousands of attendees have flocked to the lavish outdoor event. With more than 4,600 dogs competing today, the Morris & Essex show features an unprecedented 120 breeds holding national or regional specialties or supported entries. The event's premium list (a brochure mailed out in advance to potential dog-show entrants providing all the details about the show) was 81 pages long — the longest premium list ever in dog show history.
The history and legacy of the Morris & Essex Kennel Club initially drew David Frei to become a charter member of the club back in the late 1990s.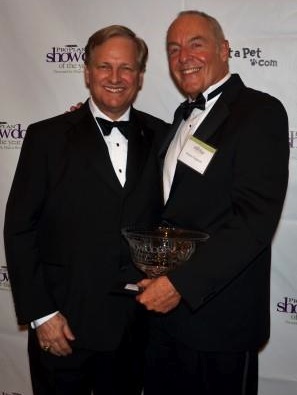 David Frei (left) with Morris & Essex Kennel Club president Wayne Ferguson at the Show Dogs of the Year awards in 2012
"Morris & Essex is a great show and has its place in dog show history as the greatest outdoor show ever, with Mrs. Geraldine Rockefeller Dodge at its helm from the 1920s to 1950s. When my good friend and all-around great dog show guy and president of the Kennel Club of Philadelphia, Wayne Ferguson, brought the show out of mothballs in the late 1990s, he brought the show to a new era — paying respect to the glamour and grandeur of 'Ma Dodge's' shows, and ramping that up even higher for today's exhibitors."
Every five years, starting in the year 2000, the elegance, glamour, style, and high level of quality judging seen at Geraldine Rockefeller Dodge's original dog show held on her polo fields is brought to life for a new generation.
For the 1937 show, more than 50,000 dog-loving spectators descended upon sleepy Madison, New Jersey, where 4,104 dogs were entered.
In 2010, more than 3,415 entries competed for Best in Show, with the 2-year-old Pekingese Ch. Palacegarden Malachy selected by renowned judge Robert Forsyth, with M&E his final assignment before retiring from judging. The 2010 M&E show went on to be awarded "Show of the Year" within the dog show community.
Best in Show judge for 2015 is Mrs. Dorothy Collier, of Wellington, Florida, a well-known breeder of champion Komondor dogs, a livestock-guardian breed from Hungary famous for its protective coat of long, white "cords." Mrs. Collier will choose her pick from the more than 4,600 dogs entered today.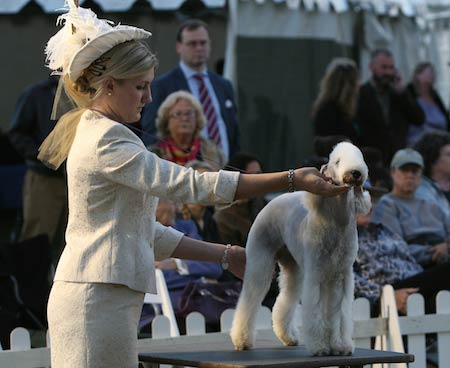 A Bedlington Terrier handler and her dog at the 2010 M&E show. As an homage to the early days of Morris & Essex and the fashions of that era, many of the show's exhibitors and attendees wear stylish hats and other vintage garb.
 
Vintage styles a tradition
 
On the 2015 dog show scene, Frei considers M&E the "show to be seen," and in the weeks leading up to the show he fielded inquiries from exhibitors planning their wardrobes — particularly their hat selections. It has become a tradition for attendees and exhibitors at the show to don vintage-style clothing — especially hats! — reflecting the fashions of the event's heyday in the 1920s to 1950s.
Said Frei, "An acquaintance of mine, Dave Sims, who does the play-by-play announcing for the Seattle Mariners, always looks really dapper in hats. In fact, every time I see him, he's wearing another different, really cool hat. So, I tweeted him and asked him about it, and it turns out he has a hat business. So I consulted with him for the right hat for me."
 
The Westminster/Morris & Essex Best in Show Connection
 
"I don't think it's coincidental that all of the Best in Show winners of our first three Morris & Essex Kennel Club dog shows of the 'new era' — 2000, 2005, and 2010 — each went on to win Best in Show at Westminster," Frei said.
"2000 had the great Kerry Blue Terrier Mick, Torums Scarf Michael, right off the boat from England and his Crufts Best in Show win, winning from the classes. Mick went on to win Westminster in 2003. The M&E Best in Show winner for 2005, Rufus, Ch. Rocky Tops Sundance Kid, won Best in Show at Westminster in 2006. And Malachy, the Pekingese who won M&E in 2010, was the 2012 winner of Best in Show at Westminster."
When asked to name three top contenders he's hoping to see in the Best in Show ring, Frei said he expects "all the great show dogs to be there."
"In fact," he added, "I think dogs who are moving toward retirement and those coming out of retirement who may have been in their prime five years ago at the last M&E will be exciting to see in the Veterans classes."
"This is going to be a tough Best in Show to judge — and isn't that the way it should be?" asked Frei. "I'm sure Dorothy Collier is going to have an impressive lineup and some very tough choices."
— Photos and text courtesy Debra Lampert-Rudman
(Top photo: German Shorthaired Pointers and their handlers at the 2010 Morris & Essex show; AKC photo.)
For show details, merchandise, and history, visit the Morris & Essex Kennel Club website.
For information on AKC dog shows and a wide variety of canine events in your area — from conformation to lure coursing, herding trials, agility, and more — check the AKC Event Calendar.
Looking for dog training classes or other canine activities? Find a dog club in your area.
https://www.akc.org/wp-admin/admin-ajax.php
Get Your Free AKC eBook
Tips for Responsible Dog Owners
This e-book is a great resource for anyone who's considering dog ownership or already owns a dog. Download for tips on how to be the best dog owner you can be.