By now, I'm certain you're sick of presidential politics and want this election to be over. Enter a welcome distraction: "Secret Service Dogs: The Heroes Who Protect the President of the United States" by Maria Goodavage, a New York Times bestseller. This insightful read serves up plenty of brief, punchy slices of dog life that will prompt plenty of reader smiles and a respite from the bureaucratic babble everywhere we turn.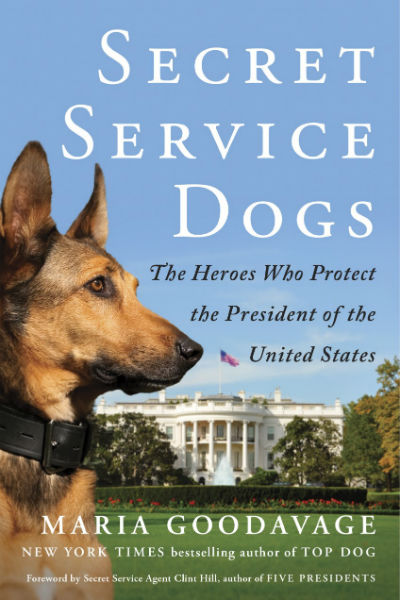 For guess what? The Secret Service dogs are not political partisans. Their mission, and that of their crack handlers, as Goodavage adroitly details, is simply to protect the president, vice president, visiting dignitaries, and the public.
And whether the next president is Hillary Clinton or Donald Trump, the K-9 units will continue to put their collective paws on the line for the White House inhabitant, 24/7. Wherever the president goes, rest assured, there will be dogs. But seldom does the chief executive see them, since they are working in the background or ahead of the president's arrival.
"Secret Service Dogs" takes you beyond the White House fences and into the homes, veterinary hospitals, and training facilities frequented by these stealth teams.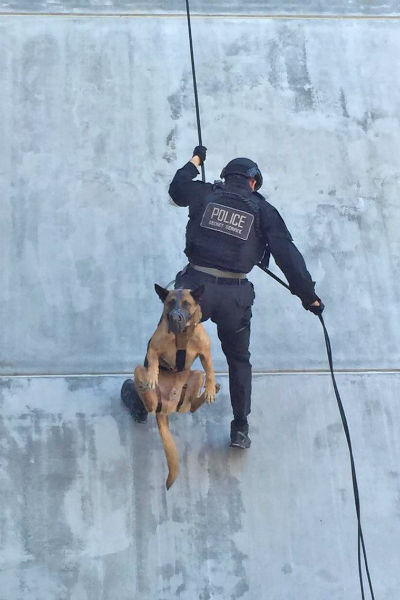 A dog searches every vehicle that enters the White House complex, according to the author. The average Secret Service explosive-detection canine will search 7,020 vehicles annually.
This marks the first time readers have been taken up-close and personal with the Secret Service teams. And getting permission to do this wasn't easy. After her initial proposal to the agency, it took nine months before Goodavage was given the OK to pursue the project, and it came with caveats: none of the people interviewed could be identified with last names, and she could not list the number of dogs in current programs, names of explosives the dogs detect, certain tactics, or names of venues where dog teams train.
But none of these requirements proved to be shortcomings for this terrific author who creates a pathway for trust and confidence that twists its way through every page, dissecting the Velcro-like commitment between two- and four-legged partners.
"Compared with many military dogs," Goodavage writes, "Secret Service dogs are specialists. Most military dogs perform two jobs: They sniff out explosives, and they do apprehension/patrol work … Today's Secret Service dogs do one job or the other."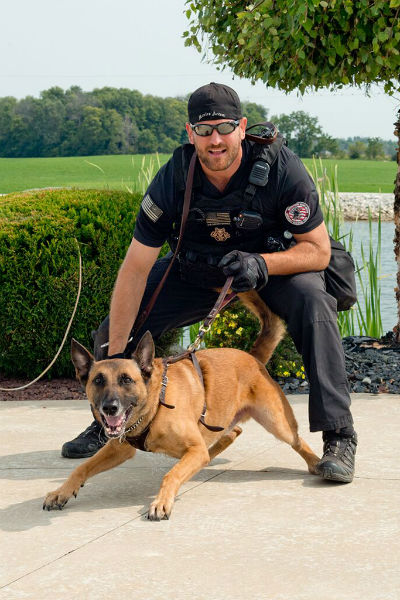 The bulk of these canines are "almost always immigrants, starting out life in another country, and with another language, often Germanic," says Goodavage. The eventual selections come from Vohne Liche Kennels, a Denver, Ind., business that has provided most Secret Service canines since 2000. Most dogs are about two-years-old and have had minimal training, chiefly because the Secret Service's trainers do not want to un-train the dogs at the main instructional facility in Laurel, Md.
Because of the increased demand for dogs, every month or so, depending on the service's canine class schedule, a couple of instructor/trainers will make the drive from Washington, D.C., to Indiana for new candidates the kennel staffers feel will meet the Secret Service's needs.
Some dogs work out and some don't, but the kennel generously allows for returns for up to one year after the dogs are selected.
In the book, the author introduces the reader to four specialties in which the trainers channel Secret Service dogs into:
Emergency Response Team (ERT): This is the agency's version of a SWAT unit. These dogs are "super-high drive, smart, energetic, and courageous" and are trained to physically protect some of the world's key leaders. They are "an option of less-than-lethal force. Instead of being on the receiving end of a bullet, an offender might end up on the receiving end of a dog bite. Not much fun, but better than the alternative."
 
Explosive Detection Team (EDT): These super sniffers are always stationed at the two main entrances to the White House for vehicle checks. But, the author notes, their job also takes them worldwide, preceding the president and vice president virtually everywhere they go.
Personnel Screening Canines (PSCs): If you've taken a White House tour in recent years, it's likely you have been sniffed by one of these dogs and didn't know it, according to Goodavage.
Personnel Screening Canines Open Area (PSCO), aka Friendly Dogs, aka Floppy-Eared Dogs: These dogs walk the streets that flank the north and south grounds of the White House. Floppy ears, black harness and vest are their signature. And if you're still not certain about their identity, the guy on the other end of the leash may be wearing a black shirt emblazoned with the words "U.S. Secret Service Police K-9." These dogs are trained to sniff out explosives, too, but the odors will be emanating from moving people instead of stationary objects.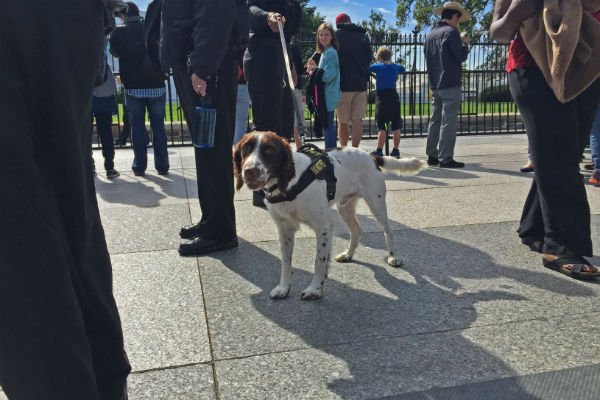 Transcending the characteristics of all four of these teams is the quality of sociability, since the dogs all work in close proximity to the public and/or government staffers at one point or another.
To that point, Goodavage notes a conversation with two tourists along Pennsylvania Avenue prior to Pope Francis' visit to the White House in September 2015. As a couple of black Labrador Retrievers bounced along the sidewalk beside their handlers, one tourist said, "I wonder what they're doing," prompting the other to reply, "I imagine something important. They look very presidential."
Packed with colorful vignettes, this rich tapestry serves up a combination of history, cases, and appetizing personal recollections of handlers with their special working partners. And yes, grown men do cry. Some of the most tender – and gut-wrenching – moments occur when their canine partners are euthanized for a variety of medical reasons.
Here are several of the most memorable quotes from trainers and handlers (remember, no last names were allowed to be used):
Stew: "Complacency is cancer, and it will get you or someone killed."
Steve: "I continually think about who we are training these dogs to protect, and the extremely important mission of these dogs. The amount of responsibility that these dogs are entrusted with is pretty amazing."
Tim D. (addressing Erika, a handler, whose dog Noisy succumbed to hemangiosarcoma): "Noisy will always have a piece of your heart, no matter how much you end up loving your new dog. It'll take time, but you'll grow to love him. They have a way of invading your heart."
Anonymous (when your canine partner dies): "It's like losing part of your soul. The best part."
EDT handler Sgt. Sal S.: "The entire service is pretty much alphas. The dog gives you the ability to be more sociable and really show that gentle side of you, when it's appropriate."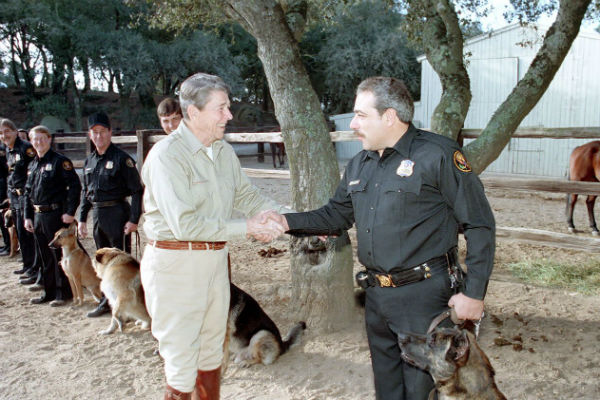 Handler Daryl G.: "It's a totally different animal when you get a canine. When I first came on, the trainer said, 'You got a kid now. You don't have kids? You got one now.' Because it's 24/7."
Colorful stories range from one about a brunch for the Clinton Library at Barbra Streisand's home in Malibu Hills, Calif., in the late 1990s, to a biting, slugging brawl on the White House grounds in October 2014.
When Streisand learned that dogs would be on the premises, she initially refused to let the event proceed for fear they would "get into her shrubs, which she meticulously maintained herself." When then Democratic National Committee Chairman Terry McAuliffe convinced her that he would walk the dogs, she acquiesced.
The White House fence jumper incident involved a tangled leash, two handlers and dogs, and a strong intruder who kicked one dog (Jardan) in the head, leaving it disoriented and fleeing back to its handler. As the second Belgian Malinois (Hurricane) exploded on the scene, he grabbed the trespasser, who then threw the dog to the ground and punched him.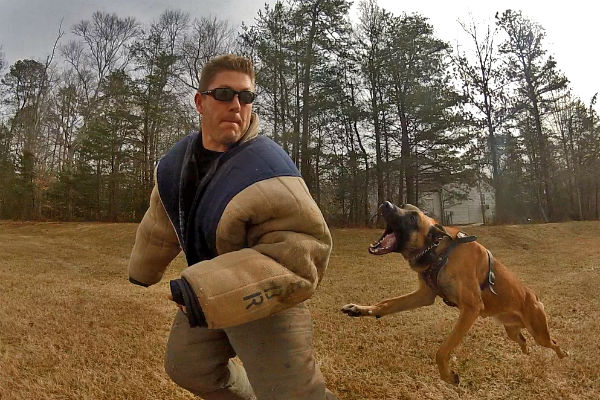 Gradually, the culprit was forced back toward the fence and away from the White House and eventually subdued with a Belgian Malinois attached to each arm. Both tag-team canine partners went to a nearby veterinary hospital for treatment and were released.
The Secret Service transported the 23-year-old perpetrator to a nearby hospital to have his bite wounds treated. He appeared in federal court the next day and was charged with two misdemeanors, punishable by up to one year in jail. He was, according to his father, battling mental illness. This wasn't, however, his first encounter with the Secret Service. Months earlier he had been arrested twice for security violations at the White House and the Treasury Building.
The book about Secret Service dogs is not a tearjerker, but it reflects a tough realism throughout. For the reader, this is new dog turf, a landscape that one minute is a psychological slippery slope, and the next is a bumpy ride—but always with the president's safety as the top priority.
Header photo: Explosives detection dog Astra enjoys some down time at dusk near Air Force Two during a vice-presidential detail in Rhode Island. Photo courtesy Kim K
https://www.akc.org/wp-admin/admin-ajax.php
Get Your Free AKC eBook
The Five Commands Every Dog Should Know
Do you want a well behaved dog but don't know where to begin? The Basic five commands e-book is a great place to start and will give your dog a strong foundation for future training.