What you see isn't always what you get when purchasing a puppy. It will sometimes evolve into a surprise package like Loupy – and even a lifesaver.
The fawn-colored, 54-pound Berger Picard was purchased almost seven years ago by Wadia Mulla and her husband, Steve Pahides, of Media, Pa., after the family's Labradoodle died at age 5 from kidney cancer. "I was looking for a dog that did not shed a lot and had a good health record," recalls Mulla. "As I researched them more and spoke to Betsy Richards, president of the Berger Picard Club of America, I decided that it would be a good fit for our family. I like to hike and ride horses and I was looking for a companion."
Loupy and the couple's son, Kasta, now 17, bonded almost immediately. Loupy followed Kasta, who was diagnosed with Juvenile Diabetes Type 1 at age 7, around the house, and the family quickly learned that this young dog was about to deliver plenty of substance as well as splash.
Pre-Loupy, Mulla and Pahides would take turns getting up in the middle of the night to check Kasta's blood-sugar level and provide him with a shot of insulin if needed. "The blood sugars were always unpredictable and would fluctuate with his activity level," says Mulla. "The more active, the lower the readings."
Loupy, The Instinctive Alert Dog
When Loupy was a year old, he was allowed upstairs in Kasta's bedroom, and suddenly things changed. He began barking incessantly in the middle of the night, prompting the couple to think he wanted to go outside. "I would run down stairs to put him out," Mulla recalls, "but he would refuse to follow me and would head into Kasta's room and jump on the bed. Then I thought maybe check his blood sugar and it was in the 30s range, where you can lose consciousness or have a seizure. This happened three or four days in a row, and we figured out Loupy was telling us something.
"I felt really bad because I was ordering him to go to sleep and he was telling me to check his boy! For several years he continued to alert us to Kasta's sugar level. I credit him for saving Kasta's life multiple times. "
Kasta is now on an insulin pump and continuous glucose monitor, which are designed to alarm him and is supposed to awaken him.
Amazingly, Loupy was never trained to alert the family when Kasta's blood sugars reached dangerously low levels. It was all instinctive.
And how did the Berger Picard get a label like Loupy?
Kasta replies, "I named him Loupe because he looked like a wolf, and since he is a French Shepherd I found the French word loup. My family started calling him Loupy."
When Kasta is home, the two are virtually inseparable. "He sleeps with me at night, he hangs out with me and plays ball. When I practice lacrosse shots he takes the ball and runs away with it," he says. "When I have a tough day, he just sits next to me and will lick my face or my feet. It feels good to have a dog that always looks out for me."
Loupy, A Champion In The Ring
There is another side to Loupy (aka CH AllStars Ewan McGreggor). He is a champion show dog, having competed on the big stage at the Westminster Kennel Club Dog Show in New York City in February and selected other events, too. And he has several more shows on tap this year.
Make no mistake about it, Loupy was purchased as a family pet. But in the process, Richards and Mulla became friends, and after the breed became recognized by the AKC last year, Richards asked the Mulla-Pahides family for permission to show him. Kasta was opposed to letting his best buddy leaving, however.
The persistent Richards, of Roanoke, Va., the dog's co-owner and breeder, continually asked Mulla over a six-month period for permission to let a handler friend, 77-year-old Bert Halsey, check out Loupy to determine his ring potential. Mulla finally agreed.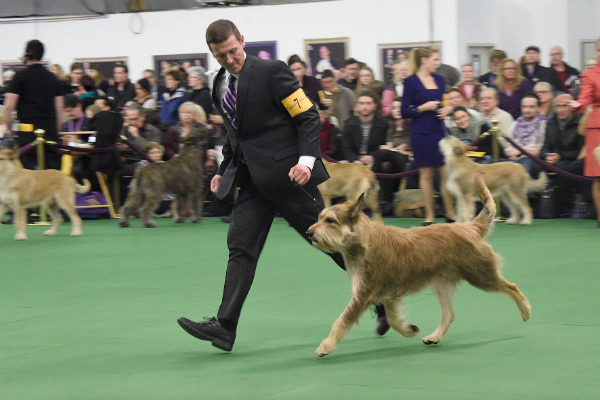 He took Loupy through six weeks of training, since the dog had never undergone formal instruction. Halsey gaited him at several shows, but passed out in the ring at one event, and Jayson Lynch (Loupy's handler at Westminster this year) stepped in and handled him at several other Northeast events last year.
Halsey "fell in love" with Loupy, Mulla said. "Loupy is a people dog, very friendly and outgoing, but not over the top. I generally let Betsy, Bert and Jayson decide if they want to show him, but we will not let him be gone for long periods of time."
At one of the first shows Loupy entered with Halsey (Mountain Valley Cluster, in Salem, Va.), he leaped over the ring gaiting without touching it, in the down and back exercise. Richards laughs, "Bert fussed at him in his Southern drawl, 'Loupy, get back over here!' Being super athletic, Loupy jumped right back over again, clearing it effortlessly and Bert continued to fuss at him. When Judge Barbara Alderman heard his name was Loupy, she laughed and eventually gave him a Best of Breed."
Loupy, Best Friend
Loupy's absence from home had an immediate effect on Kasta –- and the family — which also includes sisters Mary, 13, and Lizzy, 15. Kasta began sleeping through his glucose alarms and was becoming increasingly nervous about his diabetes. "He really missed Loupy," says Mulla, "and I did, too, because he was our safety net. So now Loupy sleeps in the hallway outside Kasta's room and still wakes us up occasionally if he thinks Kasta's blood-sugar level is low."
Richards suggested to the family this month that Loupy become a trained service dog so that Kasta can take him to college. The family has been discussing that option, too.
For Kasta, this French Shepherd is fun and engaging. For Mulla and Pahides, it represents an empowering resource and a reliable relief valve amidst daunting medical challenges.
Header photo: Loupy is first a family pet, then a show dog. Here he pauses after enjoying some outdoor exercise in the owners' yard.
https://www.akc.org/wp-admin/admin-ajax.php
Get Your Free AKC eBook
Why does my dog do that?
You have questions, we have answers. Download this e-book to get the explanations behind some of the strangest canine behaviors.