Partner A wants dog to sleep in the bed. Wet-blanket Partner B says no can(ine) do. Kid says he needs to bunk with his buddy. Parent says his bedroom is a No Pup Zone.
 
Where the dog beds down for the night is a frequent source of disagreement between those who feel that there is nothing sweeter than a warm, furry pooch snuggled in the blankets and those who think there should be a limit to human-canine closeness.
 
In the interest of maintaining a peaceable kingdom, often a housemate will go along with one or the other policies, even if grudgingly. In fact, the majority of people surveyed by the AKC welcome the dog in their bed: 45%.
 
Crates are used in many situations (and crate-training is a proven housebreaking technique), and 20% of respondents crate their dog at bedtime.
 
At 17%, the third most popular sleeping spot in our poll is a dog bed. A small number of owners—4%—use an outdoor shelter. We would advise all dog owners to be mindful about letting your dog sleep outside, and to take in a number of factors before doing so, such as temperature and weather conditions; security of the area; risk of other animals, and more.
 
A broad and somewhat vague "various places indoors" was the response of 14% of the dog owners. It would be interesting to know if the dog or the owner chooses those locations, or if they are a mutually satisfactory decision. It may be the case that dog and owner are more in sync than Partners A and B or Kid and Parent.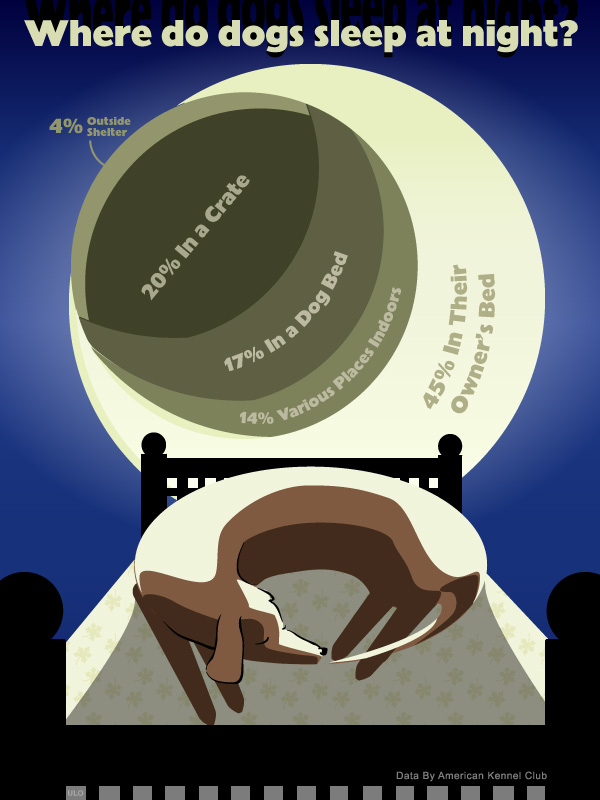 https://www.akc.org/wp-admin/admin-ajax.php
Get Your Free AKC eBook
What's he thinking?
Dogs exhibit all sorts of bewildering, funny, and sometimes worrisome, quirky behaviors. Ever wonder what he's thinking and where the behaviors come from? Download this e-book to find out.